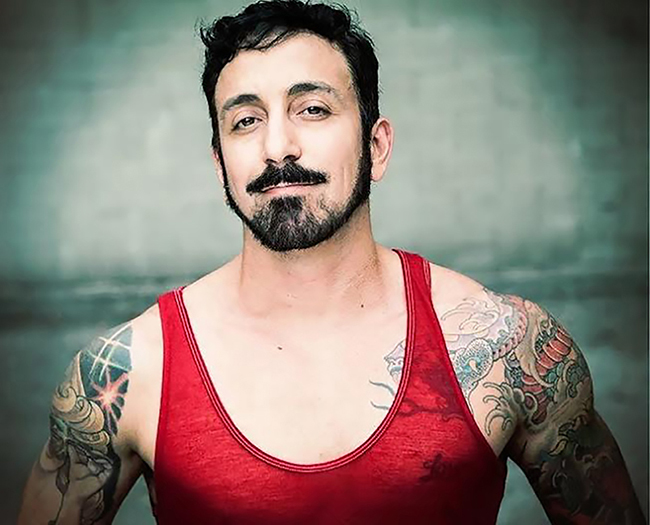 SATURDAY, MAY 9
DOWN-N-DIRTY
Tom of Finland Foundation, 1421 Laveta Terrace, Los Angeles, 3pm-8pm. Celebrate Tom's Birthday with DJ sets by Maricón Collective, Go-Go boys, photo booth, new Maricón merch y mucho mas.
DRAG QUEEN WORLD SERIES
Glendale Sports Complex, 2200 Fern Ln, Glendale, 12:30pm-4pm. For tickets, visit dragqueenworldseries.com. It's the LA Sisters of Perpetual Indulgence vs. The West Hollywood Cheerleaders. AIDS fundraiser.
BRUTUS: MESSAGE IN A BOTTLE
The Faultline, 4216 Melrose Ave, Los Angeles, 9pm-2am. Mathu Andersen, Salty Sailors, Kyle Krebs and Bennett Anthony. Every second Saturday. Visuals by Captain Mark Cuadrado, Chris Bowen (Bears in Space, Cub Scout) & Mario Diaz Presents (Full Frontal Disco, B.F.D.).
PINK SABBATH
Verdugo Bar, 3408 Verdugo Rd, Los Angeles, 2pm-7pm. Come worship the sun and the goddess of disco with DJs Victor Rodriguez, James Cerne. Hosted by Nick Austin, Harpal Sodhi, Jimmy Vogel, Bretta Filta. Drink specials, food truck, $5 door and $1 popsicles.
---
FRIDAY, MAY 15
A CLUB CALLED RHONDA
Los Globos, 3040 W. Sunset Blvd., Los Angeles 9pm-4am. Blast off into orgasmic oblivion at this pansexual party palace. Enjoy sets by Ben UFO, the delirious defender of the purity of the DJ Midland, the princely paragon of the UK Underground, South London Ordnance, the terrifying technician of UK heavy weaponry and much more.
WEHO GAY MEN'S HEALTH FAIR
Fiesta Hall @ Plummer Park (and Great Hall), 7377 Santa Monica Boulevard, West Hollywood, 10am-3:30pm. Performance, live DJ, swimwear runway fashion, food and workshops that promote awareness and discussion of evidence-based, high-impact prevention strategies like PrEP and Treatment as Prevention.
CLUB KING

The Cavern Club Theater, 1920 Hyperion Ave, Los Angeles, 8pm. The award winning documentary Club King is back starring Mario Diaz, Jackie Beat, Justin Vivian Bond, Nadya Ginsburg, Selene Luna and others. Hosted by Jackie Beat and Nadya Ginsburg.
KINKSTER
Eagle LA, 4219 Santa Monica Blvd (at Myra Ave), 9pm-2am, Visit eaglela.com for more info. Green Mirror Entertainment Presents: KINKSTER—A Very Special GEAR Night! You'll get Kinky Demos, Kinky Go-Go Dancers And Kinky MEN! Leather/Fetish Gear is highly encouraged.
RUPAUL'S DRAGCON
Los Angeles Convention Center, 1201 S. Figueroa St., 4pm. Visit rupaulsdragcon.com for ticket information. The first drag convention in HERstory is sashaying to Los Angeles Convention Center for one weekend only. Come and meet your favorite queens from RuPaul's Drag Race, as well as special celebrity guests!
2015 LONG BEACH LESBIAN & GAY PRIDE FESTIVAL
E. Shoreline Dr, Long Beach, 11am-10pm. Visit longbeachpride.com for more information. Performers this year include Salt-N-Pepa, Lunden Reign, Marley Monroe and others.
---
SUNDAY, MAY 17
LONG BEACH GAY & LESBIAN PRIDE PARADE
Bixby Park, Ocean Blvd & Cherry Ave. 10:30am. Visit longbeachpride.com for more information. More than 200 marching groups and floats comprise the parade entries since 1995, representing various religious, human service, governmental and social organizations. Arrive early to show your pride for a chance to win free admission to the festival, exclusive Long Beach Pride merchandise and more.  
---
SUNDAY, MAY 31
MR * MISS * MS L.A. PRIDE PAGEANT 2015
Club Cobra, 10937 Burbank Blvd, North Hollywood, 5pm. For more information call: Karina (213) 999-0456 or Empress KC (714) 678-7372. The Imperial Court of Los Angeles and Hollywood with LA PRIDE / Christopher Street West, proudly  present MR. * MISS * MS L.A. PRIDE PAGEANT 2015.