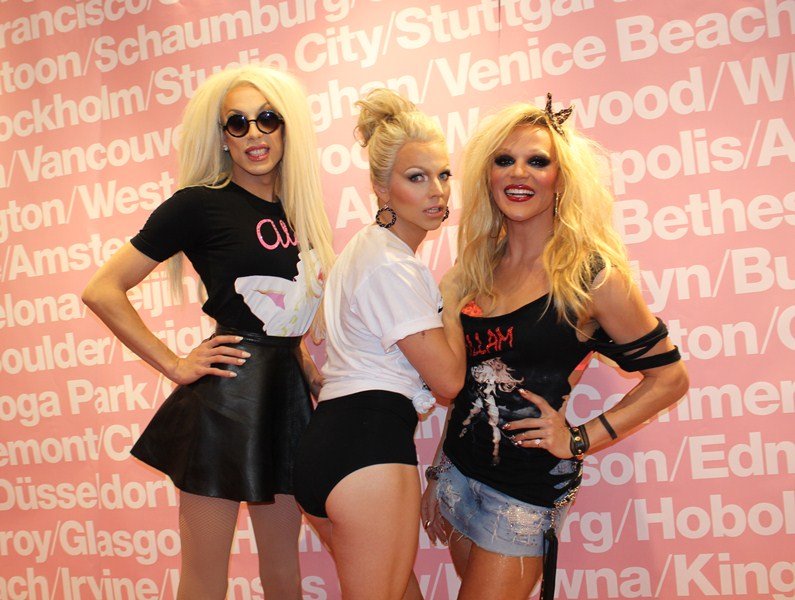 MEET THE QUEENS
By Paulo Murillo
Drag performance artists and former RuPaul's Drag Race contestants, Courtney Act, Willam Belli, and Alaska Thunderfuck, launched their American Apparel t-shirt line on September 28, to debut a special campaign by American Apparel.
American Apparel hosted a special Meet the Queens event at their store located on Melrose Avenue in Los Angeles.  Fans had the opportunity to meet the queens and purchase their limited edition t-shirt bearing their fabulous likeness, days before the shirts became available to the general public.
Hundreds of fans waited patiently for hours to get an autograph and a photo with all three queens.  The line snaked around the inside of the store and onto the street.  Those in attendance ranged from children, women, drag queens, and gay men of all shapes and sizes and age groups.  RuPaul's Drag Race's Scruff pit crew model and reality star Simon Sherri-Wood (he was in The Real World: Paris) made a brief appearance to support the girls.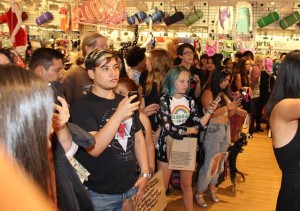 "I think it's awesome to see the commercial apparel industry come together with these LGBT artists,"said Christian Guardado, aged 18, who recently moved to West Hollywood from San Francisco to pursue his own drag dreams as the bitchy female alter ego Aurora Whorealis. "That fusion has never happened before and hopefully that will be the start of a lot of new partnerships happening in the United States," he added.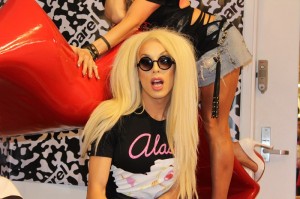 American Apparel produced these limited edition t-shirts to honor each drag queen's talents and allure, and to support artists in general. They also hope to bring awareness to ethical manufacturing.
According to an announcement made over a loud speaker, that night's apparel sales surpassed the sales of a similar event last year.
You can purchase the shirts online at store.americanapparel.net