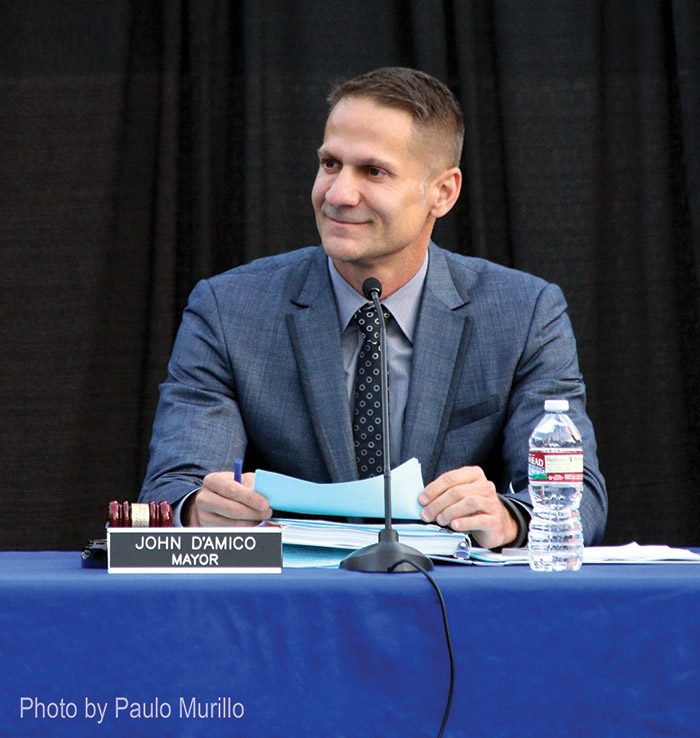 John D'Amico becomes mayor of West Hollywood.
BY PAULO MURILLO
The City of Hollywood held its annual City Council Reorganization and Installation ceremony last month, with an outdoor reception held at Plummer Park.
City Clerk Yvonne Quarker performed the swear-in of Mayor Pro Tempore John D'Amico as the new Mayor of the City of West Hollywood and city councilmember John Heilman was sworn-in as the new Mayor Pro Tempore.
Mayor D'Amico took the Mayor's gavel and thanked his partner of 22 years, Keith Rand, for his support and expressed gratitude to his family, friends for their support, who were in the audience.  He thanked a long list of people including city staff members, members in the community and he thanked his peers on the council chambers.  He gave special thanks to councilmember John Duran who endorsed his run for city council three years ago.
"For me, the best thing about West Hollywood is the people. Individually and collectively as a community, we have consistently invented extraordinary ways of thinking about and being in the world," he said in his speech.
---
"We will redouble our efforts to share with the residents how we do business and engage in as much conversation as possible…"
---
"We will redouble our efforts to share with the residents how we do business and engage in as much conversation as possible at every level about what is best for our WeHo," he stated. "Please know that WeHo will continue to do all the things we always do, fill potholes and fix sidewalks, fund social services and build subsidized housing, issue parking tickets and collect the trash, protect rent control, redouble our public safety efforts, wrestle with our traffic problems and celebrate events big and small."
"I never did think I would be the mayor," D'Amico told THE FIGHT after the ceremony. "When I think back, there have been subtle and not so subtle hints that when strung together, begin to add up."
"I wanted to use the opportunity of being installed as Mayor to remind people that our inventiveness and innovation is what makes West Hollywood a great city; there is a long history of culture-making.  And if we want to keep WEHO wonderful, people, residents, businesses and visitors all need to be involved, participate, take a stand, invent their lives here, live in a big authentic way and by extension help us invent the future West Hollywood."