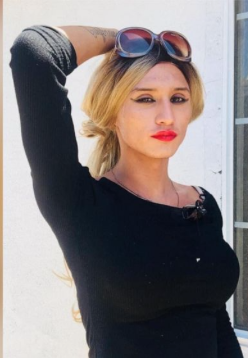 (Photo: Marilyn Monroe Cazares. RIP)
The "I Am Marilyn" march and vigil will be held on Saturday, August 1 in honor and remembrance of 22-year-old Brawley resident, Marilyn Monroe Cazares. The event is 6:30 p.m. – 9 p.m. at the Brawley DMV, 1175 Main St, Brawley, CA.
It will begin with a peaceful march from the site where Marilyn's life was taken and continue to Plaza Park where the vigil will be held. The vigil will honor Marilyn's life, and transgender lives everywhere, by showcasing transgender voices and bringing awareness to the ongoing violence against transwomen, particularly transwomen of color, in this community and beyond. 
On July 13, 2020, Marilyn's life was brought to a tragic and violent end; she was the 22nd transgender person killed this year in the United States. While investigations are ongoing by local law enforcement, the FBI, and other agencies, this is a stark reminder of the ostracizing and violence so many of our transgender loved ones continue to face. 
"Marilyn dreamed of leaving Brawley to find a place to live her truth unapologetically, away from a lack of acceptance and representation," said Rosa Diaz, CEO, IV LGBT Center. "It is this same energy that we wish to bring to the Imperial Valley community with a vigil that rallies much-needed affirmation for her transgender siblings."
The memorial and vigil are organized by the Cazares family, Imperial Valley LGBT Resource Center, PFLAG San Diego County, San Diego Pride, Equality Business Alliance, Gender Phluid Collective, Rainbow of Truth, The San Diego LGBT Community Center, and Trans Family Support Services. Area activists and transgender community members will speak their truth in a show of solidarity and a call for justice amid violence against our transgender loved ones, while honoring the memory of a brave soul, lost far too soon.
Among the speakers are Jelecia King (Trans activist), Tiffany Gonzalez (PFLAG-San Diego County President), and Jamie Arangure (Trans activist). Several public officials have also signed on in support and will be represented at the vigil, including the Office of CA Assemblymember Eduardo Garcia, the Office of CA Congressman Juan Vargas, and the Office of CA Senator Ben Hueso.
All are welcome to attend, stand in solidarity and encourage those that wish to lend their support to the family and the trans community, to join the live streaming of the event, which will be shared on Facebook and Instagram using the hashtag #WeAreMarilyn, to honor Marilyn and all those who have lost their lives to transphobia and violence. Donations are being accepted at ivlgbtcenter.com/donate-teto/, for those so moved to give, with proceeds benefiting the event and directly supporting the local LGBTQ+ community through the Imperial Valley LGBT Resource Center. Join us as we fight for our transgender siblings and their right to exist as their true selves.