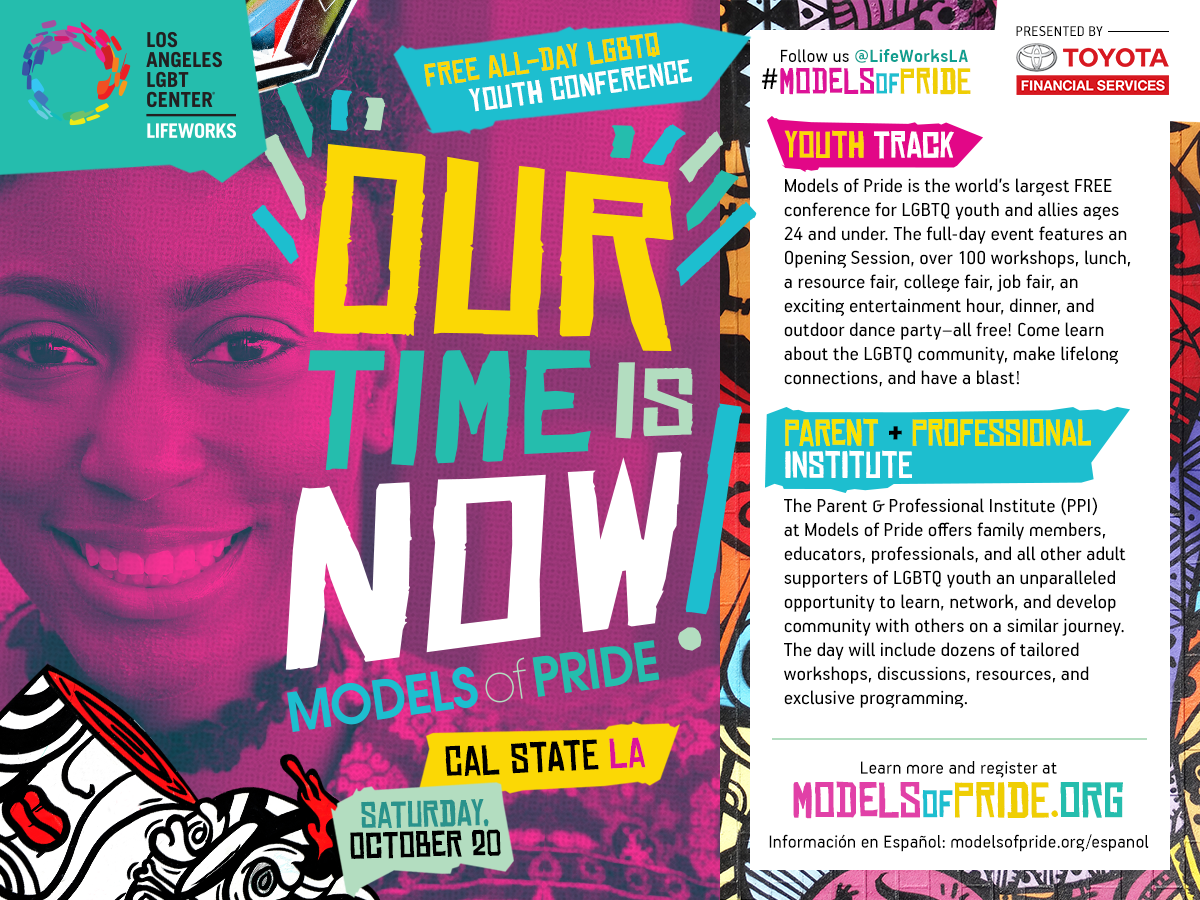 Held for the first time at the California State University, Los Angeles (Cal State LA) campus, more than 1,500 lesbian, gay, bisexual, transgender and questioning youth (LGBTQ) and their allies from 150 cities and more than 200 schools nationwide are expected to attend the Los Angeles LGBT Center's 26th annual Models of Pride conference on Saturday, October 20. This year's theme is "Our Time Is Now!"
As the world's largest free conference of its kind, Models of Pride offers a full day of life-enriching programming designed to help young people build confidence and self-esteem and develop valuable life skills. Organized through the Center's LifeWorks youth development and mentoring program, the day includes more than 100 workshops and presentations, lunch and dinner, an outdoor dance party, and live entertainment for all youth ages 24 and under.
This year's conference includes performances by VINCINT, Gizzle, DJ InfaRed, DJ OAK-E, and dance groups MarInspired and Dance LA Entertainment. Photographer and activist Maxwell Poth will host the Entertainment Hour.
"In the midst of the daunting and scary political times we are living, now more than ever is the time for us to unite and rise in our celebration of our diversity. We are strong, powerful, and resilient," said Center Associate Director of Education and Youth Development Kevin McCloskey. "Our young communities have overcome tremendous challenges and—no matter what the obstacles—our time to stand up, be heard, and speak up is NOW."
In addition to the youth portion of the conference, more than 400 parents, educators, social service providers, and other youth-serving professionals will attend workshops tailored to their concerns and interests involving LGBTQ youth. Known as the Parent & Professional Institute, this full-day program for adults is free and will feature speaker Jamez Ahmad, coordinator of the Gender & Sexuality Resource Center at Cal State LA. The Opening Session will also include a Parent Welcome this year by soap opera actress and GLAAD speaker Eva Tamargo and her husband, Michael Lemus.
After the three workshop sessions and complimentary lunch and dinner, the evening programming includes a screening of the documentary Raising Zoey which chronicles the trials and tribulations of a transgender teen whose family, with help from the ACLU, fought school officials for her right to self-identify in school. A Q&A with Zoey, her mother, and director Dante Alencastre will follow the screening.
The Presenting Sponsor of this year's Models of Pride is Toyota Financial Services. Senior Sponsor is Comcast NBCUniversal. Junior sponsors are American Airlines; Gender Odyssey; Edison International; and Planned Parenthood of the Great Northwest and the Hawaiian Islands. Sophomore sponsors are Arup; Bank of the West; Central Hollywood Neighborhood Council; Gilead Sciences; JPMorgan Chase & Co.; Mattel; and U.S. Bank. Freshman sponsors are The Aerospace Corporation; Bloomingdale's, and Central Intelligence Agency. In-Kind sponsor is Jersey Mike's.
WHAT:
Models of Pride 26
This free conference will bring together more than 1,500 LGBTQ
youth and their allies for a full day of life-enriching workshops, panel
discussions, a resource fair, entertainment, and more to help attendees
build confidence and self-esteem and develop valuable life skills.

WHEN:                     
Saturday, October 20
7:30 a.m. – 8:30 p.m.
WHERE:
Cal State LA
5151 State University Dr.
Los Angeles, CA 90032
Parking is available for $8.60 in Parking Structure A.
Public transit is encouraged. The Metro Silver Line connects directly to Cal State LA, and a free shuttle for youth attendees to/from Union Station is available.
COST:   FREE
For more information and to register for Models of Pride, visit modelsofpride.org.
For more information about LifeWorks, the Center's youth development and mentoring program, visit lalgbtcenter.org/lifeworks.