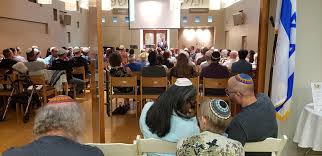 Tonight – Tuesday Oct. 30 – West Hollywood's Congregation Kol Ami will host an evening of prayer and remembrance in honor of the 11 people murdered on Saturday at a Jewish synagogue in Pittsburgh, reports WeHoVille.
"We are all still reeling from the events in Pittsburgh which murdered eleven members of the Jewish People and harmed many more including four police officers," said an announcement of the event.
The event runs from 6:45 to 7:30 p.m. The synagogue is located at 1200 N. La Brea Ave., just north of Lexington.
READ MORE HERE:
Congregation Kol Ami Gathers Tonight to Memorialize Victims of Pittsburgh Shooting