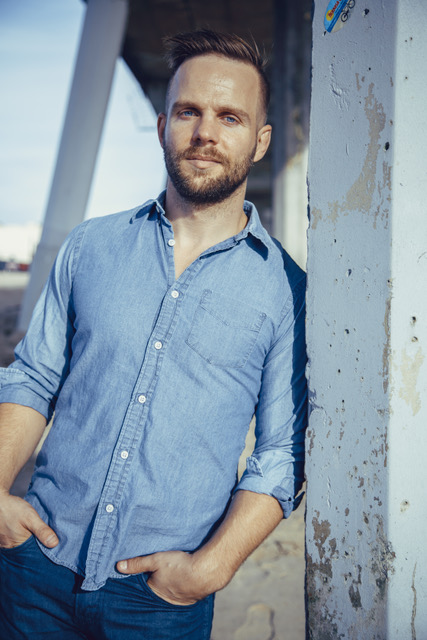 (Tom Goss. Photo By Daren Cornell)
EVENT ALERT!
Out musician Tom Goss will host a video release party of his new single, Round in All the Right Places, TONIGHT, Oct. 11 at @ 8pm at 11:11 Theatre in West Hollywood.  
It's no secret that pop singer Tom Goss is attracted to plus-sized men. Five years after the release of Bears — his song that continues to play at gay bear bars and fur festivals worldwide — he is reinstating his commitment to them with Round in All the Right Places, a soulful new track that combines sultry lyrics with shapely tones.
"Even after 'Bears', people would constantly ask me if I really had a thing for large men," Tom says. "I used to get annoyed by the question, but then I started to reflect on it and I came to the conclusion that I hadn't done an adequate job of describing what is so intoxicating to me about men of size. For this one, I wanted to write something that was more specific and mature. I didn't want to hold back. I wanted to be direct, honest and graphic; to really convey the shape, the allure, the seduction of big men."
Produced by Goss and mixed by Marr Zimm, Round in All the Right Places will be available on iTunes, Spotify and all major digital platforms on Friday, October 12. The music video will be on Youtube.
The 11:11 is located at 1107 N Kings Rd, West Hollywood, CA 90069.