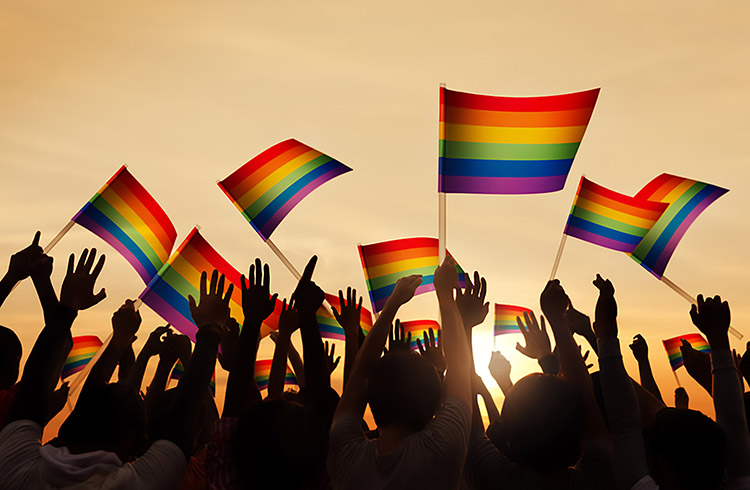 Life will be different for LGBT activists in the wake of the High Court's marriage ruling… It's a lot more fun to rally around an issue like marriage, simultaneously profound and simple to grasp, than it is to generate support for anti-discrimination legislation. Yet that's our next battleground.
---
Whither the Gay Agenda?
Happy New Year, my dear readers of THE FIGHT. Are you quite ready for another action-packed, suspenseful, festive and riotous twelve months of LGBT civil rights excitement? Then let's get started, brothers and sisters in struggle!
Actually, it feels as if some of our comrades in arms are claiming victory and calling it a day after our success in the fight for marriage. Evan Wolfson has closed the doors on Freedom To Marry, the New York-based national campaign he founded in 2003 with one goal in mind.
That decision, of course, makes perfect sense. But it surprised a number of observers when the Empire State Pride Agenda, New York's number one GLBT organization, declared "mission accomplished" and announced plans to disband. Empire State Pride Agenda will maintain a political action committee, but will close its policy arm and its non-profit foundation. I guess we can strike New York off the list of U.S. states that continue to put up with antigay and trans discrimination. Who knew?
Meanwhile, I hear that fundraising is down across the board for community action groups who can no longer play the marriage card in their search for operating cash. The term "I hear" is an expression used in journalism meaning: "I read this somewhere a few weeks ago and can't remember where."
Well, it doesn't take an actual news source to figure out for ourselves that life will be different for LGBT activists in the wake of the High Court's marriage ruling. For all the talk of backlash—and there is some backlash to be sure— most of the country has basically moved on. Indeed, it's not the backlash that I worry about as much as the indifference to our unfinished business both from our allies and ourselves. It's a lot more fun to rally around an issue like marriage, simultaneously profound and simple to grasp, than it is to generate support for anti-discrimination legislation. Yet that's our next battleground.
Show Them The Money!
Woah! A dark cloud swept across our sunny disposition for a minute there! Let's get back to our holiday spirits, shall we? (Cue: sound of cork popping, fizz.)
Do you remember Melissa Klein, owner of the no-gays-please Oregon bakery, Sweet Cakes by Melissa? The holier-than-thou entrepreneur and her Leviticus-spouting hubby, Aaron, were ordered to pay $135,000 and change to the two women that they refused to serve and subsequently dragged through a gantlet of angry Christian commentators by going public with their alleged religious persecution at the hands of the State of Oregon.
Now, after refusing to shell out the penalty for nearly six months, the Kleins have finally written their check to the state Bureau of Labor and Industries. Please note that they can well afford the fine, considering they have raised at least half a million, if not more, through crowd funding sites. The money will sit around until the Kleins have finished appealing their conviction for breaking Oregon's laws against anti-gay discrimination, at which point it will go to the rejected lesbian brides. Meanwhile, the Kleins are running their business from their home and parading themselves online and elsewhere as martyrs to the faith.
In a related story, the Washington State florist who nixed the business of a gay couple in 2013 is continuing to fight the state attorney general, who has successfully won a court case accusing her of violating the state's consumer protection laws. Barronelle Stutzmann has only been fined a thousand dollars, but she insists that the sum will bankrupt her and she has asked the Washington Supreme Court to reverse the lower bench. And yes, she has also cashed in at least $92,000 from GoFundMe, if not more through other sites. As we go to press, Attorney General Bob Ferguson just filed a 64-page brief on behalf of our communal principles. Thanks Bob.
Family Ties
I know there are a few other bad business bullies around, but two such stories should suffice for now. In other news, Lambda Legal is pushing North Carolina to revise birth certificates for two women who have tried fruitlessly to legitimize their family paperwork for some time. Although the Tobacco State began recognizing same-sex parents on birth certificates after we won marriage rights, it apparently refuses to do so retroactively. Ergo, Lambda Legal to the rescue.
And in Kentucky, a hint of drama still clings to the whole Kim Davis saga, since the brand new tea party governor, Matt Bevin, has ordered that clerks' names no longer appear on marriage licenses. This change would seem to resolve the antigay clerk's religious conflict, and really, who wants Kim Davis's name on their marriage license to begin with? But civil libertarians worry that the ever-mutating marriage documents produced by the state of Kentucky may give rise to legal questions outside the state.
Finally, in other marriage mop up news, I guess a bunch of counties in Tennessee have passed resolutions in opposition to marriage equality and have vowed to oppose our unions. I'm not sure how such pronouncements will translate into actual antigay practices, but I'm sure our ever-vigilant lawyers will pounce at the first hint of irregularity. No one, to my knowledge, has been denied a marriage license in the Volunteer State, although one crazy judge did refuse to divorce a heterosexual couple based on the idea that the High Court's extra-judicial gay rights ruling this summer effectively removed marriage law from the purview of the local courts.
Huh?
Quixotic or Courageous? 
There's an interesting conflict developing in Michigan, where a group called Fair Michigan is busy organizing a petition drive to put a LGBT civil rights amendment on the 2016 ballot.
Sounds good, right? Um, not so much. According to Equality Michigan, the Michigan ACLU and a dozen or so other representatives of the gay establishment, the proposal will likely eat up tons of community energy, sweat, and dollars, in exchange for nothing but tears. Research seems to indicate that Michiganders are by no means ready to add sexual orientation and gender identity to anti-bias language in the Mitten State constitution. And note that this is the same form of research that accurately predicted the (crushing) defeat of Houston's LGBT rights ordinance last November.
Fair Michigan, on the other hand, has generated happy sounding polling data and seems optimistic that the amendment would coast to victory.
As a rule, I tend to line up behind the LGBT establishment like an obedient puppy. Why? Because I have learned through 20 years of observation that they are usually correct. I'm not talking about the Human Rights Campaign (which wasted years on the horrific Employment Nondiscrimination Act). I'm talking about coalitions, such as this one, when fifteen or twenty gay rights groups come to the same conclusion. Do not file a federal marriage case in Oklahoma. Do not run a marriage electoral campaign in Ohio. Do not challenge Prop 8 in federal court. These were sensible recommendations back in the day and I'm guessing "do not try to amend the Michigan constitution in 2016," is probably wise as well. Equality Michigan and company believe they can make progress through the legislature over the next few years, and worry that a losing campaign will set them back. Well, assuming Fair Michigan can gather 316,000 signatures by July 11, I guess we're going to find out.