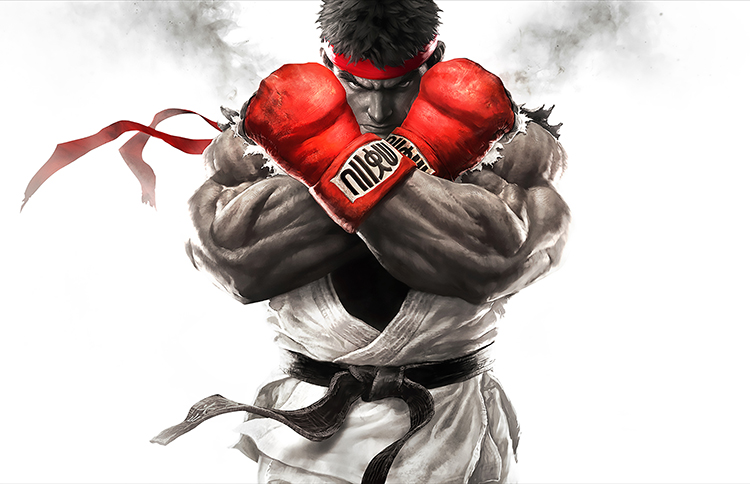 Street Fighter V
Fans reflect and say goodbye to the 7-8 year run of Street Fighter IV. We are now welcoming the era of Street Fighter V.
BY JOSEPH ARELLANO
Some people play video games as a form of entertainment. Others use it as therapy. But one man has been using it as a form of expression and inspiration. Meet Aaron Jones,  41 year old, gay LA native gamer living in West Hollywood. His favorite genre is fighting games. He also plays RPGs and action games as well.
As a gamer, where did you start and what games did you find enthralling?
I started playing video games ever since I was a little kid. My console experiences go as far back as a Radio Shack TRS-80 machine (with cassette tapes). I've had most of the major gaming systems since Atari 2600. You know, the one with the wood paneling and the metal toggle switches. I am currently a Sony guy with a PS4. I have been playing against people in local liquor stores, doughnut shops, newsstands and arcades all around LA and beyond for a long time. Now it's mostly online, but I still enjoy playing in arcades wherever I can find them. I played Street Fighter when it only had two buttons and not six [laughs].
As the new year approaches, what games are you looking to buy?
For 2016… I have already pre-ordered Street Fighter V. I am just finishing up with the 3rd beta, and it's shaping up to be a great game. I am going to pick up the Season 1 pass later this week as well.
Any new year's resolutions? Any goals you want to achieve? Tournaments? Matches?
This year I would very much like to get more involved in the FGC community. I feel that e-sports is on the verge of becoming really huge. I took a ride down to the E-Sports Arena in Santa Ana to see what a gaming training hall (arcade) looks like today.  It was awesome. Lots of space and the setup was really user friendly. There are areas to stream gaming tournaments & meeting spaces. When you look at the success of Hearthstone and League of Legends you can the see the overall marketing potential and the loyalty of the fans that genuinely love those games. The Fighting game competition has been around since I was younger, but nothing like the scale of today's e-sports athlete. When I was a kid, local tournaments could get you maybe a hundred bucks. This year's Evolution Championship Series (EVO) prize pot was about half a million dollars!! The Capcom Cup was a high energy event that allowed Street Fighter fans to reflect and say goodbye to the 7-8 year run of Street Fighter 4. We are welcoming the era of Street Fighter V. The scene has truly grown up over the years.
In terms of the industry, what can you tell other LGBT players? What studios and games are you most excited for and why?
In terms of an industry standpoint I am looking to get my hands on Tekken 7. Bandai-Namco has been very loyal to its arcade fans in Japan. When it comes to console ports, I believe they try to give the best version of their game to give players a sense of playing with someone online as if they are sitting right next to you. I am so so proud of SNK Playmore taking a risk and releasing the King of Fighters XIV. The have a pretty strong franchise and loyal customer base. The new graphics engine looks amazing, even in early stages and they have Yasuyuki Oda from the Street Fighter 4 design team at the helm. Guilty Gear Xrd: Revelator is on the list as well. We cannot forget about Final Fantasy 7: Remake is also on the horizon. The gameplay videos are fantastic.
---
Of course, all these titles are available at WORLD 8. So take a drive and see the lovely crew and they will help you with your video game needs. World 8 is located at 1057 S Vermont Ave, Los Angeles, CA 90006.
---
THIS PAGE IS SPONSORED BY