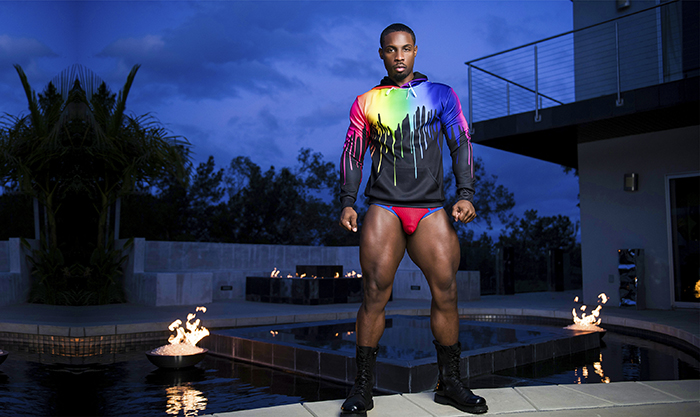 Following the lives of four gay men of color as they navigate their way in the adult film industry
BY MARK ARIEL
Narrated by GAYVN 2020 Best Actor and reigning Performer of The Year Award winner DeAngelo Jackson, Being Black in Porn follows the lives of four gay men of color as they navigate their way in the competitive and often complicated adult film industry.  
Through interviews with the men in NYC, Chicago, Las Vegas, and LA, the film examines their unique experiences including their encounters with racism (being cast in servant roles or as thugs; also, facing white performers who refuse to perform with them because of the color of their skin), stereotypes (black talent are expected to have large penises and they're made to bottom when they do not) and inequality (though "BBC films" is one of the most searched terms in porn, black actors report making less money than their white counterparts).
"I had to share this story," says DeAngelo Jackson who in addition to narrating Being Black in Porn is also the film's executive producer.
He selected the main cast for the documentary: Dillion Diaz, Max Konnor, and Rock Rockfella, an industry legend who directed DeAngelo's first scene in adult film. "I had to do this for my fellow brothers and sisters in the entire adult industry. I learned early on that if we don't stand for something, we will fall for anything."
"I had to do this for my fellow brothers and sisters in the entire adult industry. I learned early on that if we don't stand for something, we will fall for anything."
Born and raised in Germany ("I'm a military brat so I've grown up all over the world") Jackson reveals, in an interview with THE FIGHT, that he didn't come out until after he entered the adult industry. "Unfortunately I was outed by a family member so I was not given the opportunity to come out to my family and friends when I was ready. I regret not having that freedom of choosing when I wanted to live in my truth, and I encourage everyone to let individuals come out when they are ready."
"As for how I entered porn," states Jackson, "I was a broke and a struggling college student and needed the extra money. I thought it would be easy money,not something that would take off and that I would still be active in ten plus years later."
The biggest misconception people have about the adult film industry—says Jackson—is "that it's all fun and games. Believe it or not—a ton of work and preparation goes into performing. The director has to get certain angles and literally you're getting instructions on how to be intimate with someone… I remember when I first signed with management he accidentally had me booked back to back for scenes. I was like 'Dude I need to rest! I can't just keep going and going!'"
The motivation to produce Being Black in Porn says Jackson was his desire "to highlight the stories of BIPOC performers. Many of our experiences are very similar and there needs to be light shed on them."
There was some difficulty to find performers willing to participate in the documentary, reveals Jackson. "I believe some performers were afraid to be blacklisted if they spoke up. Those that did participate are brave and I'm extremely grateful for them having the courage to speak about their experiences in the industry."
"My hope," say Jackson, "is that viewers get an insight into the ongoing issues of racism and inequality within the industry. I want for this documentary to bring positive change within the industry. I know it's only one small step, but I am hopeful that it will be successful one."
---
Being Black in Porn is distributed by Mile High in association with Novo Novus Productions and adult production house Noir Male.  For more info visit Noir Male's Instagram channel: https://www.instagram.com/officialnoirmale/.  
PHOTO COURTESY OF NOIR MALE