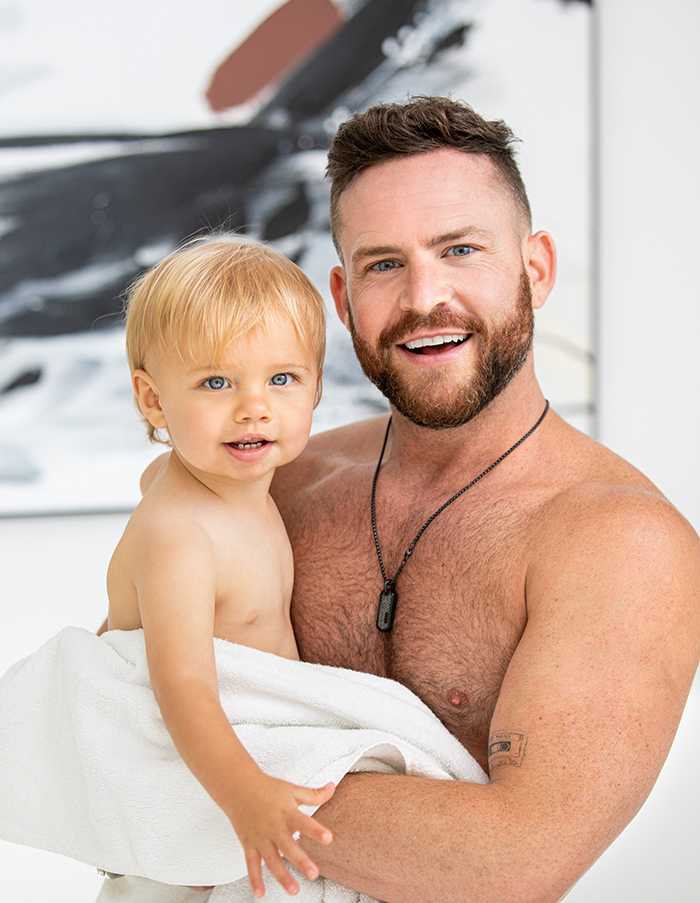 Zack Ament, Founder and Co-CEO at Westwind Recovery, on addiction, overcoming personal tragedy, and fatherhood
BY MARK ARIEL | PHOTO BY DUSTI CUNNINGHAM
"I got involved in recovery work through my own journey with addiction," reveals Zack Ament, 31, founder and Co-CEO at Westwind Recovery in an interview with THE FIGHT.
Born and raised in Los Angeles, Ament says that the realization that he was gay at the age of 13 "was terrifying."
"I honestly hadn't met anyone else in my life who was gay or, at least, didn't think I had. Gay characters on television and other media portrayed gay people as comic book characters that society was supposed to laugh at or tragic figures that you were supposed to feel sorry for. I also believed that being gay somehow didn't fit in with the plans for success my parents had hoped for me.
While grappling with this internal struggle I turned to alcohol on the day of my Bar Mitzvah. I stole a bottle of wine from my parent's tiny collection of alcohol. I felt that drinking would be relatively safe since I knew that kids from school were experimenting with it. After taking a few drinks, the alcohol began to take its effect and suddenly the out-of-control feelings I had disappeared…like magic. I was no longer 'in my head' and, more importantly, no longer uncomfortable in my own skin…
My addiction progressed, as alcohol and drug use became a means of hiding myself from the reality that I was keeping secrets from those I loved. Substance use and addiction was my means of coping with adversity, while also causing me to flounder at everything important to me. At age 20, with the help of my family—and a nudge from the judge—to turn my life around and live substance free. This is when my personal recovery began. Soon there after, I felt a need to pay back all the people who had supported me financially and emotionally, and pay forward the support I received to others who are struggling."
How did Westwind Recovery come about?
Westwind started with friendship, a dream, and love. About 9 years ago, I got a very unexpected message from a newfound sober friend: Justin Wells. He asked me, "Do you want to move into a house with some sober friends?" I was about four years sober; Justin Wells had almost two years. At the time, my resume consisted of a half-finished bachelor's degree in psychology, a whole lot of unpaid internships, and some experience working at a smoothie shop.
The house that Justin Wells, our friends, and myself moved into, later, became the Laurel Canyon house for Westwind and it is still in the family today. The dream was sobriety, overcoming the struggle. My own sober journey began to crystalize around bringing struggling and sober people together; finding a brotherhood of recovery; finding solutions together.
That Laurel Canyon house functioned as a pod of fun, recovery, and sobriety for those of us living there, and for the LGBTQ+ community in West Hollywood. We were creating Westwind Recovery without even realizing we were doing it. Along with our best friend, Justin White, we built a community of recovery and finding solutions together. Westwind began to grow. As Westwind grew, Justin Wells and I fell in love. And everything expanded from there.
Today, Westwind is not only a thriving Sober Living community with six homes in Los Angeles and West Hollywood, but it is also a Medical Detox, Inpatient Rehab, and Outpatient Program in Los Angeles.
Westwind is a wholly unique treatment center and sober living; it is a family. Westwind—unlike other treatments programs—encourages clients to replace destructive behaviors like taking drugs and filling the void with fun and/or healthy alternatives like working out, hiking, weekend barbecues with your friends, weekend getaways, etc. We are a huge and thriving community of diverse individuals who yearn for connection to others and fun, meaningful experiences. Honestly, without Westwind, I don't know where I would be today.
At what point did you and Justin Wells decide to have a child?
Justin and I were married in 2017. We always knew we wanted to be fathers. I think it was our first or second date when Justin asked me if I wanted to have kids, and I promptly responded, "being a dad is just my biggest dream in life.." Turns out it was his, too. And now he is… our son, Koa—born six months after Justin's passing—is biologically Justin's son.
If it's not too personal—can you share about Justin's passing? What was his cause of death—and how did you deal with the grieving process?
In preparation for having our first child, Justin decided to undergo a necessary discectomy (back surgery) that he had been putting off for years. He wanted to be able to show up fully for fatherhood, and be physically able to carry and play with our son.
He had several years of sobriety off of opiates at the time, and had walked through some fears about the surgery with both his sponsor and his therapist. He made the doctor aware of his addiction, but the pain after the surgery was brutal and the doctor sent him home with OxyContin. I believe that once the drug was back in his system, Justin was unable to not need more, and he suffered a fatal overdose within 36 hours of the surgery.
Losing Justin was more painful than anything I had experienced before. Grief for me showed up in a severe depression, an unshakeable feeling of constant confusion and an inability to eat or sleep for several months. Thankfully, most of my friends are therapists or empaths, and most intuitively knew how to support me, when to stay close and when to back off. My bestie, Armando Melendez made an excel spreadsheet scheduling who would sleep at my house with me each night for over a month. I am forever grateful to how the community rallied around me at this time.
Westwind was also there for me through this process—when I needed it most. I took some time off, but kept close to the clinical team, whom also happen to now be a part of my extended family here in Los Angeles. Jessica Steinman, our Clinical Director at the Outpatient was in my home daily, and my partner in Westwind, Justin White handled everything during the time I was gone (and the was a tremendous amount to handle; finances, morale, operations, staff and rumors surrounding Justin's passing—to name a few).
How has you life changed since Justin Koa was born?
Since Koa was born, my life has become so big in many ways, and so small in many other ways. All of these ways have caused me to live the life I have always wanted. I'm both a mom and a dad in the core of my being. It wasn't until Koa that I could actually understand that.
What is life like as a single father? Are you dating anyone?
Confidence, confidence, confidence! For me, life as a single gay father has had me sink into a newfound understanding that I am uniquely strong, compassionate, resilient and capable of overcoming extremely physically and emotionally demanding feats. I juggle so much to keep our lives happy and healthy, and when I step back to take inventory of everything the is reliant on me, and me alone; I get very proud of where I am today.
Dating? I tried dating a bit, but put it on hold when I started to feel me pulling away from new love. Losing a love as strong as I had with Justin makes you guarded. I didn't want to put that on anyone. Plus, I have really enjoyed living this chapter of life as "Me and Koa Against the World!" I will say that I do have my eye on a very special young man that impressed me by his ability to love both me and my son so fully while we dated back then. I am planning to see where it goes when I am more ready for him.
I heard about the launching of your non-profit, The Second Chance Mission. What is that and how can we get involved?
The Second Chance Mission is a non-profit project I have been nourishing for a while now when I am not working on Westwind. The Second Chance Mission is a way for me to give back to a community that gave me so much support when I needed it most. Our mission is to offer support and strength to those who have suffered adversity and are turning their lives around. Since our launch, we have gratefully helped many; including a lovely single mother—with a story similar to mine—with the furnishing of her nursery, surprised transgender twin sisters with $5,000 to help them as they return to college with goals of helping others like themselves, and paid the first year of rent for a retired healthcare worker who found himself without a home during the pandemic.
You can find out more about us at www.secondchancemission.com and get involved in our fundraising efforts by contacting me through our website. Our next fundraiser will be our West Hollywood "End of Summer Pool Party" in August.
---
For more info on Westind Recovery—visit: www.westwindrecovery.com.