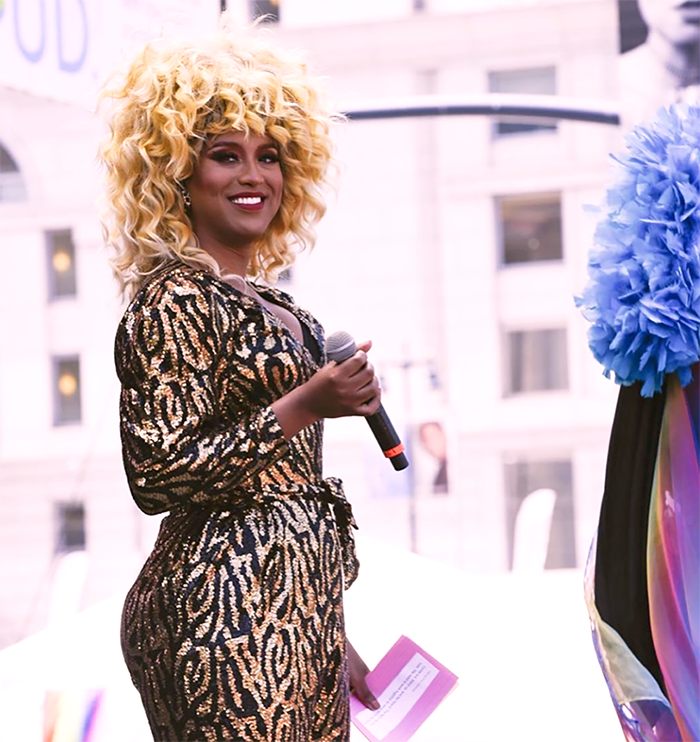 Drag Race Alum Honey Mahogany announces run for chair of San Francisco Democratic Party
BY VICTOR MELAMED
Honey Mahogany, who currently holds a vice-chair seat in her local County Central Committee, has announced that she will be seeking the role of Chair of the San Francisco Democratic Party when current Party Chair David Campos vacates the seat to pursue his new role as Vice-Chair of the State Party. 
Mahogany would be the first black person to lead the San Francisco Democratic Party in modern history as well as the first trans person in the United States to chair any local Democratic party.
"As a young kid growing up in San Francisco, seeing a trans person lead the Democratic party would have been so meaningful'' said Mahogany. "San Francisco is a beacon of progress for so many other cities in America. With me as Chair of the San Francisco Democratic Party, we have an opportunity to show the rest of the country that San Francisco lives its values; that we embrace our trans brothers and sisters; and that we support black trans leadership."
Born in San Francisco to East-African political refugees. Honey's father worked as a cab driver and her mother raised two children while putting herself through school and working full-time. Honey graduated from St. Ignatius College Prep before attending the University of Southern California, and then UC Berkeley where she graduated with a Master's in Social Work.
If elected Mahogany will be both the first trans and first black person to serve as party chair
Mahogany began making a name for herself as a drag performer and singer in San Francisco's nightlife during the late 2000's. She garnered international attention in 2013 when she became the first drag performer from San Francisco to compete on RuPaul's Drag Race. "Drag Race was a great learning experience for me," said Mahogany. "Having to work all day in heels, perform, be funny, be fierce, and face challenges all while being cut down by other queens… it's basically San Francisco politics."
Mahogany is known locally for her activism and advocacy. She served as President of the Harvey Milk Club—the LGBTQ Democratic Club founded by Harvey Milk two years before he was assassinated—where she led the club at a time when there was a highly contentious mayor's race after the death of Mayor Ed Lee. In 2017 she co-founded the Transgender Cultural District, the world's first officially recognized transgender neighborhood located in San Francisco's Tenderloin, and in the same year saved San Francisco's oldest queer bar, the Stud, from closure by forming a worker-cooperative with other drag queens, DJs, and bartenders and creating the countries first co-operatively owned gay venue. In 2018, Mahogany was appointed to the San Francisco Democratic County Central Committee, and then in 2020 won election to that body and earned a vice chair position, making her the first black trans person elected in the State of California.
If elected as chair Mahogany wants to focus on helping a city that was already struggling before the pandemic. "A Republican hasn't been elected in San Francisco in a really long time—thank god—so that means that the Democratic Party has an opportunity here to show the rest of the country what a Democrat led city can do," said Mahogany. "Homelessness, lack of affordable housing, rising overdose deaths, and violence against our Asian elders are all issues the party needs to help tackle. I'm ready to get to work."