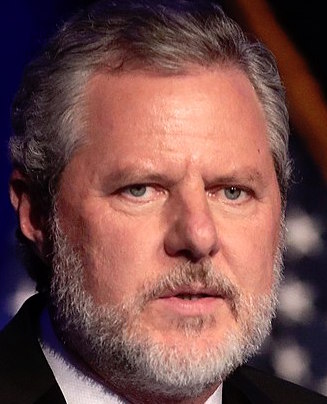 (Jerry Falwell Jr. Photo: Gage Skidmore, CC BY-SA 2.0 <https://creativecommons.org/licenses/by-sa/2.0>, via Wikimedia Commons)
Liberty University is suing  the virulently anti-gay, Christian conservative Jerry Falwell Jr for $10 million, claiming he withheld scandalous information from trustees while negotiating a new contract for himself, reports Pink News.
Falwell, a key Trump ally and one of the most powerful figures in the evangelical movement, was removed as head of the powerful private Christian university in August after he and his wife were accused of pursuing an improper relationship with a 20-year-old pool boy.
"Becki [Falwell's wife] and I developed an intimate relationship, and Jerry enjoyed watching from the corner of the room," pool boy Giancarlo Granda told Reuters of his affair with the couple.
READ MORE HERE:
Liberty University sues disgraced former boss Jerry Falwell Jr over affair with pool boy