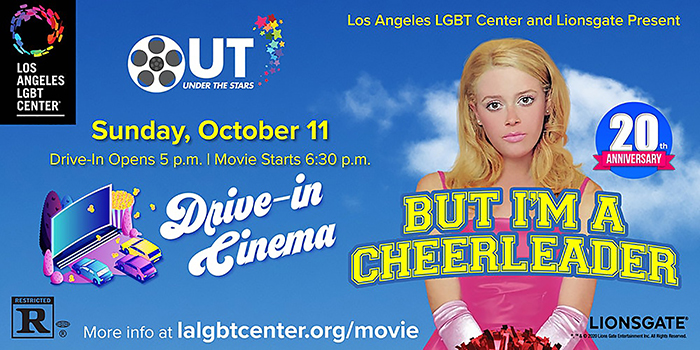 SUNDAY, OCTOBER 11
OUT UNDER THE STARS DRIVE—IN: BUT I'M A CHEERLEADER 5PM-8PM
Parking Garage @1400 Ivar Ave. Behind The Cinerama Dome. The Los Angeles LGBT Center and Lionsgate host the ultimate socially distanced outdoor movie night benefitting the Center's vital programs and services provided during the COVID-19 pandemic.
TUESDAY, OCTOBER 13
TRANSLOUNGE: REDEFINING MASCULINITIES—EXPLORING
MASCULINITY AND YOU 
For info go to: www.translounge.org/trans-lounge-membership/
SATURDAY, OCTOBER 17
DRAGBOOTCAMPLA: PRESENTATION & DRAG SHOW 4PM-7PM
Tune into @dragbootcamp.la over Zoom: Presentation & Drag Show! Featuring Guest Speakers @thehomohomiepodcast Jose Resendez @thejoseresendez & Erick Velasco @thehomohomie on Community Building & Networking. Featuring show line up TBA. Earn $30 for Participating ifyou are Latinx 18 to 24 and live in LA County! Plus! A Raffle Gift Card when you join the workshop and a free Drag Show! @the_wall_las_memorias.
THURSDAY, OCTOBER 29
GAYLARIOUS LGBT COMEDY SHOW—SPOOKY COMEDY FESTIVAL 6PM
For info go to: www.eventbrite.com/e/gaylarious-lgbt-comedy-show-spooky-comedy-festival-tickets-118564478547
SATURDAY, NOVEMBER 7
GAY-CENTERED INNER WORK CLUB 7PM-9PM
Plummer Park 7377 Santa Monica Blvd, WeHo. An ALTERNATIVE gay space for those interested in community-building and planetary healing through personal psychological liberation.
SUNDAY, NOVEMBER 8
TRANS VOICES 7PM-8PM
For info go to: www.eventbrite.com/e/trans-voices-november-at-strut-tickets-120685851631
EVERY MONDAY
VERY THAT HOSTED BY DELTA AND RAJA
www.foreverdogpodcasts.com/podcasts/very-that/
Two iconic queens, Delta and Raja, talk about beauty, culture, and memorable moments in drag history. Yeah girl, it's… very that!