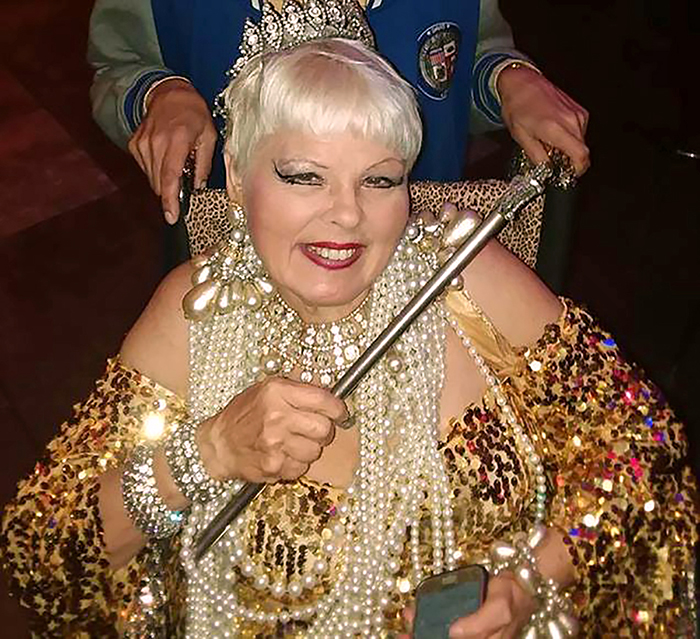 WEST HOLLYWOOD
COMMUNITY MOURNS DEATH OF ENTERTAINER AND HIV ADVOCATE IRENE SODERBERG
The West Hollywood community is mourning the loss of entertainer, HIV Advocate, Fairy Godmother of Fundraising, and WeHo resident, Irene Soderberg, who passed away last month. Soderberg has been entertaining for over 30 years. Wherever there was a piano in West Hollywood, she was there singing and cracking jokes. She performed regularly at the Christina Applegate-owned Villa VillaKula back in the 90s (where Fiesta Cantina now sits) and she also entertained at the long gone Don't Tell Mama piano bar in West Hollywood to name only a few of the venues she performed in.
To make a donation to the GoFundMe Memorial Fund for Irene Soderberg, visit: www.gofundme.com/f/memorial-fund-for-irene-soderberg.
LOS ANGELES 
LGBT CENTER SUING TRUMP ADMIN TO STOP ANTI-LGBTQ HEALTH RULE
Los Angeles LGBT Center is suing the Trump administration. The Center joined a lawsuit filed by Lambda Legal and Steptoe & Johnson LLP challenging the U.S. Department of Health and Human Services' (HHS) recently published health care discrimination rule that purports to carve out LGBTQ people and other vulnerable populations from the protections of Section 1557 of the Affordable Care Act, which prohibits discrimination on the basis of sex, among other bases. The Center is a plaintiff in this lawsuit and is joined by five other organizational plaintiffs and four individual doctors, including two of the Center's physicians, Chief Medical Officer Robert Bolan, M.D., and Health Services Co-Director Ward Carpenter, M.D. On Friday, June 19, HHS published the health care discrimination rule, which is scheduled to go into effect August 18. 
SAN DIEGO 
UNIFORMED LAW ENFORCEMENT OFFICERS ARE BANNED FROM LGBT COMMUNITY CENTER
Armed uniformed law enforcement officers are no longer allowed at the San Diego LGBT Community Center. The board of directors for the Center unanimously voted the move in support of the Black LGBTQ community on June 1. The Center declared the decision go into effective immediately. It restricts armed law enforcement at Center facilities or at Center events unless as a last resort or true emergency. San Diego Pride announcement a week prior that it would exclude San Diego law enforcement agencies from participating in Pride's annual parade in Hillcrest until its policy reform demands are met.
DOWTOWN LOS ANGELES
BLACK TRANS WOMAN ATTACKED, IN CRITICAL CONDITION
A Black transgender woman was left in critical condition last month after she was shot in downtown Los Angeles, reports CBSLA.
The incident happened near 15th Street and Hooper Avenue at about 7:10pm on Tuesday. No arrests have been made and a suspect description was not released. A motive in the incident was also unclear.
During Pride month celebrations in June, an All Black Lives Matter march was held to amplify calls for justice that have spread nationwide following the deaths of Tony McDade, a transgender Black man, and others who have been killed at the hands of police.
LONG BEACH
ANGELA MADSON DIES WHILE ATTEMPTING TO ROW ACROSS PACIFIC OCEAN
Long Beach native, Angela Madsen, a beloved athlete, LGBTQ+ activist, former Marine, and three-time Paralympian, died while attempting a solo rowing journey from California to Hawaii. She wanted to become the first paraplegic, first out gay athlete, and oldest woman at 60 years old to row across the Pacific Ocean. She set out from Marina del Rey in a 20-foot rowboat in April with the goal of reaching the Hawaii Yacht Club in Honolulu within four months. An effort is underway to help bring the long-distance rower's body back to Long Beach from Tahiti.