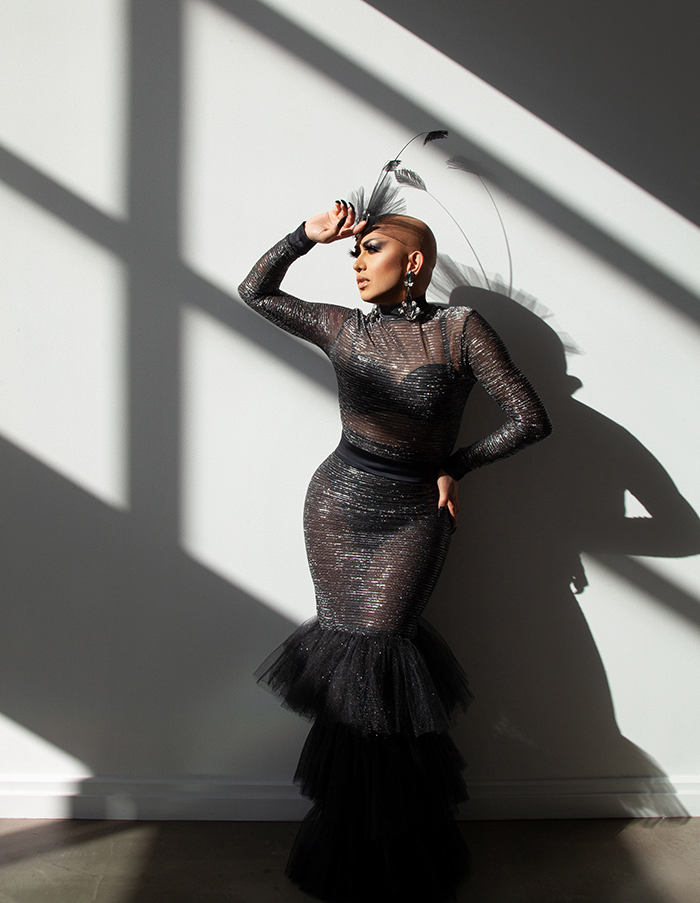 RuPaul's Drag Race All Star Ongina on her drag mother, advocating for HIV and AIDS and dealing with pressures and expectations
BY MARK ARIEL | PHOTO BY DUSTI CUNNINGHAM
When did you become interested in drag?
I became interested in dressing up back when I first moved to NYC and started to make friends with some amazing, incredible artists and club kids. It wasn't until a couple of years later, when I started working at Lucky Cheng's, where I really got into female illusion drag which became the biggest inspiration to what you see of Ongina today. The ladies that worked there really helped me get started and I would say Gretchen is sort of like my drag mother because she was the one who put in a good word for me that landed me the job!
How did being on the inaugural season of RuPaul's Drag Race affect your career?
Season 1 was filmed in 2008 and I was barely a queen when I got casted, but the experience gave me the push to pursue the art further and the business that goes along with it. It opened so many doors for me and the opportunity to travel and perform for so many of my fans across the world; those opportunities helped me become a better drag queen and entertainer. I have also been able to bring awareness and advocate for HIV and AIDS because of my coming out story on episode 4 where I disclosed my status as being HIV positive.
How did people react when you revealed your status as HIV positive on the show?
At the time, I didn't realize what effect this would have on people around the world and the effect it would have on me. Not only did it help me come to terms with my own status and eliminate the shame and fear I felt, but when people started sharing their status with me and how they're living their lives, it made me feel less alone.
Since revealing your status you have become an HIV activist. How has that changed your life?
I didn't realize that my coming out story would make me an HIV activist but I'm glad it did. I have been able to truly share my life without the same shame and fear I once felt and I believe that people find inspiration in that, the same way I find inspiration in others who are doing the same. I have been able to work with organizations local, national and international to raise awareness to continue to fight stigma and raise money to hopefully find a cure. I'm hoping that I will still be alive for when that happens so I can celebrate it with the rest of the world.
---
"This is our time to come together as a community to spread that message of love… I know we can't congregate this year, but I have no doubt we will break the internet by celebrating virtually, together!" 
---
You are one of the ten queens competing on the upcoming fifth season of RuPaul's Drag Race All Stars. How has that experience been for you?
AS5 was definitely a different experience than S1. The inaugural season was different in terms of charisma, uniqueness, nerve and talent! I felt S1 was raw, genuine and to be honest—really low expectations; they just wanted us to do whatever and they rolled the film all day long and edited from those footage. It seems like I was doing it to have fun and have a great time often forgetting it was a competition. Now, the pressure and expectations are so incredible stressful that my mind was playing tricks on me every day I was on set. I was finding myself worrying about not only the competition but also the opinion of my peers that are competing against me, the staff and crew and what the fans would think once it airs.
What does Pride mean to you?
As a Filipino-American immigrant, who is HIV positive, gay and a drag queen—I have a lot to be proud of and I'm so happy and thankful for you in allowing me this platform to share what pride means to me. Pride month is so important because it allows the LGBTQ+ community to celebrate a little louder, a little prouder and a lot gayer! There's no doubt that we as a community do this daily but in June we can do it bigger so that our message for equality is heard on a global scale. There are so many issues we as LGBTQ+ people have to overcome and we are far from being treated equally. Pride month allows us to reach an even bigger audience to share our message of hope and in fighting discrimination. It is also our time to come together as a community to spread that message of love while looking good on the the streets and parade floats. I know we can't congregate this year, but I have no doubt we will break the internet by celebrating virtually, together!
Happy Pride everyone!!