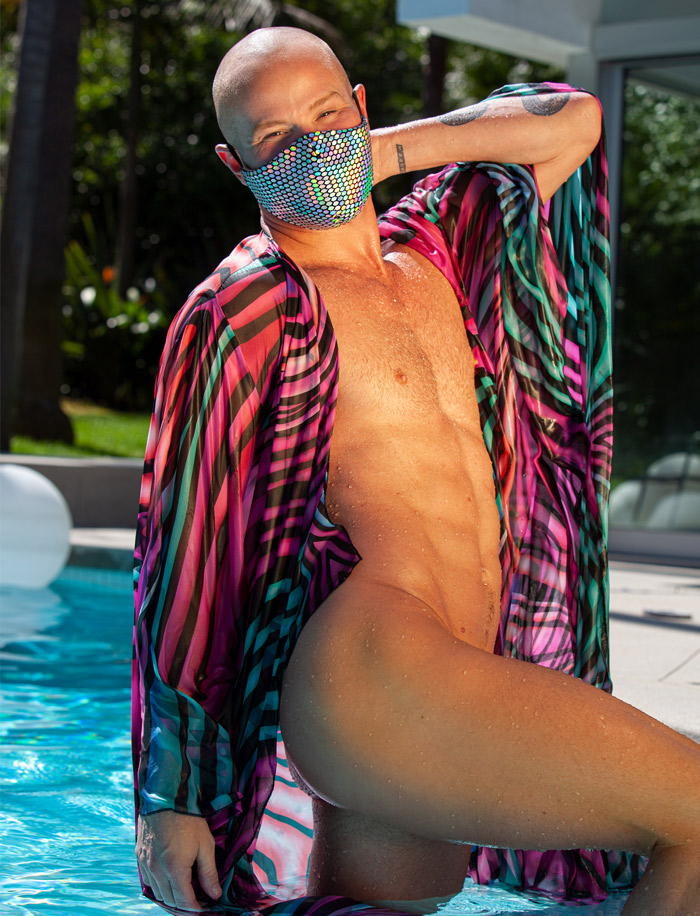 Jason Wimberly on his new reality show "Working Out Is A Drag," homophobia in the fitness industry and living your best life
BY MARK ARIEL | PHOTO BY DUSTI CUNNINGHAM
I came out at 14 years old in 1996, and in the little California farming town of Lodi—I was the first gay high school kid, like…EVER. I wasn't just gay either, I was a 'shot out of a glitter rainbow rocket riding a unicorn' type of gay," reveals celebrity personal trainer Jason Wimberly in an interview with THE FIGHT.
"I was a cheerleader at the football games, and performed on the dance team at pep rallies. My first dance performance, get this… was at the Stockton Asparagus Festival. I wore silver MC Hammer pants and a silver puffer vest with nothing under. Yeah. If there was a stage of a camera I was ready to do a show, even in Lodi."
---
"I can't even tell you how many producers, or news outlets or brands have flat out told me I'm 'too gay' or 'too femme,' and have tried to tone me down over the years."
---
An industry veteran, Wimberly has taught classes across the country with top studios like Soulcycle and Equinox. He is currently starring in a new reality show—"Working Out Is A Drag," where he coaches RuPaul's Drag Race queens through step-by-step workouts that are equal parts fun and fitness. Each week, queens work on their body-ody-ody with Jason's unique blend of cardio and strength training so they can "sissy that walk" as fiercely out of drag as they do on the runway.
The miniseries premieres this month on www.wowpresentsplus.com.
"While my entire life has been about mastering my body for a sport or performance, it really was about loving myself enough to be the best I can be," says Wimberly.
"Fitness allows us to take control of our reality, to literally change and shape our experience of how we walk through life. It allows you to feel better, sleep better, have sex better, just LIVE better… For me, working out isn't about how we look, it's about how we feel."
As an out, unapologetic gay man Wimberly says that the "industry is very hetero in the way that the guys and girls all sort of look the same."
"There's an aesthetic that's strived for, and I have always sort of been in the middle. There aren't a lot of flamboyantly gay male trainers in the industry that work in media and stuff the way I do, because they are told they can't be. I can't even tell you how many producers, or news outlets or brands have flat out told me I'm 'too gay' or 'too femme,' and have tried to tone me down over the years. I have had to fight for every opportunity I've had, and worked extra hard to prove I was strong enough and good enough to be there.
"EVERYONE deserves to be their own athlete and deserves to feel strong and confident in their bodies. Gay, Straight, Queer, Trans, Femme, Butch. Fitness is not for buff guys, it's for everyone."
When asked if he finds any differences between straight and queer clients—Wimberly reveals that "in Los Angeles, clients can get fixated on specific things, like 'I want to lose two inches in my hips.' I can do that for a movie role or for Paris fashion week, but for the most part those sort of things are unrealistic or unsustainable. Gay men can easily do this when it comes to assessing their bodies, and don't realize that it actually is about the whole picture. For that reason I stopped weighing clients years ago. I always hated how when clients would come in, there was that 'here's what I don't like about my body,' or 'what do you want to change?' conversation. It seemed so negative, and I believe that the body hears and responds to our thoughts. So instead of asking what they don't like or what they want t change, I ask them to tell me 'three ways they want feel,' at the end of our time together. Of course, it's always some version of the same three things. Strong, Confident, Happy. So I try and focus on that stuff, and steer away from just talking about how their body looks. Because when they start to feel those things, their body will really change."
The idea for "Working Out Is a Drag" came about in 2019—after a particularly tough year for Wimberly.
" I had a series of deaths in my life, including my best friend of 13 years Andrew. His named is tattooed on my wrist now so I still can see him every day. I ended up leaving my own studio that I had created and took some time to grieve and process. After some time to heal and I just pitched the show to World of Wonder and they loved it and bought it."
"I wasn't entirely sure on the format at first, but I really wanted to accomplish a couple things. I wanted to create positive, uplifting LGBT content. I wanted it to be somewhat educational. And I wanted it to inspire people to get up off the couch and move, even if just a little bit. Im a big believer of finding movement where you can. Take the stairs instead of the escalator. Park far away so you have to walk. Now you can watch my show, and get up off the couch and do a few squats with us too."
Wimberly teaches at Health House—www.health-house.com—in West Hollywood. Catch his new show "Working Out Is A Drag" on www.wowpresentsplus.com—where he trains your favorite drag queens from RuPaul's Drag Race. Watch Kameron Michaels, Raja, Sonique, Laganja and Monique Heart sweat for their lives and maybe throw on some high heels too.