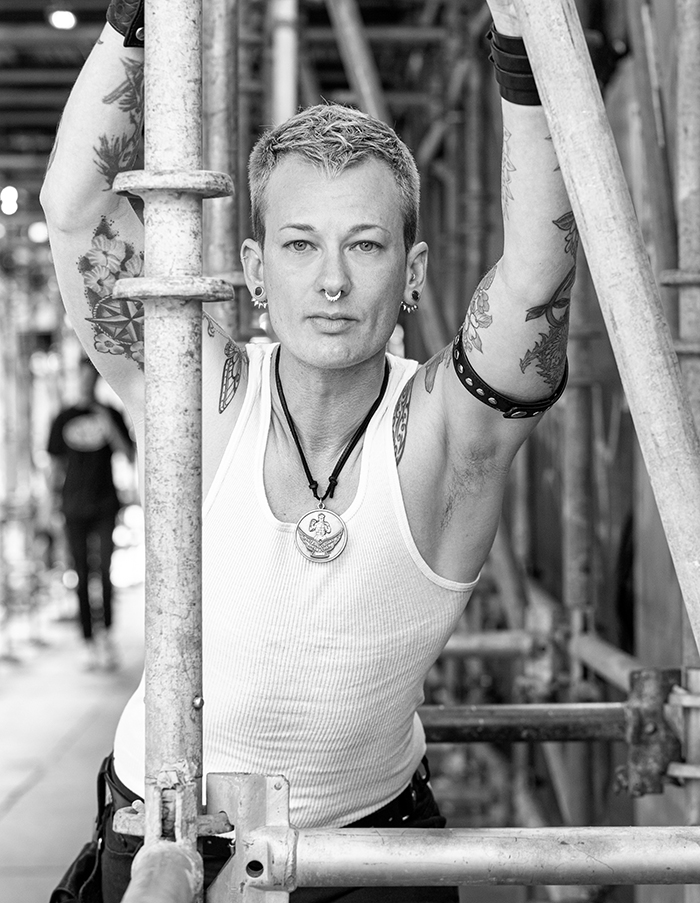 Elliot Musgrave, Mr. LA Leather 2019: "I know I wasn't the Mr. Los Angeles Leather that many wanted, but I hope I was the one that at least a few needed."  
BY ELLIOT MUSGRAVE  |  PHOTO BY DUSTI CUNNINGHAM
I was born in Riverside in the Summer of 1982 to a chaotic upbringing; which though hard, made me resilient and adaptable.  I got bounced all over the place by my parents, but Southern California has always been my true home. I settled in Los Angeles six years ago, and finally found the partner and community I needed to heal, and unearth myself fully. I am a parent, an entrepreneur, a personal trainer/coach, and a myriad of other things outside of being a leatherperson. For the past year, the identifier of "leatherperson" has dominated my life. That sash changed everything.  
Prior to winning a title, I was invisible in the leather community; as, frankly, most of us who are not cis men feel we are. I did not set out on this path with any notion that I would win. I thought, at best, it would be something fun that would push me outside of my comfort zone. That I would meet some new folks, then carry on with my life as I had before. Things changed, quite literally, overnight after the contest. Walking the street the next day at Off Sunset, I couldn't move five steps without being embraced, photographed, or enthusiastically greeted. This was such a stark contrast to how I was accustomed to moving around in leather spaces, that I felt overwhelmed and out of my league.
My perspective of the Los Angeles leather community before this previous year was greatly limited by my lack of full access to it's spaces. I had spent most of my time in Queer/AFAB leather spaces, where we have one night a month at any given bar. This past year I have developed more relationships with cis leathermen, and had opportunity to have deep and vulnerable conversations with them.
Many have been generous and open, sharing their fears, trauma, and personal histories…I have found these to be so very similar to those of my Queer/Trans leather community. It is very painful and isolating to hold love for two groups of folks, who have so much in common, yet are unable to find the space to overcome their cultural differences and collaborate.
 "It is very painful and isolating to hold love for two groups of folks, who have so much in common, yet are unable to find the space to overcome their cultural differences and collaborate." 
I now straddle an arbitrary line. On both sides I watch my people flail around blindly in their pain, lashing out at anyone who's stray limb flies into their path. The hurt that was inflicted by others is reenacted ad nauseum. All I ever wanted from this year was to bring people together; for us to have space to fuck, and play, and learn, and grow together. In hindsight, it was naive to think I was going to walk in, throw some parties, and we would be miraculously unified. My spouse told me as much in the beginning, but I wasn't in a place where I could understand that yet. I walk forward now, committed to the long work ahead to achieve this goal…but, now I have a small army of allies and cohorts, and they will bring about changes that I haven't even conceptualized yet.
It strikes me as significant that I am the first person like me that has worn this 20 year old sash, and I am also the last person that will ever wear it. As it is retired, we get to re-conceptualize what Mr. LA Leather looks like, what a leatherman looks like, what masculinity looks like.
This past year has been one of the more challenging ones of my life. I have found myself in situations I've never had to navigate before, and had my own biases and preconceptions held up in front of me. I walk away from it knowing I did my very best, and acknowledging where I still need to grow. I have felt my otherness poignantly, while also being embraced and accepted in a way I've never experienced. I feel a bit jaded, but also hopeful. It's going to take me years to untangle this journey. I know I wasn't the Mr. Los Angeles Leather that many wanted, but I hope I was the one that at least a few needed.
This year bounced me all over the place, but I am resilient and adaptable…and Los Angeles, I'm not done with you yet.