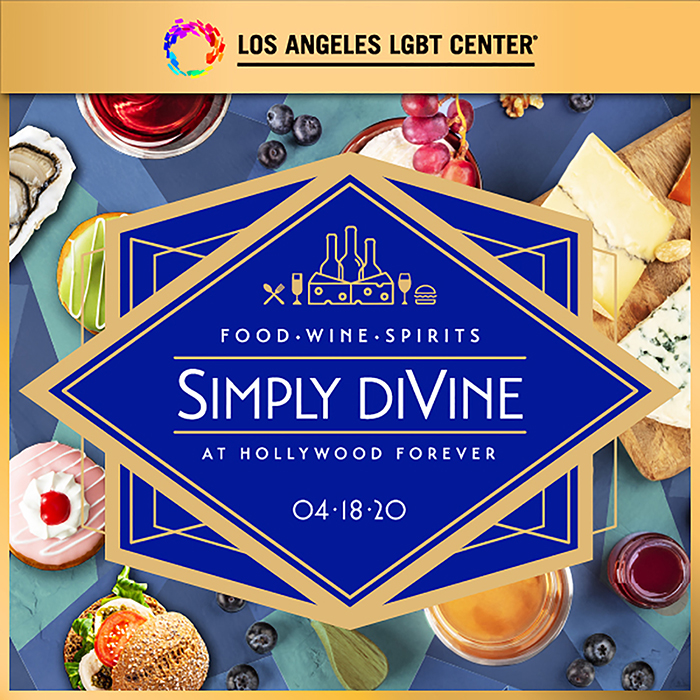 LOS ANGELES
LGBT CENTER'S PREMIER FOOD AND WINE EVENT
Celebrating its 15th delectable year, the premier food and wine event in Los Angeles for LGBT people and their allies known as Simply diVine takes over the iconic Hollywood Forever on Saturday, April 18, from 6–9 pm. Guests will sample extraordinary food and drinks from L.A.'s best food, wines, craft beers, cocktails, juices, specialty coffees, and much more at the fascinating landmark best known as the final resting place to more of Hollywood's founders and stars than anywhere else on Earth.
All proceeds support the Center's vital programs and services.
---
To purchase tickets, visit simplydivine.org.
WEST HOLLYWOOD
CITY HOSTS CHEMSEX TOWN HALL DISCUSSION
The City of West Hollywood hosted a "Chemsex Town Hall" last month to discuss the combination of sex and drugs and why too many in the LGBT community, mainly gay men, turn to dangerous illegal substances like meth, GHB, ecstasy and cocaine to reduce inhibitions allowing them to engage in sexual activity that is often times stigmatized and deemed shameful. The town hall was moderated by West Hollywood council member John Duran and Alexis Sanchez, Assistant Program Manager with the Institute for Public Strategies (IPS). Panelists included Lello Tesema, MD, MPH of LA County Department of Public Health; Tom Pardoe, Eagle LA Mr. Leather 2010, who has 25 years of sobriety; Melissa McCracken, who runs Breathe Life Healing Centers in West Hollywood; Jason De Puy, representing the WeHo nightlife in full drag and Jimmy Palmieri, the founder of the Tweaker's Project.
PALM SPRINGS
TODRICK HALL HEADLINES JEFFREY SANKER'S WHITE PARTY
Singer, songwriter, actor, director, choreographer and YouTuber, Todrick Hall, has been announced as the headliner at Jeffrey Sanker's White Party in Palm Springs. The man behind the hit Nails, Hair, Hips, Heels is slated to perform at the White Party main event on Saturday night, April 25 at the Palm Springs Air Museum. White Party 2020, the largest gay circuit party in the U.S., is celebrating the new decade with music, dancing, pool parties, go-go dancers, a lineup of international DJs and guest stars on the weekend of Friday, April 24, to Monday, April 27.
OCEANSIDE
TWO CATHOLIC PARISHES TO HOST PRO-LGBT RETREAT
Organizers at San Diego's St. Thomas More and St. Francis Of Assisi Parishes of "OUTreach" LGBTQ Ministry, in conjunction with "Fortunate Families" invite all LGBTQ+ persons, families, and allies to join their pro-LGBT retreat called "Nothing Can Separate Us from the Love of God," on Saturday, April 25, 2020, and Sunday April 26, 2020, in Oceanside. The retreat will explore how the practice of faith and the shared desire for welcome and inclusion in the Catholic Church can be better actualized in people's lives. The retreat will focus on the variety of experiences people of faith encounter as they seek to practice their faith within faith communities that are not always or welcoming or inclusive.
---
For more info contact: emilw@stmoside.org.
ORANGE COUNTY
RADIANT HEALTH CENTERS WELCOMES NEW CFO
Radiant Health Centers, a nonprofit that offers free HIV testing and other specialized medical and comprehensive social services to Orange County, welcomes Daniel Seargeant, DrPH, MBA as its new Chief Financial Officer.
Seargeant is an experienced CFO, financial analyst, internal audit manager and financial consultant in the acute care, outpatient clinics, medical groups, home health and managed care sectors. He holds a Doctor of Public Health in health management and an MBA with a finance and IT emphasis, both from University of California, Los Angeles.
Radiant Health Centers provides the LGBTQ+ community medical services that are compassionate and comprehensive while continuing to serve those living with and affected by HIV.
---
Learn more at www.radianthealthcenters.org.