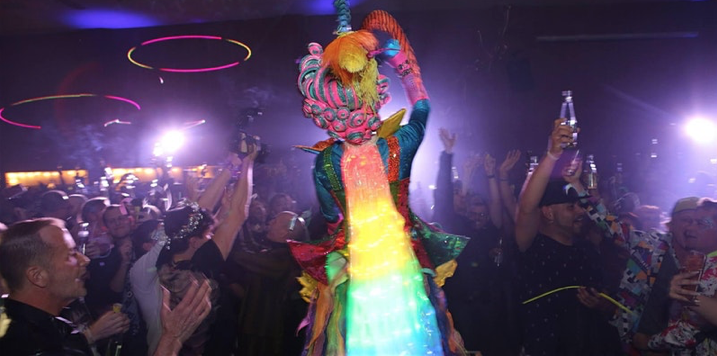 This New Year's Eve, join in the fun and celebrate the first moments of 2020 at the seventh-annual #BOOM!, West Hollywood's premier alcohol- and drug-free New Year's Eve event.
This year's celebration will bring hundreds of people together for a fabulous celebration and an alcohol-free midnight toast. There will be a costume contest for those wearing the most fabulous costume representing legendary icons past or present.

#BOOM! will take place on the evening of Tuesday, December 31, 2019, starting at 8 p.m. and will run until 1 a.m. on Wednesday, January 1, 2020 at the West Hollywood Park Auditorium, located at 647 N. San Vicente Boulevard. #BOOM! is a free event. Attendees must be 18 or older to attend. Advance RSVP is encouraged, as #BOOM! has limited capacity. RSVP at www.boom2019.eventbrite.com.

"The City of West Hollywood provides a wide variety of nightlife options every day of the year," said City of West Hollywood Mayor John D'Amico. "On New Year's Eve, I encourage everyone who wants a safe space to celebrate without the presence of alcohol and drugs to join in the fun at #BOOM!, West Hollywood's premier sober holiday event."

The holiday season can be a particularly challenging time for people with substance abuse or mental health issues. #BOOM! is a safe space for anyone who wants to celebrate the New Year without the presence of alcohol or drugs.
The event is spearheaded by the West Hollywood Project, an initiative funded by the Los Angeles County Department of Public Health, to reduce alcohol and drug-related harms in West Hollywood.

Limited parking for #BOOM! will be available in the adjacent West Hollywood Park five-story parking structure, located at 625 N. San Vicente Boulevard. #BOOM! is sponsored by the City of West Hollywood, the Institute for Public Strategies, the Los Angeles LGBT Center, the West Hollywood Project, the West Hollywood Recovery Center, and APLA Health. Admission is free but capacity is limited.
For more information, please visit boom2020.eventbrite.com.