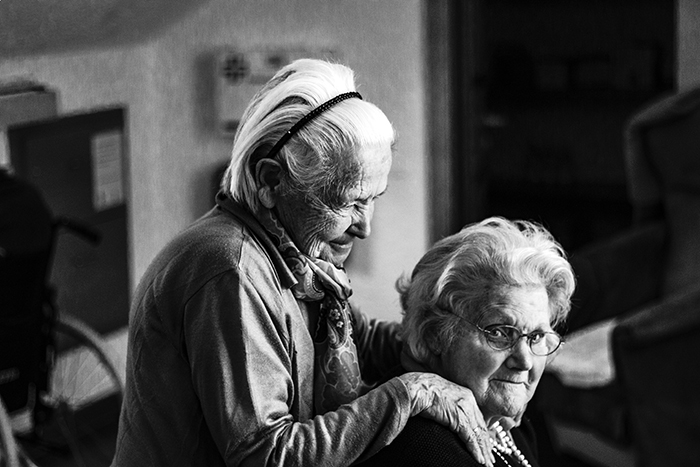 LGBTQ SENIORS FACE CHALLENGES ACCESSING AGING SERVICES
A groundbreaking new report by the University of California, San Francisco (UCSF) on the area's growing LGBTQ senior population found that that one in five don't use aging services because they feel unsafe or unwelcome.
"These findings validate the need for us to listen to LGBTQ seniors as we develop new programs to meet their expectations. Our new partnership, from which Openhouse + On Lok Community Day Services was created, is structured to help solve these challenges," said Grace Li, On Lok CEO.
"With the significant demand for patient-centered care and services for LGBTQ seniors, Openhouse is excited to work closely with On Lok in the months and years ahead," said Karyn Skultety, executive director of Openhouse. "The partnership kicks off early next year at our new community center at 75 Laguna Street, which also includes 79 new units of LGBTQ-welcoming senior affordable housing."
---
UCSF TO PRESERVE LGBTQ HISTORY COLLECTIONS
UCSF Archives and Special Collections was awarded a $14,986 local assistance grant by the California State Library for the "Documenting the LGBTQ Health Equity Movement in California" project.
Preserving California's LGBTQ History is a grant program that funds projects that support physical and/or digital preservation and digitization of LGBTQ materials relating to California history and culture. The program aims to preserve materials that demonstrate the significant role of LGBTQ Californians and the LGBTQ movement in this state, as well as providing a more comprehensive and inclusive view of California's history.
---
MAN WITH FIREARM AT SF PRIDE GOES TO PRISON
A man who was arrested for possessing a firearm during San Francisco Pride festivities this year has been sentenced to 18 months in federal prison, reports the Bay Area Reporter.
Evonta Bailey, 22, was indicted on two counts of being a felon in possession of a firearm by a grand jury in the U.S. District Court for the Northern District of California.
Bailey claimed to be carrying the firearm for self-defense purposes, but "the existence of that gun on Mr. Bailey that day in that venue posed a significant public safety threat and had the potential to harm a large number of people," federal prosecutors wrote in the sentencing memo.
---
SILICON VALLEY LGBTQ ICON THADDEUS CAMPBELL DIES
Thaddeus Campbell, the LGBTQ icon credited with bringing back the Silicon Valley Pride parade, died last month, the organization announced, reported San José Spotlight.
Campbell served as Silicon Valley Pride's CEO and board president for the past six years.
"The Silicon Valley Pride board is heavy-hearted on the news of the recent passing of our beloved Board President, Thaddeus Campbell," the organization posted on its Facebook page. "He was a valued leader of our team and will be dearly missed. Please keep Thad's family, loved ones, and his husband in your thoughts as they go through this difficult time."
---
CALIFORNIA MAN SENTENCED TO DEATH FOR KILLING TRANSGENDER CELLMATE
A California inmate was sentenced to death Thursday for the 2013 killing of his transgender cellmate in a shocking case that shined a light on the dangers of sexual assault and violence trans people face when they are not housed according to their gender identity, reports NBC News.
Miguel Crespo, 48, was housed with Carmen Guerrero, a trans woman, at Kern Valley State Prison for just eight hours in October 2013. During that time, Crespo bound, gagged, tortured and murdered Guerrero in their shared cell.
A California jury last month found Crespo guilty of first degree murder and assault.
In May, the California Senate passed a bill that would require transgender prisoners to be housed according to their gender identity, not their sex assigned at birth. The bill has yet to be signed into law.