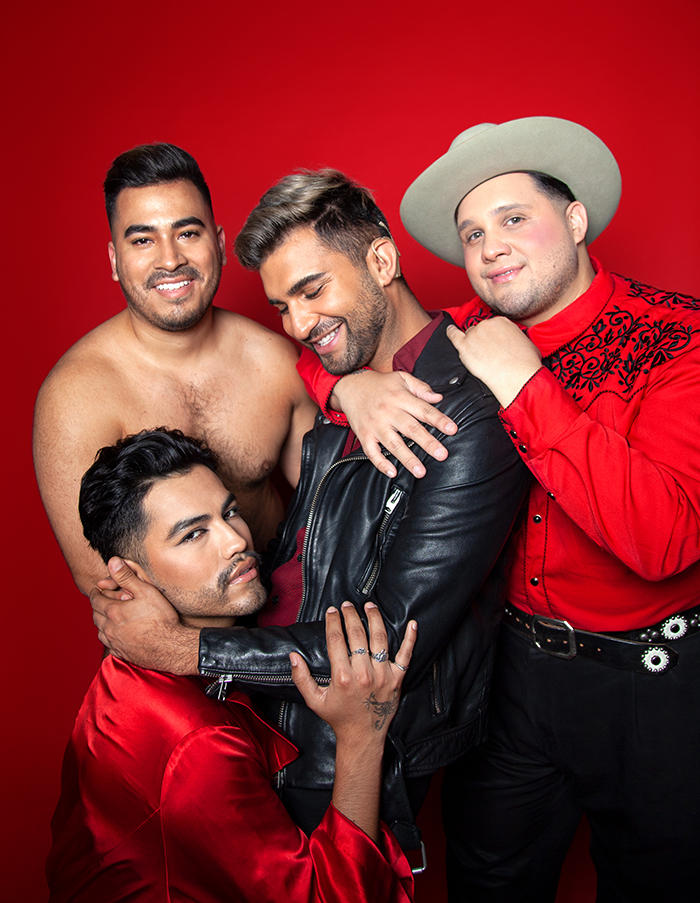 Like birds of a feather—where everyone can shine and be their authentic selves.
BY VICTOR MELAMED  |  PHOTO BY DUSTI CUNNINGHAM
Four best friends, all working in the visual arts field, have proven that sometimes choosing your own family provides a unique support network—a place where everyone can shine and be their authentic selves.
RAY MARTINEZ
Raymond Martinez, film maker and visual artist, Ivan Nuñez, makeup artist, Ernesto Casillas, makeup artist, and Tony Medina, hair dresser and vintage fashionista all met through mutual friends around seven years ago.
"After getting to know everyone more in depth we realized that we had a lot of things in common—especially a passion for art. We all became family," say Ray Martinez in an interview with THE FIGHT.
Martinez is a film creator and visual artist from Los Angeles. Being a life long horror fan has highly influenced his work in many ways, he tells THE FIGHT. He's inspired mainly by a lot of 70's and 80s horror slasher films, especially from Darrio Argento. The use of bright colors and hues of reds, blues, and pinks, are also a staple in his work. As a film creator he loves challenging himself to work on projects outside his comfort zone.
---
IG: instagram.com/rayyymartinez
---
IVAN NUÑEZ
Ivan Nuñez, a first generation Mexican American, says his make up interest "began as a teen playing with my moms make up and wanting to emulate her style; drawing and painting the faces of magazine high fashion models on canvas became my pastime… this hobby ultimately led into what's been a lucrative and rewarding journey into the professional Los Angeles beauty industry. Make up is my passion and I live it everyday."
Nuñez, says his all-time favorite memory of being together happened "one night at club Puteria…. the group and all our friends came out (no pun intended ) dressed up, ready for absolute debauchery, and I remember looking at everyone and feeling like … 'this is where I belong' among friends and artists and an entire community that celebrates each other."
---
IG: https://instagram.com/shablamgela
---
ERNESTO CASILLAS
Born and raised in Los Angeles, Ernesto Casillas is an Emmy winning makeup artist with a decade of experience under his belt working with celebrities, mostly women of color.
"I first met Ivan through Myspace over ten years ago, and I had the biggest crush on him," he reveals. "I used to chat with him online, but I was too shy to actually ask him out. We stopped talking once Myspace died out, but a few years later we met each other at this party Evita when it used to be in Hollywood, and we became best friends almost instantly."
"I've met most of my queer friends through social media, and that's one of the positive things that has come out of this social media era," says Casillas. "The ability to connect with other queer people, no matter how far or close they are. It's amazing."
---
IG: instagram.com/ernestocasillas
---
TONY MEDINA
Tony Medina, professionally known by his business name "His Vintage Touch", describes himself as a "Mama's Boy."
A native Angeleno, Medina considers himself "a vintage fashionista, that not only dresses in vintage fashion, but has made it a part of my art form… I'm a working hairdresser, specializing in vintage glamour. I've brought my vintage touch to stars like Lil Kim, Zendaya, Amber Rose, Paris Hilton, Cardi B, and I am best know my work on the modern queen of vintage glamour, Dita Von Teese."
Medina says the friends featured in this article are "a tight knitted group of Latinx artists in LA that collectively have became my tribe."
"When we are all here in LA, I try to have everyone over for food and drinks," reveals Medina. "We all catch up, have a few drinks, talk about our travels, new projects, talk a little shit, and roast each other! These are my FAVORITE memories with my sisters!"
---
IG: instagram.com/hisvintagetouch
---