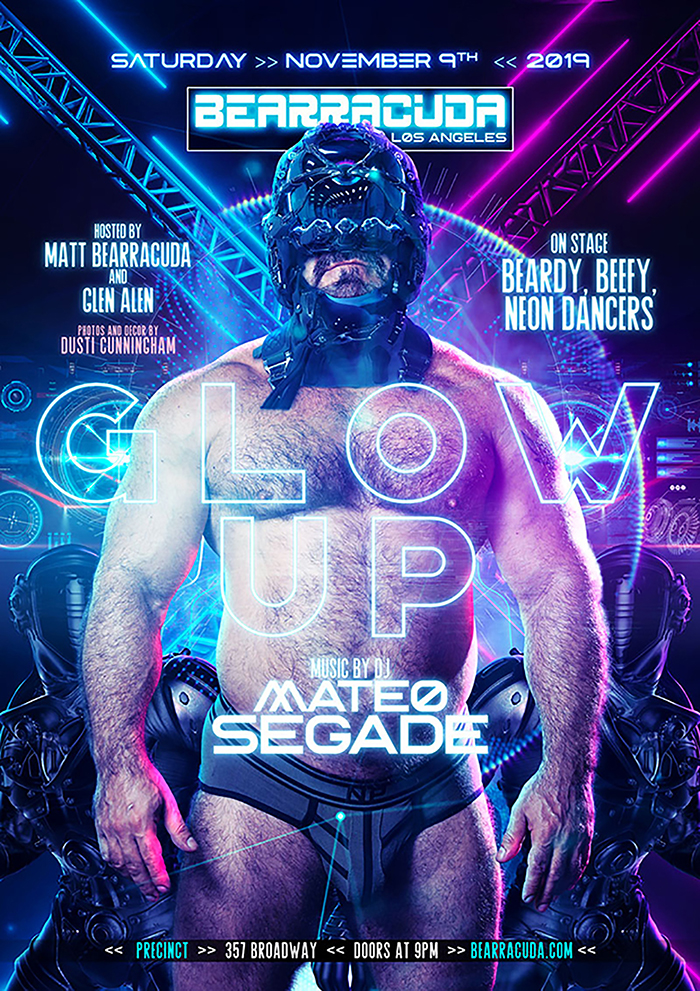 FRIDAY, NOVEMBER 1
PALM SPRINGS PRIDE
Arenas Rd and Palm Canyon Drive, Though Sunday, November 3. The wildly popular festival returns with a multitude of performers and events. For more info visit: www.pspride.org.
MONDAY, NOVEMBER 4
QUEER BOOK CLUB WITH CB LEE 7:30PM–9PM
The Last Bookstore, 453 S Springs St, Los Angeles, CA. Led by Lambda finalist CB Lee, read & discuss Queer authors, books and topics across genres (mostly fiction). If you're tired of book clubs that don't actually talk about the book, then you just found what you're looking for.
TUESDAY, NOVEMBER 5
TRANS*SPECTRUM-A SPACE FOR NEURODIVERSE TRANS/GNC/ENBY FOLKS 7PM–8:30PM
Los Angeles LGBT Center, 1125 N McCadden Pl, Los Angeles, CA. The Trans*Lounge would like to invite all those who identify as Trans/GNC/ENBY and also as neurodiverse to a unique new MONTHLY (1st Tuesday of each month) discussion group specifically for those on the spectrum.
11TH ANNUAL JOB FAIR FOR TRANS, NON-BINARY, AND INTERSEX PEOPLE 9AM–3PM
Transgender Economic Empowerment Project, 1220 N Highland Ave, Los Angeles, CA. Local community partners, Trans Can Work, SoCal JVC-WeHo Works and HRC will be joining the Transgender Economic Empowerment Project in the movement to brining our communities to the doors of economic equity.
SATURDAY, NOVEMBER 9
BEARRACUDA LA: GLOW UP 9PM-2AM
Precinct DTLA, 2357 S Broadway, Los Angeles, CA. Get on your UV, neon and glow in the dark clothes and GLOW UP with Bearracuda. Music by DJ Mateo Segade, Hosted by Matt Bearracuda and Glen Allen.
TRUEVOICE (TRANS* FEMININE EDITION)—USING MUSICAL TECHNIQUE TO ATTAIN YOUR TRUE VOCAL RANGE 12PM–4PM
Los Angeles LGBT Center, 1125 N McCadden Pl, Los Angeles, CA. Free and cultivate your feminine voice, without strain of affectation. Join vocal coach Ryland Shelton for this an in-depth, two-day workshop. 
DISCO DADDY DOES LA 9PM
Akbar, 4356 Sunset Blvd, Los Angeles, CA. With DJ bus Station John (The Tubesteak Connection/SF) and special floor warmer Mike ETC. Hosted by Marc Sanchez/Door: Polly Schumacher. $7 all night.
SUNDAY, NOVEMBER 10
MR & MRS PRECINCT LEATHER 2020 3PM–9PM
Precinct DTLA, 367 S Broadway, Los Angeles, CA. Jeremy Lucido Events Pressents: the Mr & Mrs Precinct Leather Contest 2020. Music by DJ Foxyelectro.
SATURDAY, NOVEMBER 16
DILF "DO ME HARDER" LOS ANGELES 10PM
Los Globos, 3040 W Sunset Blvd, Los Angeles, CA. Dudes, Daddies, Discreet, Don't Know…DILF is for ALL MEN. Presented by Joe Whitaker.
MR. SISTER LEATHER CUMS AGAIN CONTEST 9PM–2AM
Eagle LA, 4219 Santa Monica Blvd, Los Angeles, CA. The Mr. Sister Leather 2020 Contest. Hosted by Saint Bernard and Sister Unity. $8 Suggested donation benefiting Sisters Charities and a silent auction with items of unspeakable values.
THURSDAY, NOVEMBER 21
QUEER CRUSH 7PM–9PM
LA Boulders, 1375 E 6th St, Ste 8, Los Angeles, CA. Join QUEER CRUSH and meet incredible LGBTQ+ folx in the Touchstone Community. The goal is to create a safe space in which queer, trans, genderfluid and nonbinary climbers can crush climb and make friends.
FRIDAY, NOVEMBER 22
DORIAN WOOD IN XAVELA LUX AETERNA 8:30PM
REDCAT, Walt Disney Concert Hall, 631 W 2nd St, Los Angeles. Runs through Saturday, November 23. Dorian Wood's riveting personal tribute with songs made popular by Chavela Vargas. Tickets can be purchased at www.REDCAT.org—or by calling the REDCAT box office at 213-237-2800.
TUESDAY, NOVEMBER 26
LAMBDA LIT BOOK CLUB 7PM
West Hollywood Library, 625 N San Vicente Blvd, West Hollywood, CA 90069. The Lambda Literary Book Club meets the last Tuesday of each month (except December) in the Community Meeting Room at West Hollywood Library and highlights a heady mix of LGBT classics, unheralded gems, and new releases. November's selection is Less: A Memoir by Andrew Sean Green, winner of the Pulitzer Prize for Fiction (2018).
SATURDAY, NOVEMBER 30
GRUNT FT. HONEY SOUNDSYSTEM 9PM
Eagle LA, 4219 Santa Monica Blvd, Los Angeles, CA. Justin David Presents: GRUNT. Featuring the sweet cosmic sounds of Chris Bowen (Bears in Space) and Bezier (Honey Soundsystem).