BY PAULO MURILLO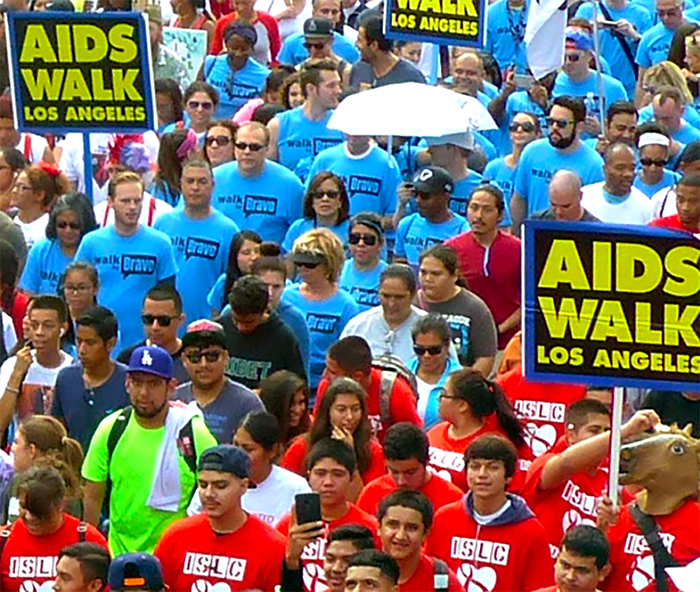 LOS ANGELES
35TH AIDS WALK LOS ANGELES RAISES NEARLY $1.6 MILLION
AIDS Walk Los Angeles held its 35th annual walk last month raising vital funds that help to build support and awareness of the continuing need to address the HIV/AIDS epidemic. Ten thousand participants, volunteers and sponsors raised nearly $1.6 million. Individuals are able to increase that amount by donating before November 15, 2019.
This year's AIDS Walk Los Angeles was the first to be managed in-house by APLA Health, which has been the beneficiary of the walk since its inception. The theme for 2019 is "AIDS Has Met Its March," which calls upon participants to continue the fight in its efforts to make AIDS history.
For more information, visit www.aidswalkLA.org.
WEST HOLLYWOOD
CITY COUNCIL VOTES IN SUPPORT OF TRUMP IMPEACHMENT INQUIRY
West Hollywood City Council members unanimously adopted a Resolution in support of the impeachment inquiry into Donald Trump. The City of West Hollywood sent copies of its resolution to President Trump; U.S. Senators Dianne Feinstein and Kamala Harris; House Speaker Nancy Pelosi; Congress member Adam Schiff; leadership of both parties; and others, as appropriate.
PALM SPRINGS
POLICE SUSPECT FIGHT AT WANG'S A HATE CRIME
A fight broke out early last month at Wang's in the Desert, a popular gay-friendly pan Asian restaurant in Downtown Palm Springs. Police suspect the fight may be a hate crime after three people had a physical altercation. One of the three individuals is believed to be the primary suspect in the fight. The man sought by police is described as white or Latino, in his late 20s or early 30s, with dark short hair. He wore a light colored baseball cap, tan long-sleeved shirt and dark pants. Police said anyone who witnessed the fight can contact Detective Edman Escallada at (760) 323-8129.
ANAHEIM
GAY DAYS ANAHEIM TAKES OVER DISNEYLAND
Disneyland and Disney California Adventure were filled with LGBTQ+ people and their allies wearing red shirts during Gay Days Anaheim last month, the unofficial annual event celebrating LGBT pride at the Happiest Place on Earth. The unofficial Gay Days Anaheim mix-in hosted pool parties, mixers, dance parties, theme park meet-ups, trivia games, scavenger hunts and more. This year's official red Gay Days Anaheim t-shirts feature a Star Wars theme with a stormtrooper on the front and the slogan "May the Fierce Be With You." The first Gay Days Anaheim attracted about 2,500 people in 1998. Today, the independently-organized annual event brings more than 30,000 Gay Days attendees to Anaheim's Disney parks during the three-day event.
SAN DIEGO
RICH'S CELEBRATES 28-YEAR ANNIVERSARY
Rich's San Diego, one of the most popular gay dance clubs in the gay Hillcrest area of San Diego, celebrated their 28-year Anniversary last month. The night club threw a massive dance party featuring a special performance by dance diva Pepper MaShay. The party featured local DJs. Musical talents included DJ Hek Tik in the Front Room, and EDM played by DJ Taj on the Main Floor and BUR played to an Afterhours crowd. Rich's San Diego is known for its all-night dance parties, signature drag show and drink specials. It's located in the heart of Hillcrest on the main drag at 1051, University Avenue, across from the Uptown Shopping Center. The 28-Year Anniversary dance party started at 10pm and ended at 4am.