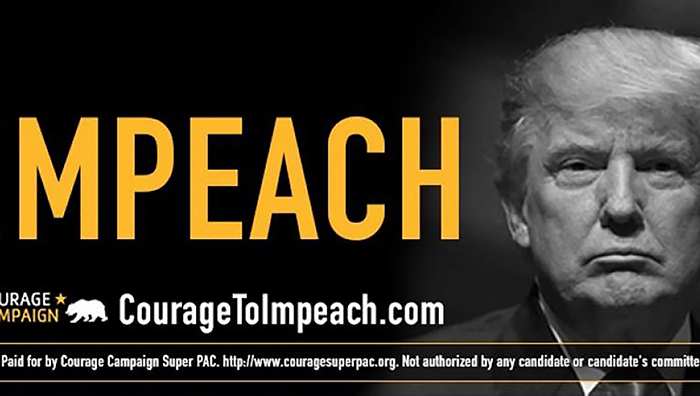 IMPEACH TRUMP BILLBOARD IN SAN FRANCISCO
A billboard with the word "impeach" in all capital letters next to a picture of President Trump went up in the Fisherman's Wharf area of San Francisco.
The billboard, which was paid for by the Courage Campaign, was on display through Oct. 21.
The billboard features a link to www.CouragetoImpeach.com, which features a petition for people to sign indicating they support impeaching Trump.
The billboard calling for impeachment comes as House Democrats have launched an impeachment inquiry into Trump focused in part on his phone call with Ukraine's leader, pressuring him to investigate former Vice President Joe Biden, a leading 2020 Democratic presidential candidate, and his son. No evidence of criminal wrongdoing by the Bidens has emerged.
TASK FORCE PRODUCES PLAN TO TACKLE METH 
It's no secret that there's a crystal meth crisis in San Francisco which is devastating our streets and eating away at the heart of the Gay community. But with the issuance last month of the Meth Task Force's Final Report, the City finally has a plan to address it.
Co-chaired by District 8 Supervisor Rafael Mandelman (representing the Castro, Noe Valley, Glenn Park) and Dr. Grant Colifax of the Department of Public Health, the panel of 22 experts, stakeholders, and community leaders has produced 17 recommendations to help reduce harm, improve access to treatment, and strengthen coordination among city services and systems. Central to the plan is the creation of a number of "sobering sites" with integrated harm reduction services as a place to take those in the grip of "Tina" as an alternative to emergency rooms and jail cells.
Mayor London Breed has promised to open the first of these sobering sites within the next six months.
MALE CHEERLEADER BULLYING AT SANTA CLARA SCHOOL
Santa Clara police showed up at Wilcox High School last month to investigate allegations that football players bullied a gay male cheerleader using homophobic slurs, according to school administrators, reported NBC Los Angeles.
Reports of the incident were posted on Change.org, saying football players chanted homophobic slurs at a male member of the cheerleading squad. They called him gay for cheering for the team.
The district released a statement, saying: "At Santa Clara Unified School District, we proactively work to create an environment that embraces diversity, and we do not tolerate harassment or bullying of any kind."
HISTORICAL SOCIETY ANNOUNCES |CAPITAL CAMPAIGN
October is "gala season" in San Francisco, with all of the City's nonprofits put out the proverbial red carpet, present the worthy with awards, and do their darnedest to coax donations into their very deserving coffers. One of this year's standouts was the GLBT historical Society's annual fete, that took place on the very top floor of salesforce Tower a space with commanding 360° views of the entire City. Juanita MORE! curated the entertainment, and GLBTHS executive director Terry Beswick announced the launch of a capital campaign for a permanent LGBTQ History Museum for which Mayor Breed was on hand to pledge support.
CITY HALL PROGRAM SAVES LGBTQ BAR EL RIO
The era of Big Tech has been decidedly deadly For LGBTQ owned businesses in San Francisco. Gay bars in particular have become an endangered species, with the last ten years seeing the loss of the City's oldest gay bar (the Gangway), our only Lesbian bar (the Lexington Club), and only bar serving the LGBTQ Latinx community (Esta Noche). But we're happy to report that at least one popular Queer watering hole has been saved from extinction—El Rio. Originally opened in '79 as a "Brazilian Leather bar" (no joke), El Rio is one of the Mission's most beloved community spaces. The City quietly purchased the space and the eight rent-controlled units above through its Small Sites Acquisition Program.