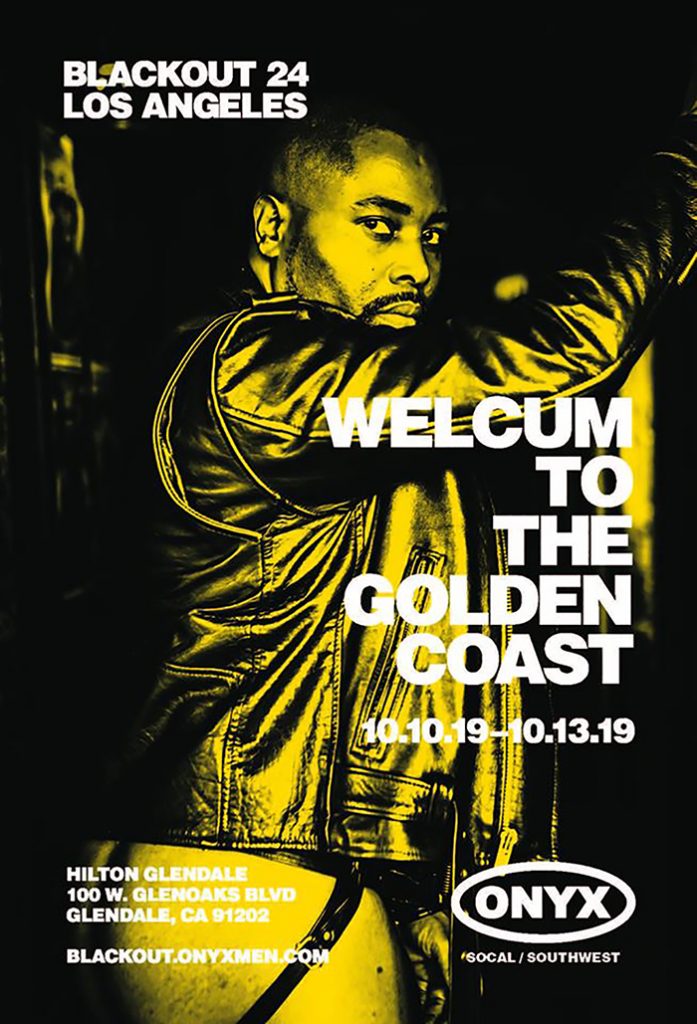 THROUGH OCTOBER 20
LIBERATE THE BAR!—QUEER NIGHTLIFE ACTIVISM, AND SPACEMAKING, 11AM–6PM
ONE Archives Gallery & Museum, 626 N Robertson Blvd, West Hollywood, 90069. A multimedia exhibition that sheds light on the intricate relationship between nightlife, activism, and creative expression across space and time. 
SATURDAY, OCTOBER 5
MR REGIMENT 2020 CONTEST, 9PM
Eagle LA, 4219 Santa Monica Blvd, Los Angeles.
---
TOM OF FINLAND FOUNDATION 24TH ANNUAL ARTS AND CULTURE FESTIVAL
1421 Laveta Ter, Los Angeles, 90026. Scheduled for October 5th & 6th 2019, the festival will allow the public to both experience art, and support artists by purchasing their work. The Festival is one of the key public events initiated and run by the Foundation, and serves as a platform in furthering its mission to protect, preserve and promote erotic art. For more info visit:
www.tomoffinlandfoundation.org.
---
ADDAMS FAMILY VALUES 6:30PM
Hollywood Forever Cemetery. Join the Los Angeles LGBT Center for OUT UNDER THE STARS for a special screening of Addams Family Values at Hollywood Forever! 
SUNDAY, OCTOBER 6
BEST IN DRAG SHOW 2019, 5:30PM–10PM
THE ORPHEUM THEATRE, 842 S Broadway, Los Angeles. Tickets & Info: www.bestindragshow.org. The legendary fundraiser benefiting Alliance for Housing and Healing returns to the Orpheum Theatre. 
THURSDAY, OCTOBER 10
BLACKOUT 24, ONYX'S BI-ANNUAL LEATHER RUN
Hilton Los Angeles North/Glendale & Executive Meeting Ctr, 100 W Glenoaks Blvd, Glendale, 91202. More info: www.blackout.onyxmen.com. Californication will be in full effect for Blackout 24, the Men of ONYX's Bi-Annual Leather run.  There will be breakout sessions that will educate, explore and empower your mind; a bar crawl that will give you a glimpse into the Los Angeles leather community; an infamous ONYX dance that will leave you dripping with perspiration; a play party that will satisfy your innermost hunger for kink; a fireside chat with one of ONYX's original founding fathers that will touch on past, present and the future of ONYX; and a Brotherhood Fellowship Brunch that will highlight growth, recognize some of our outstanding members and so much more. 
FRIDAY, OCTOBER 11
VASELINE ALLEY, 9PM
Eagle LA, 4219 Santa Monica Blvd., Los Angeles. Mr. Drummer '79 is back for another round. A celebration of a time when cruising did not require an app. Soundtracks by: Jeniluv (Surround, Dusk Camp), Matthew Paul (Mr. Drummer '79).
SATURDAY, OCTOBER 12
POINT HONORS, 7PM-–PM
The Beverly Hilton, 9876 Wilshire Boulevard, Beverly Hills, 90210. Celebrate future LGBTQ leaders, honor our champions, and support Point Scholars from around the nation.
---
TOM GOSS AT HOTEL CAFE
The Hotel Café, 1623 N Cahuenga Blvd, Los Angeles, CA 90028. Tickets & Info: www.hotelcafe.com. Singer-songwriter Tom Goss with Nakia and Liz DeRoche.
SATURDAY, OCTOBER 19
MODELS OF PRIDE, 11AM–8PM
Los Angeles City College, 712 N Heliotrope Dr, Los Angeles, 90029. The world's largest FREE conference for LGBTQ youth & allies, including parents & professionals. 
---
Banquet of Chestnuts IV
Tickets & Info: www.eventbrite.com/e/banquet-of-chestnuts-iv-tickets-65953074421. Gala dinner benefiting Aids Life Cycle, with Ralph Bruneau (International Mr leather 2017) and Esteban Jimenez (Payasos LA).
---
DARK ENTRIES + DIRTY LOOKS: MENERGY: A NIGHT OF PATRICK COWLEY, 8PM
Civic Center Studios, 207 S Broadway Suite One, Los Angeles, CA 90013. Tickets & Info: www.restlessnites.com/patrickcowley69. On his 69th birthday, Dirty Looks Inc teams up with Dark Entries Records to celebrate the life of Patrick Cowley who created his own brand of Hi-NRG dance music, dubbed the "San Francisco Sound." 
SUNDAY, OCTOBER 20
AN INTERGENERATIONAL DIALOGUE BETWEEN REV. ED HANSEN (79) AND AUGUST BERNADICOU (25), 2PM–4PM
Community Meeting Room, West Hollywood Library, 625 North San Vicente Boulevard, West Hollywood, 90069. The Gay Elder Circle of Los Angeles will present a rare and very important conversation between two gay men separated in age by 54 years. 
FRIDAY, OCTOBER 25
FRED & JASON'S HALLOWEENIE 14, 8PM–3AM
The Belasco, 1050 S. Hill Street, Los Angeles, 90015. Halloween fundraiser. The "Party with a Purpose" benefits GMCLA's youth outreach programs.
TUESDAY, OCTOBER 29
MONTHLY LAMBDA LITERARY BOOK CLUB MEETING, 7PM–8:30PM
Community Meeting Room, West Hollywood Library, 625 North San Vicente Boulevard, West Hollywood, 90069.
THURSDAY, OCTOBER 31
WEST HOLLYWOOD HALLOWEEN CARNIVAL 6PM–11PM
The largest Halloween street party in the world happens in West Hollywood. Each year, more than 500,000 people take to the streets of Santa Monica Boulevard to enjoy the craziest, most eccentric costume creations ever at the West Hollywood Halloween Carnaval.
Visitors can expect fantastic live entertainment and food vendors. Admission is free and the event starts at 6 PM and runs until 11 PM.