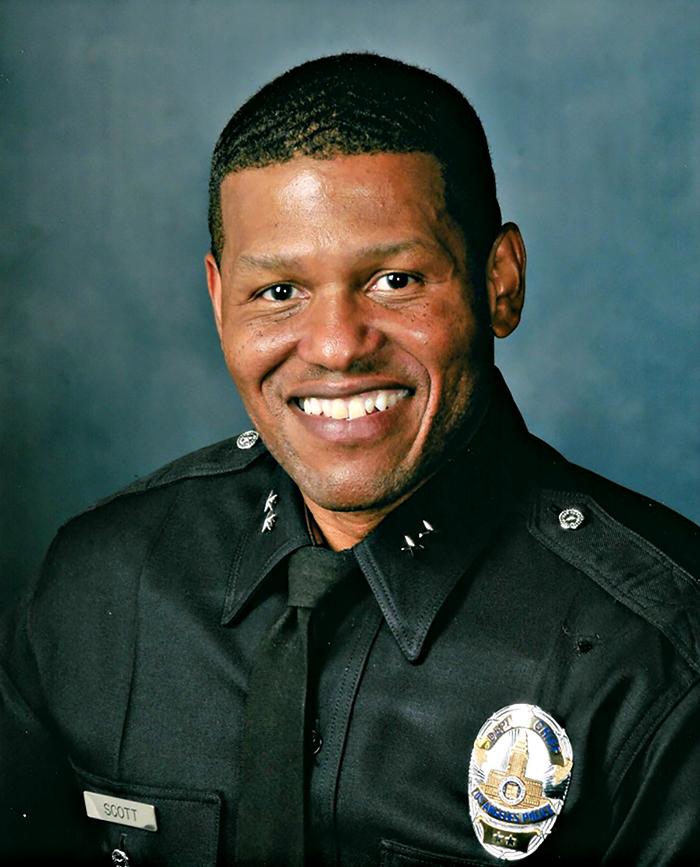 SFPD ISSUES LGBTQ APOLOGY
53 years after the Compton's Cafeteria Riots San Francisco Police Chief William Scott issued an apology for the SFPD's history of harassment and brutality toward LGBTQ individuals—such as the indiscriminate assault of Gay men in the Castro and arresting Trans women for wearing feminine clothing.
"Unless the wrongs of the past are acknowledged and dealt with appropriately, our past will continue to put a stain on the present and on our future," Chief Scott said during the "Reflection and Reconciliation Session" intended to build trust between the LGBTQ community and SFPD hosted by GLIDE, an organization which provides social services to the homeless." Many welcomed to the comments but others called on Scott to bring an end to "homeless sweeps" targeting encampments of unhoused individuals in the Tenderloin, Mission and other neighborhoods—27% of whom are LGBTQ.
---
DRUG OVERDOSES AT BATHHOUSE LEAVE ONE DEAD, ONE HOSPITALIZED
One man is dead and another was seriously injured following apparent drug overdoses last month at the gay bathhouse Steamworks in Berkeley. reports fist.com.
According to the Bay Area Reporter the injured man was taken to the hospital suffering from an apparent overdose, and one man was found already deceased. It is unclear what drug or drugs were involved.
The dead man has been identified as 31-year-old Charles King IV of Sacramento. His exact cause of death remains under investigation. Steamworks declined multiple requests by the BAR for comment.
---
THE YOUTH SHALL LEAD THE WAY
Tens of thousands of students from around the Bay Area gathered with supporters in downtown San Francisco on September 20 to demand immediate action to address the escalating global climate crisis. The protest began at the office of San Francisco Representative, House Speaker Nancy Pelosi. The march continued on to the offices of Senator Dianne Feinstein the corporate headquarters of Amazon and PG&E.
The protests were part of a global day of action encompassing cities around the world—from Seattle to Sydney.
---
MR. CARSON GOES TO SAN FRANCISCO
Ben Carson, Secretary of Housing and Urban Development came to San Francisco last month—ostensibly to learn more about the City's ongoing homelessness crisis. But the sleepy-eyed, knife-wielding former brain surgeon was only in the City for about an hour: refusing a request from Mayor London Breed to meet and discuss decades of Federal housing cuts, and seemed more interested in assigning blame on San Francisco NIMBYs him and making disparaging comments about the Trans community than he was in learning much of anything. In fact the sole item on Carson's itinerary was a tour of a new 72-unit housing development in Potrero Terrace, where he was met with protestors wielding signs baring the words "Housing not Handcuffs."
---
WHAT DO YOU DO ABOUT A PROBLEM LIKE DEDE?
San Francisco's most visible socialite, Dede Wilsey, has drawn the ire of SF Democratic Party Chair David Campos for allegedly fundraising on behalf of Donald Trump this summer.
The Gay former Supervisor for D9 (Mission) is demanding the Santi Project (an HIV services non-profit) rescind an award it plans to honor Wilsey with at it's 45th annual gala this month. "If they don't rescind the award, then we are calling for all Democrats who oppose Donald Trump to boycott this event," Campos announced at a recent meeting of the Democratic County Central Committee, the organization Campos heads.
Wilsey claims she wasn't at any fundraiser, nor did she help organize any event on behalf of Trump. But Campos, isn't buying it. "Her son was appointed Trump's ambassador to Hitler's Austria. If you believe that happened without her raising any money for Trump, I have a bridge I can sell you."