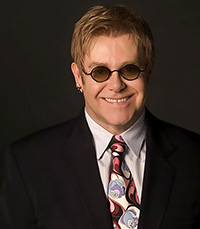 (Photo: Elton John)
Sir Elton John has hit out at Madonna over her famous feud with Lady Gaga, reports Pink News.
In his recent memoir Me, Sir Elton spoke about how his own relationship with Madge soured in 2012 after she accused Lady Gaga of copying her style.
He wrote: "I used to make fun of her for lip-synching on stage, but the problem really started when she ran Gaga down on an American chat show.
"I got that Gaga's single 'Born This Way' definitely sounded similar to 'Express Yourself', but I couldn't see why she was so ungracious and nasty about it, rather than taking it as a compliment… particularly when she claims to be a champion for women.
"I think it's just wrong — an established artist shouldn't kick down a younger artist right at the start of their career."
READ MORE HERE:
https://www.pinknews.co.uk/2019/10/24/elton-john-madonna-lady-gaga-born-this-way-feud-autobiography-me/?utm_source=feedburner&utm_medium=feed&utm_campaign=Feed%3A+Pinknews+%28Pink+News%29