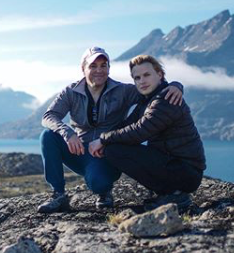 (Photo: Jon Lovett, Ronan Farrow. Instagram)
Ronan Farrow included a proposal to longtime partner Jon Lovett in a draft of his book Catch and Kill. Not to give away the ending, but Lovett said yes, reports the Advocate.
The #MeToo journalist wrote that he had been sending drafts back and forth to Lovett, the podcaster behind Pod Save America and a writer himself, and decided at one point to include a personal note.
People quoted the relevant section of the book.
"When I decided some of that reporting would make its way into a book, I'd send him a draft, and put in a question, right on this page: 'Marriage?'" Farrow wrote. "On the moon or even here on Earth. He read the draft, found the proposal here, and said, 'Sure.'"
Farrow and Lovett met in 2011, shortly after Lovett wrapped his time as a speechwriter for President Barack Obama.
READ MORE HERE:
https://www.advocate.com/news/2019/10/16/ronan-farrow-proposed-jon-lovett-draft-catch-and-kill