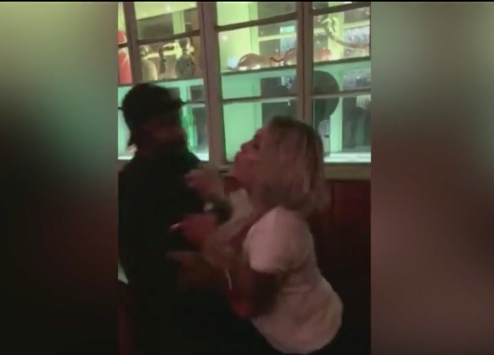 Several transgender women were aggressively and forcibly removed from a downtown Los Angeles bar-restaurant Friday evening — after they were attacked by a straight couple, reports CBS Los Angeles.
The transgender group, along with several gay men, said they were grabbed and made to leave the bar Las Perlas.
Cellphone video of the incident shows Jennifer Bianchi, one of the women, repeatedly saying, "Don't touch me like that."
A friend of hers is shown being pulled off a chair and carried out the door.
"I think it was really wrong and humiliating," Bianchi says, "Hurtful."
The group at the bar was comprised of staff and volunteers from a local nonprofit, Bienestar Human Services who were there to support DTLA Proud, an annual two-day festival held in Pershing Square that celebrates the LGBTQ community.
Outside Las Perlas Saturday evening hundreds from the LGBTQ community protested outside the bar. The demonstrators chanted "Trans lives matter."
Bienestar Human Services posted on Facebook: "Thanks for showing your support and for standing with our Trans Sisters tonight. We'll continue to fight for respect and equity for all."
WATCH: