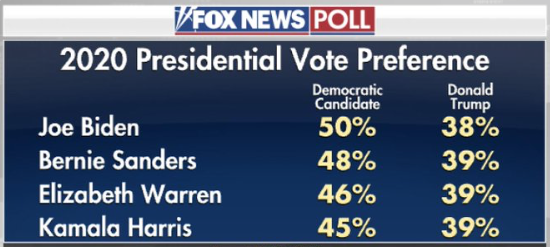 A Fox News poll released last week showed President Trump losing head-to-head matchups against four of the top Democratic presidential primary contenders, reports The Hill.
The poll found Trump with 39 percent support among registered voters in head-to-head matchups against Sens. Bernie Sanders (I-Vt.), Kamala Harris (D-Calif.), and Elizabeth Warren (D-Mass.). The poll found Sanders beating Trump with 48 percent, Warren winning over Trump with 45 percent and Harris winning with 46 percent support.
Former Vice President Joe Biden, meanwhile, beat Trump in the theoretical matchup with 50 percent support among those surveyed, compared to Trump's 38 percent.
READ MORE HERE:
https://thehill.com/homenews/campaign/457645-fox-news-poll-shows-trump-losing-to-biden-warren-sanders-and-harris