Metropolitan Animal Special Hospital
Gay veterinarian Dr. Adam Strom, DVM, MS, DACVS, on what it's like to be a surgeon at a cutting-edge and specialized animal hospital.
Metropolitan Animal Special Hospital (MASH), located on 6565 Santa Monica Blvd., in the heart of Hollywood, is a 24-hour specialty and emergency animal hospital that offers veterinary surgery, internal medicine, emergency and critical care, dermatology, oncology, and nutrition, along with an experienced and compassionate customer service team. 
At the helm of this 10,000 square foot double building facility is Dr. Adam Strom, DVM, MS, DACVS, a veterinarian surgeon who founded the hospital in 2017 with his friend  Nissan Mosapor and two other doctors, Dr. Andrew Cruikshank and Dr. Domenico Bianco. 
In an interview with THE FIGHT, Dr. Strom speaks about the best diet for your pet, the importance preventative care, why pet owners should consider pet insurance, and what it's like to be a surgeon at a cutting-edge and specialized animal hospital like MASH.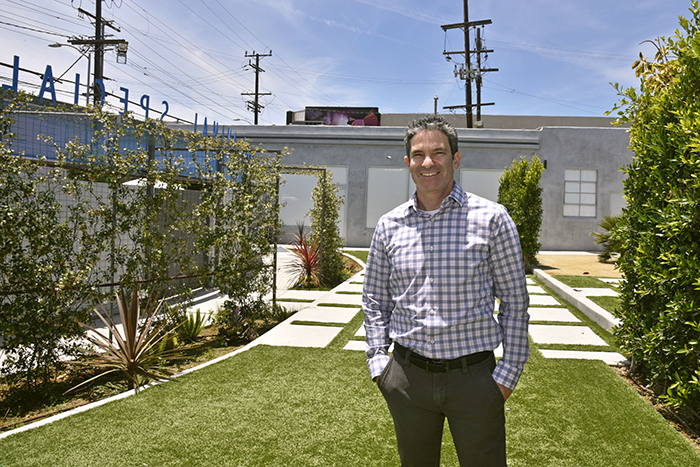 "What sets us apart is what we can do. We're open 24 hours, so we have doctors and staff available night and day. We can keep treatment going continuously."
Where are you from originally?
I grew up in Los Angeles. I'm from West L.A. And then I moved up north for college. 
Why did you decide to become a veterinarian?
I wanted to be a veterinarian since some time in my teens. I started out wanting to be a horse veterinarian and when I got into vet school, I realized that I liked working with dogs and cats. I always loved animals. 
What's the best advice that you have for a pet owner?
Owning a pet is a joy, but there is also a lot of responsibility with it. Unfortunately some of that responsibility is financial. Veterinary care can be expensive, especially on the emergency and specialty level. There is always a discussion about whether or not to have pet insurance. If you can come up with or if you have $5,000 for an emergency that might arise, you may not need pet insurance, but if the situation is going to be that you may have to put your pet to sleep because you can't afford care, then insurance can come in handy. We don't know what's going on right away. The animals can't tell us. We're just doctors. We're people and so we have to do diagnostic tests to get that information and it can become quite expensive. I feel terrible when that's the deciding factor on whether or not you can take care of your pet, but we have bills to pay also and a giant staff and all of our equipment to do our jobs. Unfortunately that's just a reality. We run a very high quality business here.  
What advice do you give for preventative care?
See a regular vet once a year, get their vaccines on yearly intervals. Keep them on flea and tick prevention, and get a checkup. Get a blood work done once a year. Get x-rays done once a year, to make sure that there aren't things that are subclinical that we don't see that can be found. And expect that it's going to cost a couple of hundred dollars. You're investing in your pet's health the same as you would do in yourself. They don't live as long as we do and so their diseases come at a much faster rate than us. Your six-year-old dog is you at 50. 
Is there any brand of pet food you recommend?
I feed my dog Purina. I picked that. It's not free for me. I pay for it. I picked that because I know it's a great diet. Purina is the oldest Dog food company in the world. They've been making pet food since the early 1900s and they've done probably the most research of any company on pet foods. As a scientist and a doctor, my decision is based on evidence. 
What kind of dog do you have?
I have two dogs. A golden doodle named Franny and a pitbull named Misty.
A pitbull? Do they get a bad rap?
They do get a bad rap. They're fantastic dogs. They're very sweet, very devoted to their families and they certainly are one of my favorite breed. 
The MASH Facebook page features cute pets wearing pride colors for Pride Month. Do you have a large LGBT clientele? 
We have large clientele that's gay here. I grew up in L.A. I came out at 18. I have parents who are very accepting. Coming out was not a big deal to them which is awesome. It's never easy for anybody. At the time it was the worst thing in the world. I was very lucky to have supportive family and friends… A lot of our employees identify as gay, lesbian or bisexual. I don't know if we have any transgender people currently. I don't even ask. Everyone is very accepting. We're super supportive of the City of West Hollywood. We did not have a float for the pride parade, but we're going to try for next year. It's hard to get in. 
What do you like the most about working at MASH?
Seeing animals come back and doing better. Those are the parts I like the best, where I can positively influence the life of a pet and their owner; make them happy and be able to enjoy each other again. 
What sets MASH apart from other animal hospitals in the area?
What sets us apart is what we can do. We're open 24 hours, so we have doctors and staff available night and day. We can keep treatment going continuously. We have a CT scanner, so we can produce imaging. We have dedicated and highly trained staff for anesthesia and different specialty internal medicine, surgery, oncology, dental, nutrition, dermatology and critical care. We're smaller company. A lot of the other hospitals are corporately owned, which is not necessarily a bad thing but it can lead to a feeling of being one in a number as opposed to being part of family. We try to keep our clients involved. We continue education and host lectures, both to local veterinarians, local technical staff and to clients. We try to help educate the clients on how to take better care of their pets. I think that we focus on really high quality medicine. Medicine is not a perfect science, it's a practice. We're all getting better at it every day. And we offer free valet parking.
Do you have a favorite animal?
Oh gosh. My favorite animal is the giraffe. They're pretty cool. 
---
Metropolitan Animal Specialty Hospital
6565 Santa Monica Blvd, Los Angeles, CA 90038
Open 24 hours. Phone: (855) 350-7387
Web: www.mash.vet