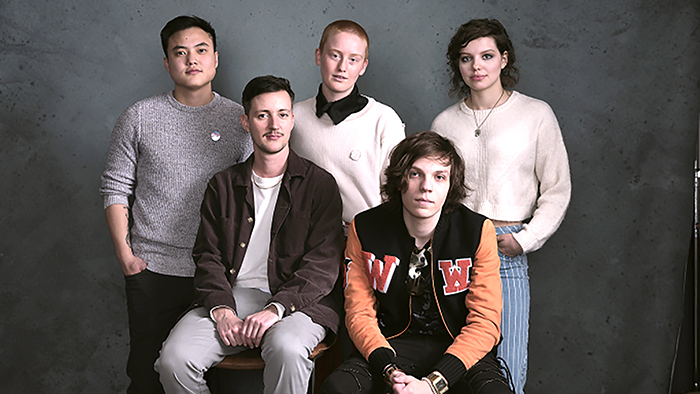 Rhys Ernst, sitting L, and the cast of "Adam"
 LOS ANGELES 
OUTFEST: ELEVEN DAYS OF WORLD-CLASS LGBTQ FILMS
The nation's premiere LGBTQ festival, Outfest,  takes place this month at various venues throughout the city.
The annual festival will open on the evening of Thursday, July 18th at the Orpheum Theater with Rachel Mason's intimate and absorbing documentary, Circus of Books, about L.A.'s legendary gay pornography emporium run by her parents, Karen and Barry Mason.
Additional gala screenings include: Adam, Ariel Schrag's  novel adaptation of the same name directed by Outfest alum and Transparent producer Rhys Ernst and Michael Barnett's Changing the Game, which focuses on three resilient transgender high school athletes fighting to compete as their authentic gender amidst national scrutiny.
For the complete lineup for the 2019 Outfest Los Angeles LGBTQ Film Festival visit www.outfest.org.
---
 PALM SPRINGS 
TOP SPOT FOR LGBT SENIORS TO RETIRE
AARP Travel Center and Expedia named Palm Springs as the world's best place for LGBT seniors to visit and retire. 
Other cities on the list of LGBT-friendly places for seniors to either visit or retire are: Provincetown, MA; Stockholm, Sweden; Guerneville, CA.; Minneapolis, MN; Toronto, Canada; Eureka Springs, AR; Winton Manors, FL; Austin, TX; New York City; and Puerto Vallarta, Mexico.
---
 SAN DIEGO 
APOLOGIES FOR "DEVIANT" CLASSIFICATION
The Psychoanalytic Association (APsaA) released an apology for classifying LGBT people as deviant during the start of the groups 109th Annual Meeting in San Diego last month. 
"Regrettably, much of our past understanding of homosexuality as an illness can be attributed to the American psychoanalytic establishment," said APsaA President Lee Jaffe, MD, "While our efforts in advocating for sexual and gender diversity since are worthy of pride, it is long past time to recognize and apologize for our role in the discrimination and trauma caused by our profession and say 'we are sorry.'" 
---
 WEST HOLLYWOOD 
WEHO HOSTS 2019 RAINBOW KEY AWARDS
The City of West Hollywood recognized people and groups who have made outstanding contributions to the gay and lesbian community with the 2019 Rainbow Key Awards on last month. 
This year's Rainbow Key Awards honorees included: Asian/Pacific Gays and Friends; Jeffery Bowman, creator and producer of Legendary Bingo; Lisa Edwards, rabbi of Beth Chayim Chadashim since 1994; Jake Mason, founder and president of WeHo Dodgeball; Mecca LA Hosted by Kelly Gilliam, providing free bi-monthly events for the Lesbian, Queer, Non-Binary, and Women who love Women community; and Project Angel Food.
---
 SILVER LAKE 
DRAG QUEEN RUNS FOR CONGRESS
Maebe A. Girl, the first drag queen elected to public office in the United States, has announced she is running for Congress, reports www.QVoiceNews.com.
Maebe A Girl has completed the preliminary filings and entered the race for the 28th Congressional District, which stretches from West Hollywood to the eastern border of Pasadena and from Echo Park to the Angeles National Forest.
"I'm running because representation matters. California's 28th District has a diverse demographic and as such requires a representative that can relate to the oppression experienced by so many of its constituents," Maebe A Girl told Q Voice News. "In a political climate where so many people's civil liberties are at risk, I want to be on the front lines fighting for them."