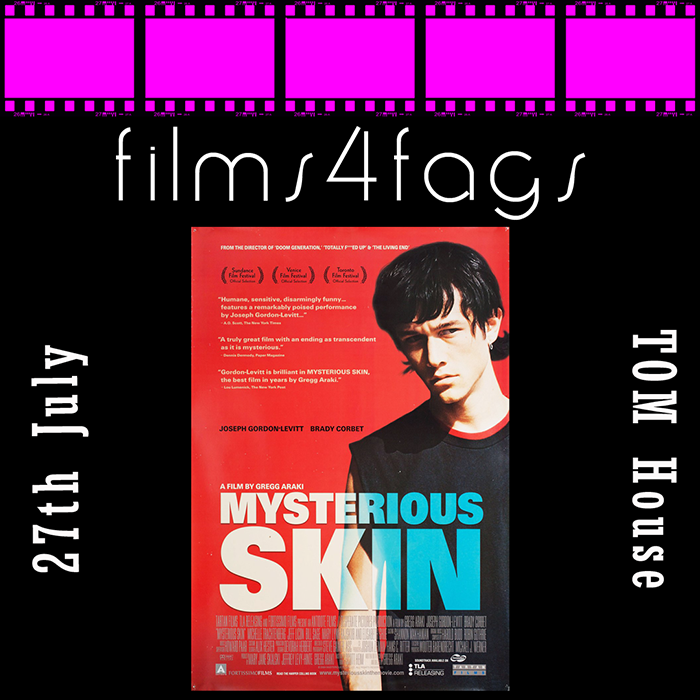 BROWN & OUT FEST V—THE FINAL PERFORMANCE
Casa 0101, 2102 Esat 1st St, Los Angeles, CA 90033. A collection of short plays celebrating the Latinx LGBTQ+ experience."
SUMMERTRAMP
410 Boyd St, Los Angeles, CA 90013. Summertramp: A magical Brigadoon of decadence and delight. Burning brightly from the sunny shores of DTLA.
 FRIDAY, JULY 12 
LOVE CONNIE 2: ELECTRIC BOOGALOO
The Cavern Club Theatre, Casita Del Campo, 1920 Hyperion Ave, Los Angeles, CA 90027. Freedom is the dream…Dance is the weapon…Love is the answer! Love Connie, that is! Runs July 12, 13, 14 & 19, 20, 21.
CHUNK LOS ANGELES
The Lash, 117 Winston St, Los Angeles, CA 90013. With Djs MYNO, CAKES And 2Ghoul4school. Bear drag show by Cubrina.
BOY UNTITLED AND A WANDERER'S LOVE LETTER TO THE UNIVERSE RELEASE PARTY, 9PM
Ace Hotel, 929 S Broadway, Los Angeles, CA 90015. Boy Untitled invites audiences to experience his five-part musical and visual epic with the release of his debut self-titled EP and accompanying illustrated book of poetry, A Wanderer's Love Letter to the Universe.  For more information visit www.boyuntitled.com.
 SATURDAY, JULY 13 
GLAMCOCKS PRESENTS: HOT MESH
Catch One, 4067 W Pico Blvd, Los Angeles, CA 90019. The GlamCocks have arrived in LA and they're not meshing around.
BEARRACUDA LA: LOCKER ROOM PARTY
Precinct DTLA, 359 S Broadway, Los Angeles, CA 90013. Wear as much or as little as you want, down to your undies.  It's Bearracuda's super sexy locker room party and clothes check is available. Tunes by Ryan Jones.
 SUNDAY, JULY 14 
BONDAGE NIGHT
Sanctuary LAX Studios, 10914 S La Cienega Blvd, Lennox, 90304. RSVP to socabc@socalbondage.com. A well equipped bondage space. Updated the rules and guidelines. Info: www.socabondage.com.
 SATURDAY, JULY 20 
BRING IT ON, QUEEN! MONET X CHANGE & BOB THE DRAG QUEEN
Montalban Theater, 1615 Vine St, Los Angeles, CA 90028. Live, musical parody of the fabulously fierce 2000 film, "Bring It On." Backstabbing, spotlight grabbing, secret blabbing and more!
 SATURDAY, JULY 27 
OC TRANS PRIDE
LGBT Center on 4th, 305 E 4th St, Santa Ana, CA 92701. "Join us for exciting workshops, guest speakers, resources and network fairs, free clothing and many more exciting things for the transgender community."
 SUNDAY, JULY 28 
BEYOND THE HEDGES: HAND HABITS
Tom of Finland Foundation—Tom's House, 1421 Laveta Terrace, Los Angeles, CA 90026. Meg Duffy arguably released one of the most beautiful albums of 2019. Their album contemplates the fragility of human relationships through self-discovery. Their music evokes waves of warm intimacy, inviting a dreamlike interpretation of Americana.
---
 

The Resources

 
AIDS PROJECT LOS ANGELES 
611 S. Kingsley Drive, Los Angeles, CA 90010. www.apla.org.
(213) 201-1600. 
ASIAN PACIFIC AIDS INTERVENTION TEAM 
605 West Olympic Boulevard Suite 610, Los Angeles, CA 90025. www.apaitonline.org. (213) 553-1830. Provides services to all Asian and Pacific Islanders. 
BIENESTAR AIDS PROJECT 
4955 Sunset Boulevard, Los Angeles, CA 90027. www.bienestar.org.
CHILDREN OF THE NIGHT 
14530 Sylvan Street, Van Nuys, CA 91411. www.childrenofthenight.org. (800) 551-1300. Shelter for sexually exploited LGBT youth ages up to 17 yrs old.
COVENANT HOUSE 
1325 North Western Avenue, Hollywood, CA 90027.
www.covenanthousecalifornia.org. (323) 461-3131. Shelter for youth ages 14-24 yrs old, HIV support, employment assistance, counseling.
GAY AND LESBIAN CENTER OF LONG BEACH 
2017 East 4th Street, Long Beach, CA 90814. www.centerlb.org. 
GAY AND LESBIAN CENTER OF LOS ANGELES 
1625 Schrader Boulevard, Los Angeles, CA 90028. www.laglc.org. Supports groups, legal help, counseling, HIV+ services, substance abuse treatment and more.
GENDER WELLNESS OF LOS ANGELES 
116 North Robertson Boulevard, Suite 702, Los Angeles, CA 90048. www.genwell.org. Counseling for individuals, couples, families coping with gender identity issues. 
JEFFREY GRIFFITH YOUTH CENTER 
7051 Santa Monica Boulevard, West Hollywood, CA 90038.
www.laglc.org. (323) 461-8163. Drop-in services, support for at risk, homeless trans youth. 
LOS ANGELES FREE CLINIC 
8405 Beverly Blvd., Los Angeles, CA 90048. www.sabancommunityclinic.org. (323) 653-1990. 
LOS ANGELES GENDER CENTER 
1923 1/2 Westwood Boulevard #2, Westwood, CA 90025.  www.lagendercenter.com. (310) 475-8880. Sliding scale clinic.
ORANGE COUNTY THE CENTER 
12832 Garden Grove Boulevard, Suite A, Garden Grove, CA 92843. www.thecenteroc.org.