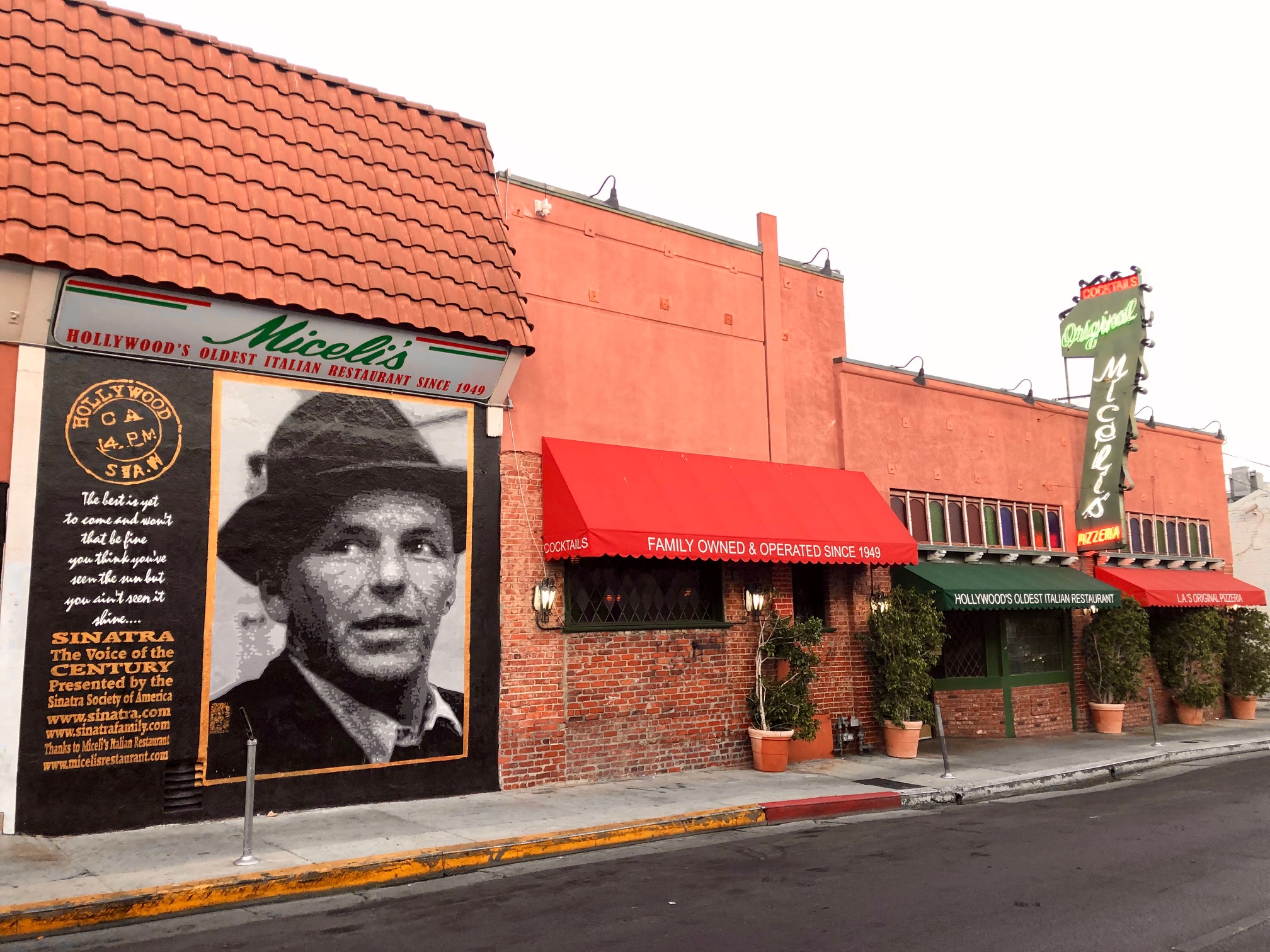 Few restaurants make it 70 years, especially in the same location—They say it's hard to make it at all in Hollywood. Few succeed and Miceli's Italian Restaurant on Las Palmas steps from Hollywood Blvd. is one of them. Their story reads like a Hollywood movie.
Miceli's opened in 1949 when Carmen and Sylvia Miceli, with the help of their brothers Tony and Sammie, and sisters Angie and Millie who put their funds together to start a restaurant. Carmen, a Chicago native, came to Los Angeles shortly after serving in World War II. He received 4 Purple Hearts, and a Bronze Star for carrying a wounded medic through a 250-yard open field laden with German machine gun fire. Carmen went from being a singing shoeshine boy to a World War II hero to owning the first pizzeria in Los Angeles, and possibly the West Coast. With the family recipes brought from Sicily by way of Old Chicago, they opened what would become Hollywood's first pizzeria. Being in Hollywood, Miceli's attracted movie stars, tourists and local residents alike.
Miceli's is rich in Hollywood history. According to Lucille Ball's autobiography, it was at Miceli's that Lucy learned to toss a pizza for an episode of I Love Lucy.  Other celebrities who have come to Miceli's throughout the years include Frank Sinatra, Dean Martin, Sal Mineo, the Lloyd Bridges family, The Beatles, Elizabeth Taylor, Richard Burton, John F. Kennedy, Marilyn Monroe, Joe DiMaggio and probably every classic Hollywood star with a taste for Italian. Famous muralist George Sportelli painted a giant likeness of Frank Sinatra on the restaurant's storefront in 2011. At least a couple of Presidents have dined there too.
There is history on the walls, carved into booths, and in the fabric and fiber of every square inch; memories and moments linger on a long note from the piano. There is a stained glass portrait of Carmen Miceli's sister, Angie, who made 100 meatballs in less than 3.5 minutes in the 50's through the early 80's. Though she is long gone, her recipe and memory remain today, like so many of the original founders and patrons of days gone by. The wooden booths inside of Miceli's come from another old Hollywood restaurant, the famous Pig 'n Whistle restaurant located next door to the Egyptian Theatre. When that restaurant burned down around 1956, Carmen Miceli salvaged the wood. (It sat unoccupied for 50 years before reopening). You will still come across a booth that has a pig with a whistle carved into it. Although restaurant patrons Spencer Tracy, Fred MacMurray, Nancy Olson, Fredric March, and Orson Welles are now part of Hollywood Film history; today's new stars such as Jim Carrey, Adam Sandler, and Julia Roberts, to name a few, visit and dine alongside the grandchildren and great grandchildren of past patrons, making new memories.
Miceli's is one of the most romantic places in town. The bartenders and waiters sing while you dine. Popular pianists Brian O'Rourke, Patricia Harold and Jeff Urband have their own following as well. Some of your personal performers are on the way to theater colleges, Broadway or the La Scala Opera, and some have just returned from the same—Just like the clientele, you never know who you're going to see, or hear. 
There are other good reasons to celebrate Miceli's 70th Anniversary with them. They're just a nice family—Mom Sylvia is still with us, (she just turned 89) but brothers Frank and Joe pretty much run the restaurants with lots of help from family. At the Universal City location, Joe has organized benefits at the restaurant for families of fallen officers, and has done a tremendous amount of volunteer work for the County of Los Angeles, Department of Child and Family services. Frank has coached youth baseball in Toluca Lake and the East Valley for years—He has been taking youth teams to the Baseball Hall of Fame in Cooperstown, N.Y. for a once in a lifetime experience since 1998.  
Look for a possible 70th Anniversary celebration in September, but there's always a reason to celebrate at Miceli's: birthdays, anniversaries, graduations, first dates, and special occasions. Open 7 days a week, 11:30 AM to 10:00 PM, Fri. & Sat. until 11:00 PM. Dine in, take out.
Miceli's Italian Restaurant (Original) is located at 1646 N. Las Palmas Ave., Los Angeles, CA 90028. (323) 466-3438. Visit their Universal City Location at 3655 Cahuenga Blvd. West.