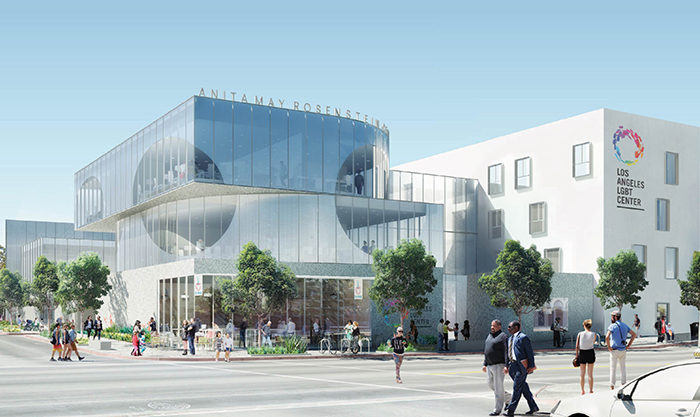 LOS ANGELES
LA LGBT CENTER CELEBRATES GRAND OPENING OF ANITA MAY ROSENSTEIN CAMPUS
Two years after breaking ground in Hollywood—and just in time for its 50th anniversary—the Los Angeles LGBT Center celebrates the grand opening of the unprecedented Anita May Rosenstein Campus on Sunday, April 7, from 11am-5pm, to which the public is invited.
The all-day festivities include a ribbon cutting, entertainment, and guided tours of the two-acre complex, which will enable a dramatic expansion of intergenerational services, including 100 beds for homeless youth, a new Senior Community Center and Youth Academy, as well as expanded programming, administrative space, and more.
Celebrities scheduled to appear or perform include Lily Tomlin, Kathy Griffin, Jenifer Lewis, Wilson Cruz, Alexandra Billings and many others.
Anita May Rosenstein Campus is located at 1118 N. McCadden Place, Los Angeles, CA 90038.
---
For the latest news and updates about the event, visit lalgbtcenter.org/opening.
---
PALM SPRINGS
TWO MEN SHOT AT TOUCANS TIKI LOUNGE
Two men suffered gun shot wounds when a man opened fire at Toucans Tiki Lounge, a popular gay club in Palm Springs. Police confirmed the shooting took place at about 1:38am on March 24.
Witnesses allege that an altercation inside the club ended with bouncers escorting two people out of the bar. It is believed the altercation is what led to the gun violence. The suspect is described as a Hispanic male between the ages of 20 to 30. He was wearing a black hoodie, black hat and black sweatpants with tattoos on his neck.
Anyone who witnessed this incident is asked to contact the Palm Springs Police Department at 760-778-8411.
---
WEST HOLLYWOOD
SECOND DEATH AT ED BUCK'S WEHO APARTMENT RULED AN ACCIDENTAL OVERDOSE
The death of Timothy Dean, 55, this past January 7, whose body was found inside the West Hollywood apartment of former Democratic donor Ed Buck, was ruled an accidental methamphetamine overdose, according to the Los Angeles County Sheriff's Department. Dean marks the second death of a black man to be found in Buck's WeHo apartment. The first being the death of Gemmel Moore, 26 who also died of an accidental drug overdose in July 2017.
SANTA MONICA
FIRST PRIDE CELEBRATION IS COMING TO SANTA MONICA
The City of Santa Monica is set to host its first Pride celebration in recognition of Pride Month in June. The Los Angeles Blade reports that Santa Monica Mayor Gleam Davis will announce and provide additional details about "SaMo Pride" this month. According to the report SaMo pride will include the Santa Monica Pier, Santa Monica Place, Third Street Promenade and surrounding businesses.
SAN DIEGO
ASSEMBLYMAN TODD GLORIA HOPES TO BE FIRST GAY ELECTED MAYOR IN SD
Assemblyman Todd Gloria, 40, is running for mayor in the city of San Diego where he hopes to be the first LGBT person to be elected to this position for the city's upcoming 2020 elections. He held that position five years ago on an interim basis. If he wins, he'd be be one of a handful of mayors who are out as LGBT and overseeing major metropolitan areas in the U.S. 1.4 million residents in San Diego makes it the eighth-largest city in the country and the second largest in the state. San Diego will hold a non-partisan mayoral primary election March 3, in 2020. The top two candidates will advance to the November 3 general election.