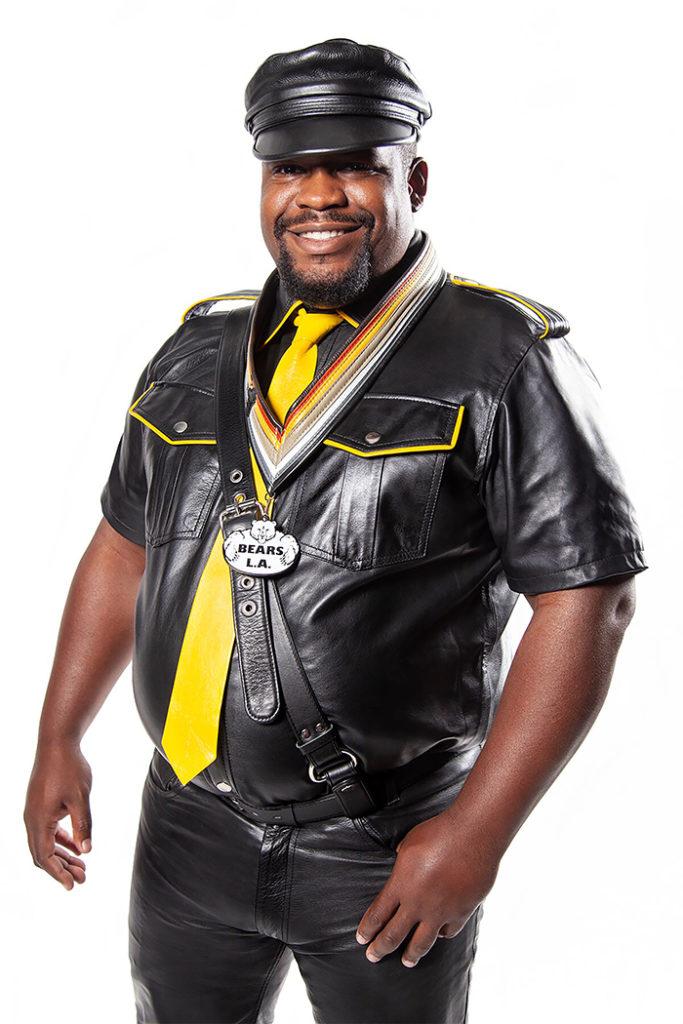 SUNDAY, APRIL 7
ANITA MAY ROSENSTEIN CAMPUS GRAND OPENING COMMUNITY CELEBRATION 11AM–5PM
1118 N. McCadden Place, Los Angeles, CA 90038. Info: lalgbtcenter.org/opening.
---
JOEY ARIAS & SHERRY VINE IN "GARDEN OF SHE-DEN" 7:30PM–9:30PM
Catalina Bar & Grill, 6725 Sunset Blvd, Los Angeles, 90028. A sexy, over-the-top spectacle featuring original material, reinterpretations of classics, Joey's infamous Billie Holiday, Broadway, Rock and maybe one of Sherry's trashy parodies. Expect a few surprises and of course loads of laughs!
WEDNESDAY, APRIL 10
NATIONAL YOUTH HIV+AIDS AWARENESS DAY LOS ANGELES 7PM–9PM
W Hollywood Hotel, 6250 Hollywood Blvd, Los Angeles, 90028. LGBTQ+ youth activists join forces with local artists to lead the cause on  HIV prevention. 
FRIDAY, APRIL 12
WCR 2019 MEET & GREET
Eagle562, 2020 E Artesia Blvd, Long Beach, CA 90805. The Mr. West Coast Rubber 2019 Contestant meet & greet and number draw, with foam!
SATURDAY, APRIL 13
MR. WEST COAST RUBBER 2019 CONTEST 9PM-2AM
Eagle562, 2020 E Artesia Blvd, Long Beach, CA 90805. After almost a decade, The Mr. West Coast Rubber contest returns in 2019 to the Eagle562. 
---
RUBBISH AND DREAMS: THE GENDERQUEER PERFORMANCE ART OF STEPHEN VARBLE 2PM–4:30PM
West Hollywood City Council Chambers, 625 North San Vicente Boulevard, West Hollywood, 90069. Public lecture by Curator David J. Getsy, sponsored by the California LGBT Arts Alliance in conjunction with the Varble Exhibit at the ONE Gallery. Photographs by Greg Day.
---
XTRA LRGE MEAT RACK 12 YEAR ANNIVERSARY 8:00PM – 02:00AM
Eagle LA, 4219 Santa Monica Blvd, Los Angeles, 90029. DJ Doug Jackson's Birthday!
THURSDAY, APRIL 18
INVISIBLE MEN'S FIRST ANNIVERSARY PARTY! 
The Abbey, 692 N Robertson Blvd. West Hollywood 90069. 9pm–11pm. A platform for trans men to have the ability to tell their own narratives instead being handed who they were according to the world. Hosted by THE FIGHT.
FRIDAY, APRIL 19
PAPI NIGHT 9PM–4AM
Micky's, 8857 Santa Monica Blvd, West Hollywood, 90069. Sexy ASF PAPI Go-Go Boyz on Two Caliente Levels of Entertainment. After Hours Dancing Till 4Am W/Free Cover For Everyone B4 12Am!
SUNDAY, APRIL 21
QUEER ENOUGH BRUNCH 11AM–2PM
Cuties Coffee, 710 N. Heliotrope Dr, Los Angeles, 90029. Hey, Queer Enough Bunch. Let's get together and boost our queer morale. Theme pending. Suggestions welcomed. Entry is a suggested donation of $5. They have Queer Enough Brunch Swag for sale and will announce raffle winners at 1:30pm. Raffle tickets are only $1, and pre-pay tickets will receive one ticket upon check in.
WEDNESDAY, APRIL 24
ERICH BERGEN (CBS MADAM SECRETARY) 8:30PM–10:30PM
Catalina Bar & Grill, 6725 Sunset Blvd, Los Angeles, 90028. Critically-acclaimed actor and singer ERICH BERGEN returns to Los Angeles with an electric evening of music & song marking his first solo concert in three years. Performing live Wed, & Thurs, April 24 & 25, 2019 at 8:30pm (originally Dec 28 & 29) at Catalina Jazz Club—Hollywood! Tickets: $25-35, VIP Seating Available. Call Box Office (866) 468- 3399 or online at www.TicketWeb.com.
---
ENCUERADO LATIN LEATHER NIGHT 9PM–2AM
Eagle LA, 4219 Santa Monica Blvd, Los Angeles, 90029. Every 4th Wednesday! Leather Latin Night at your premium leather bar in LA THE EAGLE! A crazy-fun night in gear with famous Dj Rubin Sanchez bringing you the most amazing collection of rock en español and rock pop available in USA! NO COVER.
SATURDAY, APRIL 27
SIMPLY DIVINE 6PM–9PM
Hollywood Forever, 6000 Santa Monica Blvd, Los Angeles, 90038. Simply diVine, the premier food and wine event for LGBT people and their allies, returns Saturday, April 27, at Hollywood Forever. Sample extraordinary food and drink from L.A.'s most popular eateries, wineries, distilleries, breweries and more! All proceeds support the Los Angeles LGBT Center's life-changing and life-saving programs and services.
---
DILF PALM SPRINGS BLACK PARTY 8PM–2AM
The Barracks, 67625 E Palm Canyon Dr, Ste C7, Cathedral City, 92234-5462. Joe Whitaker Presents.
---
CIGAR BAR WITH VJ MYLES MATSSE 9PM–2AM
Bullet Bar, 10522 Burbank Blvd, North Hollywood, California 91601. Hosted by Kevin Cowger. Cigarmen, Friends and Admirers! Come by for a relaxed smoke and good drinks, Cigars available for purchase.
SUNDAY, APRIL 28
2ND ANNUAL BEARSLA MAC & CHEESE COOK-OFF! 3PM-7PM
Eagle562, 2020 E Artesia Blvd, Long Beach 90805. Mr. LA Leather Bear 2019 Eric de León presents the 2nd Annual BearsLA Mac & Cheese Cook-Off!! Come show off your comfort food cooking skills! Bring your nana's favorite recipe, your bougie best concoction, your Southern delicacy, or your childhood memory. Or just come sample the best macaroni and cheese dishes in the county during Eagle562's Sunday Beer Bust. $6 Tasting Buy-In lets YOU be the judge! Proceeds to benefit BearsLA and Bears LA Charities.