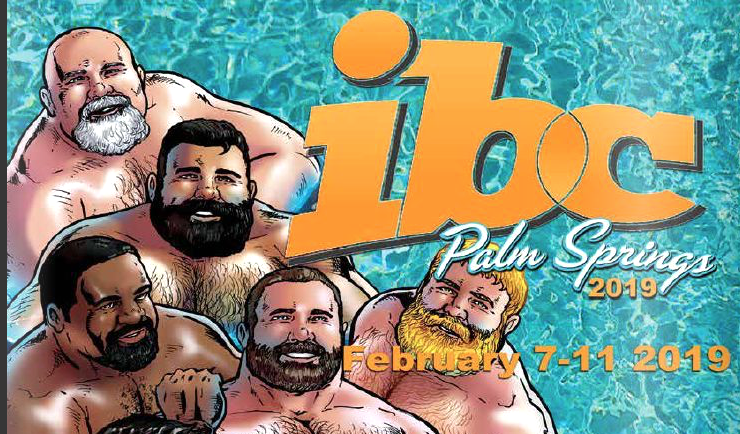 Bears are coming out of hibernation and are heading to the International Bear Convergence (IBC), the premier winter event for Bears & admirers in Palm Springs, California. The event will take place on February 7-11, 2019.
The four-day event will come to life with DJs, live entertainment and thousands of bears from around the globe. The last five years have been hugely successful and expect more of the same in 2019 with record-breaking attendance.  "This year, being our 6th, we will be pulling all the stops so expect us to mix it up a bit" "In addition, we will again receive a Proclamation from the City of Palm Spring presented to us by City councilman JR Roberts on Thursday February 7 at 1:30pm in front of Hotel ZOSO" adds co-producers Nino Eilets & George Frank. We appreciate the recognition from the city for what IBC contributes to Palm Springs.
During the day kick back and enjoy themed pool parties sponsored by Hunters, Chill Bar & Townie Bagels, with music provided by world renown DJ's at the fabulous Hotel ZOSO pool. With multiple bars, cabanas, outdoor-lounge areas and our new sun deck area overlooking the action at the pool, you're destined to have a fantastic day. After the sun goes down, evenings will heat up with three high-energy dance parties sponsored by Toucans Tiki Lounge, The Standard Magazine & Wangs in the Desert.
Saturday's main dance event, Nasty Nineties, will feature a live performance by the amazing dance club queen, superstar Inaya Day. This year we will once again feature the very popular, Populart; presented by Modern Bear, a pop-up art show highlighting well known artists including a great reception Saturday afternoon featuring retro disco/80's music and surprise "Bearlesque" routine.
Sunday night, the closing party, will be a party to remember presented by Bearcules. Get ready for an evening of Roman decadence and debauchery. Something a bit different from your usual leather or gear closing night party.You definitely don't want to miss this one!
Official IBC events held at BlackBook, Chill, Hunters, Toucans, Tool Shed & Wangs. Plus several surprises through out the weekend. So don't wait; the host hotel is just about sold out and currently has a waiting list. Attendance was over 2500 last year and is expected to grow exponentially in 2019. IBC will again take over Palm Springs!
Online ticket sales are closed but tickets are still available at IBC registration desk at hotel ZOSO.
 Potions of the proceeds from this event will go to Sanctuary Palm Springs & AIDS Life Cycle.
Go to www.ibc-ps.com for more information.