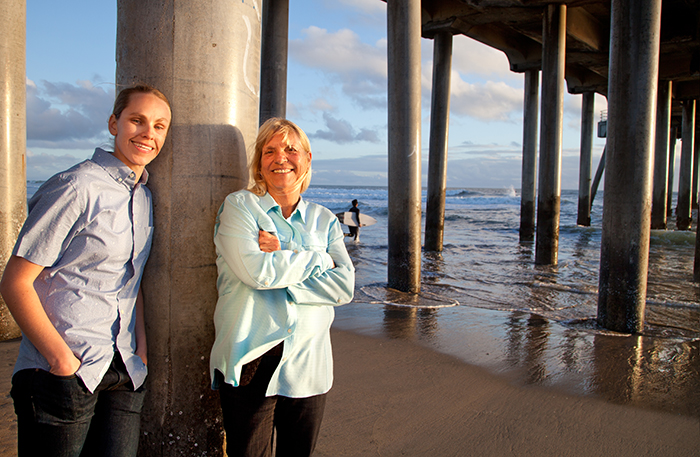 Lena Fancher (L), Jan Zimmerman
Addressing the needs of the LGBTQ community, Lotus Place Recovery's Lena Fancher and Jan Zimmerman on living your authentic life.
BY MARK ARIEL  |  PHOTO BY DUSTI CUNNINGHAM
Lotus Place Recovery is a gender diverse conscious organization located in in Fountain Valley, near Newport Beach, whose goal is to help clients grow into their authentic selves as they work towards self-acceptance and sobriety.  
Having established itself as a refuge for those in the LGBTQ Community that seek freedom from substance abuse, Lotus Place Recovery fosters a safe and gender affirming environment where clients can explore questions of sexuality, gender identity and gender expression, while working to develop coping skills for daily functioning and overall life improvement.
Lena Fancher, a Certified Drug an Alcohol Counselor, is the founder and owner of Lotus Place Recovery. Lena says that growing up in a small town in Colorado, she "never felt I could be my true self until I moved to California where being a lesbian wasn't abnormal. I was still slow to fully come out but after a few years in California I was fully out and I was and am living my authentic self."
"I had my own personal battle with addiction and went into recovery in 2009," reveals Lena in an interview with THE FIGHT. "I found that I liked helping people cultivate lives worth living. After getting some time sober, I began to work in the field of addiction and saw that there was a real need for the LGBTQ community to have place to go to and feel welcomed, not judged and over all comfortable."
That was the impetus, reveals Lena, to create Lotus Place Recovery—a full scale treatment center catering to and for the LGBTQ community.
"If you are in the LGBTQ community and struggle with addiction—don't hesitate to reach out to Lotus—we are here to help," says Lena.
Jan Zimmerman, a Certified Drug and Alcohol Counselor, is the President of Lotus Place Recovery. Celebrating 25 years of her own recovery, Lena tells THE FIGHT that her "journey presented many obstacles, challenges, ups and downs. I lost a lot of my friends to addiction. Sobriety does not guarantee a life without hardship. It guarantees that you don't have to survive the hardships alone. Sobriety provides a means to a support system, and gives you plan to live by."
While Jan reveals that she knew she was a lesbian at a very young age— she did not have reference or role models to understand what that meant. "I grew up in the 50s and was a young adult in the late 60s and 70s. I lived in a time when it wasn't accepted nor even polite to use the term 'lesbian' in any conversation. It was considered and looked at and treated as a sickness or disease."
Her recovery journey began "after succumbing to the illusionary life filled of being consumed by alcohol."
Jan reveals that she "was afforded a second chance at life. My prognosis of death within six months was my only future if I continued on this path. AA became an integral part of my life. I quickly discovered that drastic changes need to take place order to maintain my sobriety. I had to relinquish the power of alcohol over me." 
Being a part of Lotus Place Recovery, says Jan, "has given me an opportunity to give back what I received while finding my way. I felt the need to share my experience, strength and hope." 
---
 For more info visit: www.lotusplacerecovery.com.