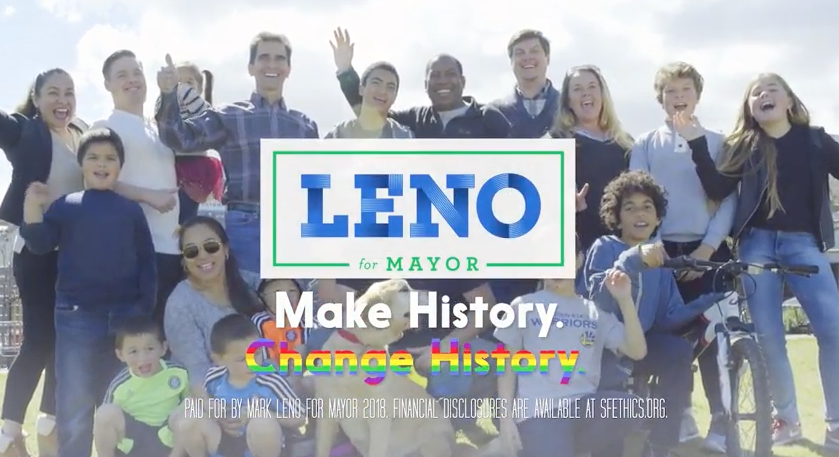 San Francisco Mayoral candidate Mark Leno just announced the release of his first television and digital ad, "Make History," in a press conference at the former Castro Camera store, marking the 40th anniversary of the passage of Harvey Milk's Anti-LGBT Discrimination Ordinance at the Board of Supervisors.
The ad highlights Leno's lifetime of service to San Francisco, including becoming the first openly gay man to serve in the California State Senate, and a record of winning landmark legislation for civil rights – like raising the state's $15 minimum wage.
Leno also announced endorsements from major LGBT organizations, including the Alice B. Toklas LGBT Democratic Club, Harvey Milk LGBT Democratic Club, Victory Fund, and Equality California.
Gina Simi, Co-Chair of the Alice B. Toklas LGBT Democratic Club, said, "Mark is [Alice's] first-choice candidate because he doesn't just talk about progress and process — he truly understands how this works."
Harvey Milk Club Co-President Carolina Morales praised Leno's decades of commitment to equity and justice for all LGBTQ people. "As a Latina and as an immigrant, it's very important to support someone like Mark Leno for Mayor," she said.
Harvey Milk Club Co-President Honey Mahogany added, "Mark has been a tireless advocate for the LGBTQ community, specifically for our elders, for those living in SRO housing units and protecting those from Ellis Act evictions, and protecting trans people both in accessing insurance and also in discrimination in the workplace."
In addition to Mahogany, Simi, and Morales, Leno was joined by Alice B. Toklas LGBT Democratic Club Co-Chair Eric Lukoff, District 8 Supervisor candidate and San Francisco City College Trustee Rafael Mandelman, Harvey Milk Club PAC Co-Chair and San Francisco City College Trustee Tom Temprano, and others.
A full list of Leno's endorsements and legislative record can be found on his website www.markleno.com.
WATCH LENO'S FIRST TELEVISION AND DIGITAL AD HERE: