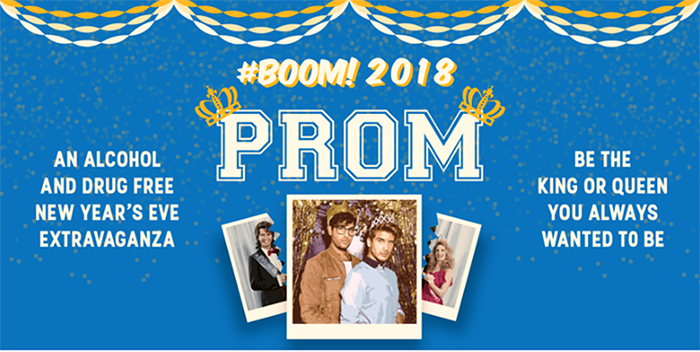 See Sunday, December 31.
SUNDAY, DECEMBER 3 
TTF Brunch At Hamburger Mary's 
Hamburger Marys, 8288 Santa Monica Blvd, West Hollywood, CA, 11am–2pm. A delicious brunch menu, bottomless Mimosas, and a fabulous drag show!
Celebrating The Life Of JD Disalvatore
The Village at Ed Gould Plaza, 1125 N McCadden Pl, Los Angeles, CA 90038, 12pm–4pm. Remembering and celebrating the life of filmmaker, activist, animal lover, and good friend JD Disalvatore. In her short life, she worked tirelessly to make the world a better place.
WEDNESDAY, DECEMBER 6
Gays R Us
Hollywood Improv Comedy Club, 8162 Melrose Avenue, West Hollywood, 8pm. Tickets & Info: www.ticketweb.com/fb/7663065/hollyimprov.
THURSDAY, DECEMBER 7
Lawn Holiday Party
Los Angeles Women's Network, 1625 Schrader Blvd, Los Angeles, 7pm–10pm. Gather in a welcoming space and set some magical, queer lady intentions for 2018.
FRIDAY, DECEMBER 8
LABB Holiday Celebration
Bullet Bar, 10522 Burbank Blvd, North Hollywood, 9pm–2am. Join the Los Angeles Band Of Brothers as they kick off the holiday celebrations with their annual Holiday Party at the Bullet Bar.
SATURDAY, DECEMBER 9
Mr/Ms Sanctuary Leather 2018 Contest
Sanctuary LAX Studios, 10914 S La Cienega Blvd, Lennox, CA, 90304, 9am–1am. Find out who will be the next Sanctuary Leather titleholders.
SUNDAY, DECEMBER 10
Fruitcake: A Queer Holiday Shopping Pop-Up
736 Crocker St, Los Angeles, CA 90021, 11am–6pm. Lockwood51 and Mario Diaz present 14 local queer artists in Downtown LA for a holiday craft fair pop up. This is a rare opportunity to browse a diverse selection of mugs, enamel pins, apparel, art, and more—all in the same place!
Debbie's Best: An Echo Park Drag Competition
Lot 1, 1533 W. Sunset Blvd., Los Angeles, CA 90026, 9pm. An eastside drag competition featuring Queens & Kings! Who will win the crown? Bring your dollar bills and come support our artists.
HER Los Angeles Holiday Party 
Boomtown Brewery, 700 Jackson St, Los Angeles, CA 90012, 2pm–8pm. HER, The App for LGBTQ Women come back with all the holiday cheer and loads and loads of delicious craft beer. With tons of fun activities, games, contests and more!
Onyx: Bad Santa's Toy Drive  
Eagle LA, 4219 Santa Monica Blvd, Los Angeles, 4pm–8pm. Party with the men of ONYX SoCal-Southwest.
SATURDAY, DECEMBER 16
Kinky XXXMas!
The Bullet Bar, 10522 Burbank Blvd. North Hollywood, 9pm–2am. Green Mirror Entertainment & Bullet Bar present a holiday party for leathermen, puppies, kinksters and those who love them.
Putería
Precinct DTLA, 357 South Broadway, Los Angeles, CA 90013, 9pm–2am. Las Comadres del Barrio—Ricardo-Sebastian y Nabor Arias giving us the best of latin dance music, con bailarines calientes, super sexy Shawn Morales your host, and cool drinks all night long.
Bootie LA: Star Wars Holiday Special! 
Los Globos, 3040 Sunset Blvd, Los Angeles, CA 90026, 10pm–2am. The Empire strikes Bootie, as we celebrate "The Last Jedi" with holiday treats and Star Wars mashups and remixes.
SUNDAY, DECEMBER 17
WinterTramp 
Pershing Square, 532 South Olive Street, Los Angeles, CA 90013, 2pm–10pm. Tickets & Info: www.SummerTramp.com. Enjoy some of the hottest DJs, food trucks and get trampy with some of the hottest men.
SATURDAY, DECEMBER 30
Drag Queen Story Hour
West Hollywood Library Community Meeting Room, 625 N. San Vicente Boulevard, 11am–12pm. weho.org/arts. Join a special New Year's/Holiday Drag Queen Story Hour with Frida Laye from Chico's Angels. For children of all ages.
SUNDAY, DECEMBER 31
#BOOM! Alcohol Free NYE Party
West Hollywood Park, 647 N San Vicente Blvd., 8pm—2am. Visit weho.org for more information. Ring in the New Year clean and sober. Join new and old friends at WeHo's free New Year's celebration. The alcohol and drug free costume party with DJ, dancing, free food and non-alcoholic drinks helps you party your way into a fun-filled, safer 2018. Enjoy a photo booth, costume contest, balloon drop with help from some of West Hollywood's most colorful characters. A favorite of the LGBT and sober community, this 5th annual #BOOM! is a safe space welcoming everyone 18 and over—especially anyone who's ever felt marginalized.