In addition to being forbidden fruit, these books also marked a period in time that was finite: the golden era of narrative porn. 
BY VICTOR MELAMED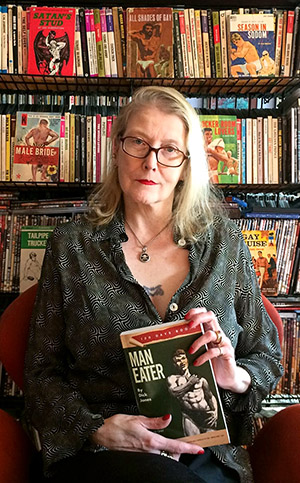 In a recent profile in Rolling Stone publisher and film scholar Maitland McDonagh explained why she launched 120 Days Books, a press dedicated to republishing unjustly forgotten gay adults-only novels of the 1960s and '70s.
As she explains it, reports Rolling Stone,  the books themselves provide a rare glimpse in to a world that was largely kept secret out of fear and shame. "They're not poking fun at what they're describing," she explains. "Some of them are funny and humorous but they take their subject as seriously as if they were mainstream books."
Given the insight these "stroke books" provide into gay life of another era, she began to view them and their preservation as a way of honoring a past that has long been hidden to all but a select few.
While it's easy to forget today, states Stone writer Ilise S. Carter, with LGBTQ culture being so central to mainstream pop culture and politics, that life deep in the closet was once the only life that many people knew in those years. Before RuPaul and Modern Family, were household words, gay characters were either the campy, swishy butt of every joke (such as Paul Lynde's "bachelor" Uncle Arthur on bewitched) or tragic, unspoken figures like Sal Mineo in Rebel without a Cause—if they were seen or spoken about at all. These books—whether they took place in the future, in the Wild West or among Cold War espionage—were a time capsule of a hidden history.
"Produced quickly and cheaply by sketchy imprints that were often opened just for the purpose of releasing a few titles then dissolved even before authorities to catch up with them, these books were not easy to come by even in their heyday," reports Carter. "In the days before triple-X cornucopia of the internet, porn consumption was hampered by both the inconvenience of finding materials through brick and mortar stores that catered to your specific tastes (largely only available in urban areas, such as New York or San Francisco) and the risk of receiving it through the mail, which was actually illegal until the Supreme Court's landmark Miller vs. California decision of 1973. So, just getting one's hands on a copy of something like The Queer Frenzy meant assuming the possibility of some level of exposure."
After years of acquiring these books, and with the encouragement of her very understanding husband, she launched 120 Days Books, which used the print-on-demand Create Space to reissue some of her favorite (and legally available as copyright "orphan works") titles. Thus far, the reaction to her thriller double features like Man Eater/Night of the Sadist and  Vampire's Kiss/Gay Vampire and others have done remarkably well for a DIY publishing house with no advertising budget.
---
For more info visit 120daysbooks.blogspot.com.