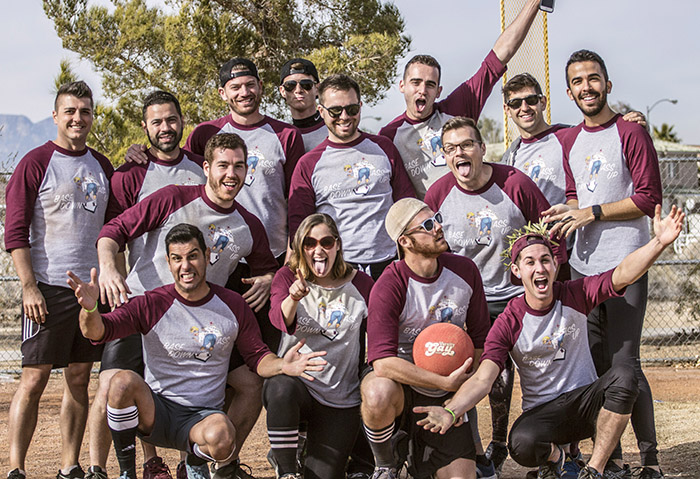 Will Hackner's inclusive Varsity Gay League turns ten.
BY LARRY BUHL  |  PHOTOS BY GILLIAN PERRY
It was a balmy Wednesday evening when I dropped in on the Varsity Gay League's (VGL) kickball scrimmage in Poinsettia Park in West Hollywood. The middle school memories were just flooding back—similar rules as baseball, a large ball that doesn't hurt as much when you catch with your face—when I was enthusiastically greeted by a VGL staff member who asked me to sign a wavier before practice. Oh no, I said. I was just there to get an idea of what goes on there.
"Everyone is welcome," he said, and then suggested that I kick the ball a bit anyway. Though the middle school experience was coming back, I wasn't completely certain I didn't have a kickball catastrophe in 5th grade that I had since repressed.
VGL is not just kickball. And it's not just in Los Angeles anymore. And it's not only gay men. The best way to describe VGL is an adult recreation league catering to the LGBT community. And although there are teams and games and tournaments, and, technically, winners and losers at those tournaments, it's not likely to trigger a decades old wound of being last to be chosen for a team.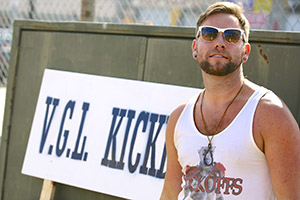 "We have a mandate of no negativity, either from staff or participants," VGL's founder and leader, Will Hackner, told me.
Hackner, who founded the group ten years ago after an impromptu game of tag after bar hopping with friends in West Hollywood, waxed philosophical.
"I think VGL is changing a paradigm in the community," he said.
I asked for elaboration. "It's just about having fun. It's not about segregating yourself from the rest of the community. It's about building confidence and making friends."
And, now, that friendship-making enterprise is a full-fledged business. Hackner was working in the entertainment industry when he was laid off in 2012. He turned lemons into lemonade and decided to follow his new passion, which was to grow this impromptu sporting organization.
Now Varsity Gay League offers soccer, tennis, beach volleyball, bowling, and flag football.
But aren't there already gay sports leagues playing the same games? Hackner lit up with a big smile. "Yes, but here's the difference," he told me.
"For the most part they're not catering to people who haven't played before. There's a barrier to entry. Nothing wrong with that, but if they're not willing to train you and support you, chances are you're going to fail and leave. Those legacy sports are important, but we're bridging the gap between the experienced players and the rest of the community."

A SPORTING DO-OVER
At 36, Hackner has an athletic physique, but he admits that as a kid he was scrawny and short—"that guy" who nobody was eager to have on the team. Part of the reason for starting VGL, he said, was to have a sporting do-over for people who grew up like him.
"I'm a competitive player but I cater to the person who used to be frail and insecure." He added that the dozen part-time VGL staffers are all kind and nurturing and willing to give advice and celebrate small moments.
Hackner recalls one kickball player who just couldn't catch the red rubber ball for the longest time, though his kicking was okay. "He practiced with us every week for six months and now he is playing in tournaments. He was determined. The first time he caught a pop fly everyone stopped and cheered. It was beautiful."
Of course, natural jocks are welcome in VGL. They just aren't allowed to be jerks.
From what I could see from the thirty or so players on scrimmage night, VGL members tend to be in their mid-20s to early 40s. Hackner says there are plenty in their late 40s and 50s, too, with bowling skewing slightly older, soccer, younger. There was one woman that night and, possibly straight men. Hackner estimated that 10 percent of VGL's active players were straight-identified. "We don't ask," he said. "It's not about sexuality, anyway."
EXPANDING ACROSS CALIFORNIA
Turning a hobby into an enterprise hasn't been without stumbles, Hackner admits.
"I taught myself everything. At first I was catering to the 'in' gay crowd. I got the execution wrong. You can't make a social sporting group about the hot cool crowd. That marginalizes everyone else who just want to have fun."
Still, despite some glitches, VGL has expanded across California to San Diego, San Francisco, Sacramento and Long Beach. Hackner just started leagues in Austin, Orlando, and Boston and he'll soon be adding Dallas, Denver and Fort Lauderdale.
The cost to play in a league is $45 to $200, depending on the sport. That's low in the world of LGBT sports. Hackner explains his desire to keep the costs down. "A lot of the guys come [to VGL] who've just moved to L.A. and they're just starting out in a new city and they haven't made friends yet. And they don't yet have that dream job where they have a ton of disposable income."
I asked whether these transplants might succumb to the LA Flake virus. Hackner laughs. "I know people here tend to over-commit, but we only ask you to commit to fifty minutes a week." VGL is easygoing about missing games, as long as you notify the team in advance. The no-flake policy has teeth: two no-shows without notifying anyone can 86 you from the group.
As I was leaving Poinsettia Park, another VGL member said he hoped to see me again, and that if I wasn't sure about joining, the kickball scrimmages would be held there every week through August, only $5 a night, no commitment necessary. Tempting.
---
For more info visit varsitygayleague.com.