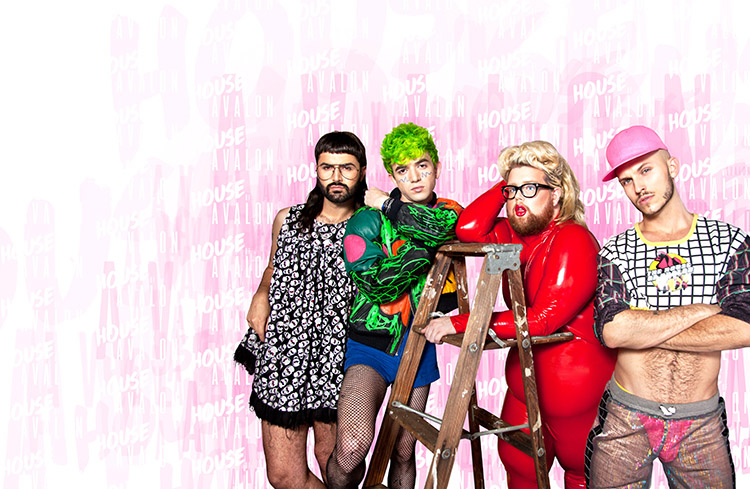 A gay street gang from Little Rock, Arkansas, "The House of Avalon" is redefining party life and fashion in L.A.
BY MARK ARIEL  |  PHOTO BY DUSTI CUNNINGHAM
Performance artists, event planners and fashion queens "The House of Avalon" have taken Los Angeles by storm, throwing fabulous queer parties throughout the the city (the next one "Snap Out Of It!" is at Micky's on July 5) and generally strewing madness and mayhem at every turn.
Originally from Arkansas, the four—Grant Vanderbilt, Mark Monroe, Hunter Crenshaw and Caleb Feeney—recently told Alright, Darling (www.alrightdarling.com) that they began throwing house parties because "we were bored. There wasn't any sort of interesting night life or a place where we felt like we could really be ourselves. There was literally nothing. We just wanted to have fun! If we did go out, we would see the same heteronormative gays in the exact same khaki pants and polo or Abercrombie and Fitch t-shirt—and it was just bland. We lived in the Bible Belt, and most people are just living afraid and ashamed. That wasn't our scene at all. So, we got creative and made it ourselves—throwing house parties and advertising them on Instagram."
"Everything we do is for those underdogs and disenfranchised within our community."
They moved to LA this past March in the search for a more open environment. "I think we as a community need to remember that living in a city like Los Angles is such a privilege," Caleb tells THE FIGHT. "Everything we do comes from a place of love and a sense of escapism. We tired to escape the mindset of Arkansas our whole lives…"
"Our childhoods were all vastly different," reveals Hunter. "I grew up pretty poor with a drug head father and an incredible mother. Grant grew up in a pretty religious household. Mark grew up religious as well but pretty blue collar. Caleb grew up in a mountain home with a single mom… We all have our childhood issues of course but I think that's what makes us. I don't regret the way i grew up … I don't think any of us really do."
Growing up queer in the southeastern region of the country had its challenges. "I don't want to sound cliche, but it really is tough," reveals Hunter. There are so many pockets of backwoods in Arkansas and so many queer kids live in those pockets. I think thats why what we did [throwing house parties] was so important and it's something I am most proud of. From the start we had those kids seeing our stuff on Instagram and driving from two three counties away to join us. It was incredible. If you could hear some of the stories we have heard you would be very unsettled. I started to become a mother figure to some of them [laughs]… I would take care of them emotionally all the time…"
"Everything we do is for those underdogs and disenfranchised within our community," says Mark. "Everything. If someone can laugh have a good time for just a second—we did our job."
"I agree," says Grant. "We were those kids. We just got lucky cause we found each other and started a gay street gang!"
Their clothing brand "The House of Avalon" (www.thehouseofavalon.com) started "because of the parties. Its another way to feel the fantasy," reveals Grant.
"It's another way to tell the story, to convey the feeling and concept. The clothing is SUPER important to us now," says Mark.
Upcoming projects include a new monthly party at Mickys ("Snap Out of It!" this month on July 5) and a new line of Enamel Pins and Shirts coming out in collaboration with DragQueenMerch.com.
---
For more info visit www.thehouseofavalon.com. Follow them on Instagram: @thehouseofavalon, @Marko_Monroe, @HunterCrenshaw, @Calebf, @GrantVanderbilt.