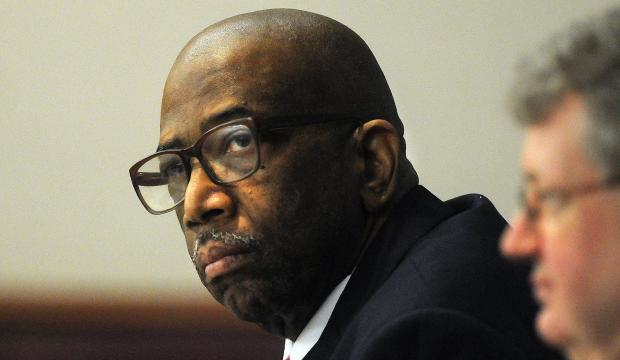 Kennith Adkins, the vehemently anti-gay pastor who said that the victims of the Orlando Massacre "got what they deserved," was sentenced today to life in prison with the possibility of parole after 35 years for the crime of molesting two teenagers—a boy and a girl—in his church.
On April 10 it took the jury only one hour to find Adkins guilty of 10 counts of child molestation. From Jacksonville.com:
The court found that Adkins exploited children by acting as a father figure and giving them gifts when in reality he was just grooming a teen-aged couple for sex. The age of consent in Georgia is 16. The jury believed the teens were 15 when Adkins was watching them have sex to make sure they were doing it correctly and then eventually joining them in the sexual acts.
The jury was shown photos of Adkins penis that he'd sent to the male accuser, as well as a series of messages between the female accuser and Adkins. The young man (now 22-year-old and serving  in the military), told investigators in Georgia that he "offered up" his girlfriend to Adkins for allowing the couple to have sex without punishment. He said they had in front of and with the Adkins so many times that he "lost count" and that ever since he has been "wracked by guilt."
An Assistant States Attorney read the young man's testimony in court:
Throughout this time I've felt nothing but shame and guilt which later led to depression. There is never a time I wish I could stop thinking about it. Constantly depressed and never feeling like the shame or guilt would leave, I considered multiple easy outs. Once I figured out who Kenneth Adkins truly was, it hurt and I didn't want to believe it. Weighing the positives and the negatives was the most difficult part. Attached to those feelings I felt like if I said anything, I would be betraying him. He was the closest thing to a father that I had. I didn't want to say anything. I didn't want to believe that I was a victim. … I felt so emasculated back then and even now.