By Paulo Murillo –
Recovery gift boutique My 12 Step Store partnered with the West Hollywood Chamber of Commerce (WHCC), WeHo's Institute for Public Strategies and WeHo Safe Project to host the alcohol-free networking event Mix 'N' Mingle on the Blvd.
The mixer is scheduled for April 26, from 6-8 p.m. on the front lot of My 12 Step Store, at 8730 Santa Monica Boulevard.
Mix 'N' Mingle is the first of its kind for WHCC. The chamber regularly hosts a mixer on the last Wednesday of each month. They usually take place at restaurants, clubs, bars or some form of nightlife venue where mixing and drinking is the norm.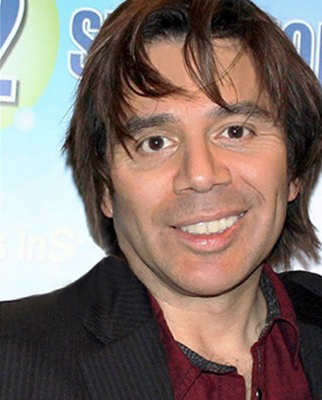 RJ Holguin, founder and director of marketing at My 12 Step Store, is pulling all the stops to make sure this alcohol-free mixer is a standout on The Boulevard.
"Get ready to be wowed," he tells THE FIGHT. "Don't let the alcohol-free element deter you from attending. It will be a scene and a perfect opportunity to network with other business owners and mingle with our neighbors in fun setting."
Holguin has a background in design and event planning. He says Mix 'N' Mingle will be beautifully lit thanks to the sponsorship of LA Event Lights. He also hired sexy bartenders who will go shirtless to provide some fun eye candy.
Other sponsors include Cafe D'Etoile, KLEAN Treatment Center, Mixwell, Yogurt Stop and Cake Art who are providing hors d'oeuvres, drinks and deserts. DJ Adam Excess will provide the music.
"We don't need alcohol to enjoy ourselves and we don't need to be part of the sober community to attend an alcohol-free mixer," says Holguin. "There are plenty of people who don't drink as a lifestyle choice. You don't have to be in a 12-step program to network and talk shop in an alcohol-free environment."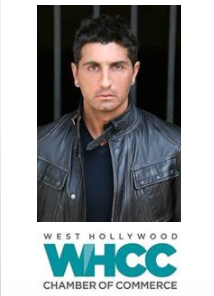 "Robert Gamboa of West Hollywood's institute for Public Strategies called us up with the idea of a professional mixer that happens to be alcohol-free," said WHCC Manager of Events, Vic Gerami. "This event is special. We normally have these mixers at a restaurant or a bar where food and drinks are already provided, so we just show up and host the event. Having a mixer on The Boulevard had its unique challenges, however the feedback has been tremendous, and we received calls from local business who were eager to participate as sponsors for this event."
Gerami hopes this is the first of many alcohol-free mixers hosted by WHCC.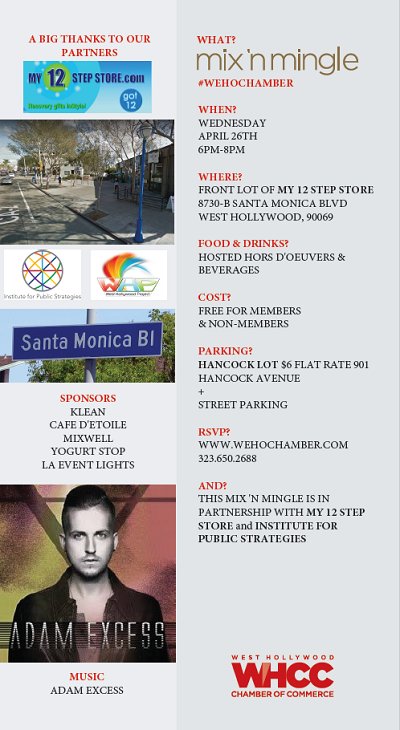 There is usually a $20.00 for non-members who attend these mixers. The Chamber waived the fee for Mix 'N' Mingle to everyone who RSVPs before the event.
To RSVP for Mix 'N' Mingle on the Blvd, visit: wehochamber.com/events/Mix-n-Mingle-on-the-Boulevard-1466/