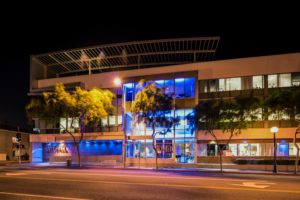 The City of West Hollywood is going blue! This week the WeHo City Hall building will be lit up in blue lights in support of 
F*ck W/out Fear
, a PSA campaign promoting pre-exposure prophylaxis (PrEP) the once daily pill which, if taken as directed by an HIV-negative negative individual is more than 99 percent effective in preventing the transmission of HIV.
The campaign is part of a partnership with the Los Angeles LGBT Center and the City of West Hollywood  to support the Center's groundbreaking, sex-positive campaign—F*ck w/out Fear—which uses raw, real language to raise awareness about PrEP. Taking the campaign to the streets, (quite literally!), campaign chalk art is featured on the sidewalks along Santa Monica Blvd. in the historic "Boys Town" section of West Hollywood, and this week West Hollywood City Hall lights go blue (the color of the PrEP pill) to promote PrEP awareness. Also this week, the city's free trolley service along Santa Monica Blvd.—known as The PickUp—will begin distributing free campaign-branded condoms that encourage people to visit PrEPhere.org to schedule a free PrEP consultation.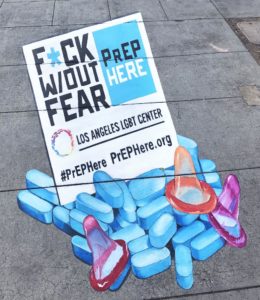 "The City of West Hollywood continues to be a bold leader in fighting HIV and promoting sexual health," said City of West Hollywood Councilmember John D'Amico. "One pill a day PrEP and regular condom use are powerful tools to protect people from HIV, but too few people who are at greatest risk of infection know about PrEP. By featuring targeted campaign artwork on city sidewalks in front of popular bars, we're reaching tens of thousands of people who live, work, and play in West Hollywood, and we're able to do it at no cost to the Center or to taxpayers. We're determined to end HIV transmissions here—and the Los Angeles LGBT Center, with its large sexual health facility in our city, is a great partner in helping us do that."
The Center's campaign has been effective in reaching those most at risk of HIV infection—young gay and bisexual men of color and transgender women—and combatting their misconceptions about the safety, effectiveness, and affordability of PrEP. Since its launch, the Center has doubled the number of people it's helping to get on PrEP each week.
"The Center and the City of West Hollywood are longtime partners in the fight against HIV and in advancing the health and well-being of LGBT people in general," said Jim Key, the Center's chief marketing officer. "The city's support, particularly by featuring campaign artwork on sidewalks, helps us reach many more people than we could ever afford to reach through other forms of advertising and is certain to prevent countless residents and visitors from a lifetime of infection with HIV. We're enormously grateful to West Hollywood's mayor, members of the City Council, and staff at City Hall."
PrEP is covered by most insurance plans, and for individuals who don't have insurance, there are patient assistance programs available through the Center that can help make it affordable. After a free consultation, which can easily be scheduled online at PrepHere.org, most people can walk out with a prescription for PrEP. Transportation assistance is also available for individuals who don't live close to the Center's facilities in Hollywood and West Hollywood.
To learn more about the F*ck w/out Fear campaign, PrEP and to book a free PrEP consultation online, visit PrEPHere.org.