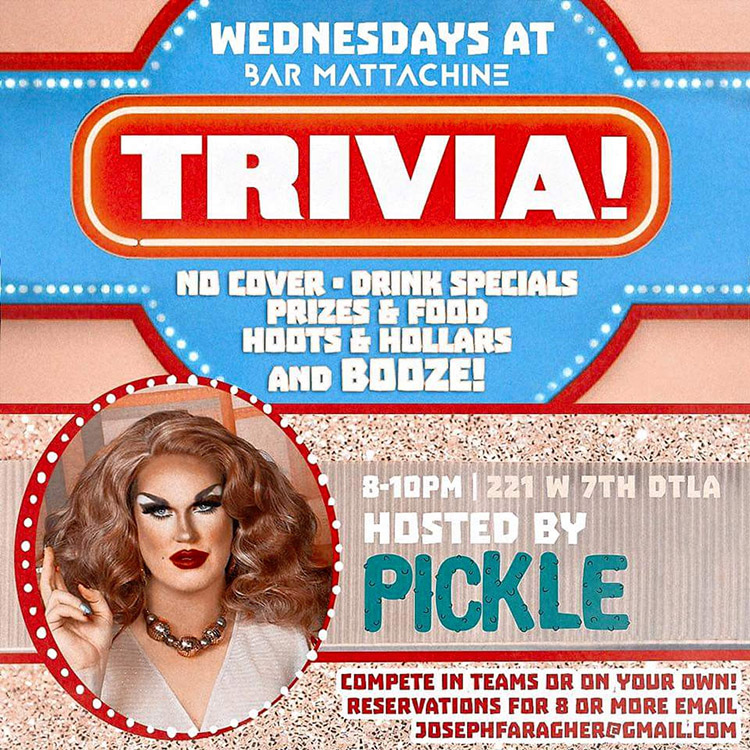 HEDWIG AND THE ANGRY INCH, PANTAGES THEATRE.
THROUGH NOVEMBER 27
Hedwig And The Angry Inch
Pantages Theatre, 6233 Hollywood Blvd, Los Angeles. Tickets: visit ticketmaster.com
This genre-bending, fourth-wall-smashing musical sensation, with a pulsing score and electrifying performances, tells the story of one of the most unique characters to ever hit the stage.
SATURDAY, NOVEMBER 12
Los Angeles Pup Contest 2016 
The Bullet Bar, 10522  Burbank Blvd, North Hollywood, CA 91601. 10pm. Info: www.bulletbarla.com
This is the main event for Los Angeles Puppy Pride Weekend. Enjoy an entire night of suspenseful fun, as the 2016 LA Pup Class competes for the title of Los Angeles Pup 2017.
SUNDAY, NOVEMBER 13
L.A. Firehouse Chili Cook Off
Eagle LA, 4219 Santa Monica Blvd, Los Angeles, CA. 3pm–6:30pm. Info: www.EagleLA.com
Join the men of The Regiment of the Black & Tans for a Chili tasting afternoon. $6 donation requested for chili sampling.
Life Drawing Session Uninstructed
Tom of Finland Foundation, 1421 Laveta Terrace, Los Angeles, CA 90026. 1pm–4pm. Info & reservations: Miguel at miguelreyesart@yahoo.com
A Nude Figure Drawing & Painting (no photography). Reservations are required.
MONDAY, NOVEMBER 14
Spank: The Dark Side Of Karaoke
The Bullet Bar, 10522  Burbank Blvd, North Hollywood, CA 91601. 9pm–1:00am. Info: www.bulletbarla.com
Hosted by Alex Kitay, Mr. Long Beach Leather 2010. Presented by Singing For My Supper Entertainment.
THURSDAY, NOVEMBER 17
Garden Party Harvest
A private Hancock Park residence, 7pm–10pm. Tickets may be purchased at lalgbtcenter.org/garden.
The Los Angeles LGBT Center special evening of community and thanksgiving to support the Center's programs and services for LGBT seniors.
SATURDAY, NOVEMBER 19
Lifeworks Thanksgiving Celebration 
Los Angeles LGBT Center, The Village at Ed Gould Plaza, 1125 N McCadden Place Los Angeles, CA  90038. 2:00pm-5:00pm. Info: lalgbtcenter.org.
A FREE Thanksgiving Feast with FUN and Entertainment. Dinner will be served at 3:00pm, followed by entertainment at 4:00pm.
Black & Blue
Eagle LA, 4219 Santa Monica Blvd, Los Angeles, CA.  9pm–2am. Info: www.EagleLA.com.
Join the Men of Onyx Southwest for their Black and Blue beer bust. Hot go-go studs, demos, positive energy, strong Jell-O shots and some of the hottest leather men Southern California has to offer.
SUNDAY, NOVEMBER 20
Toy Box Party
Pailhouse West Hollywood, 8465 Holloway Dr., West Hollywood, 4pm–8pm. More info: www.aplahealth.org/toybox.
Hosted this year by Ryan Black and a special "Elf Host Committee" that includes Ryan Murphy and David Miller. Bring an unwrapped toy as price of admission and enjoy a cocktail on the house! Toy donations will be distributed to the families of APLA Health clients as holiday gifts.
WEDNESDAY, NOVEMBER 23
Rhondavous: Thanksgiving Eve
Union, 4067 W Pico Blvd, Los Angeles, California 90019.
Thanksgiving Eve, feast on this ferocity: 9 DJs, 3 Rooms, 1 Woman. No Inhibitions.
THURSDAY, DECEMBER 1
World AIDS Day: A Global Remembrance 
AIDSWatch at www.AIDSWatch.org is a 24 hour (only) online memorial that recalls lost lives and lost love of over 24,600 people dead from AIDS. It runs midnight to midnight in every time zone on the planet. Names are submitted at the site during the year. There is no charge to add names to the roster.
THROUGH DECEMBER 25
World AIDS Day Food Drive 
Various locations throughout Los Angeles County. For a complete list of all locations where you can donate, see www.aplahealth.org/fooddrive.
In honor of World AIDS Day, which is observed December 1, APLA Health invites you to participate in their annual countywide food drive that collects non-perishable food and personal hygiene items for people living with HIV/AIDS.