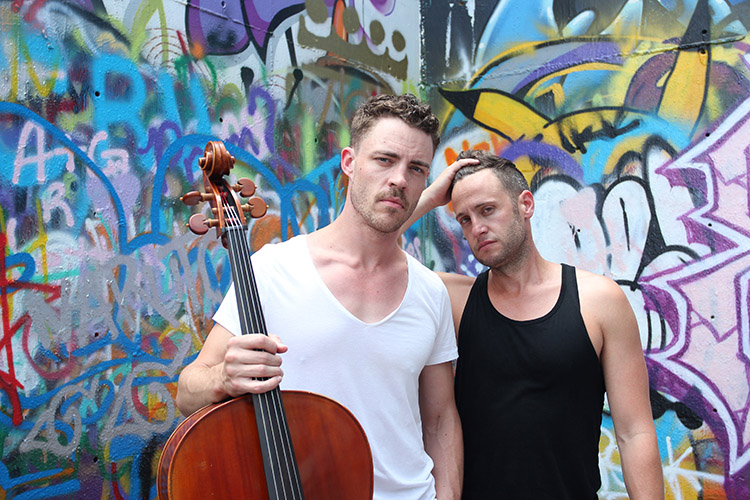 The musical duo Branden and James, appearing at Palm Springs Pride in November, on relationships, being marginalized and finding your truth. 
BY MARK ARIEL | PHOTO BY JUSTIN E. BAKER, FUZZY IMAGE MEDIA
Two artists meet on a dating app, fall madly in love, create a musical duo and travel the world spreading joy and happiness.
Hey—just because it may seem almost nauseatingly romantic doesn't mean you can't unabashedly fall in love with their love story.
American tenor Branden James (a finalist on season 8 of America's Got Talent) met Australian cellist James Clark on the dating app Scruff.
"We told our parents we met at Starbucks for about a year," confides James in an interview with THE FIGHT. "Our meeting was magic. Our connection was so intense."
"As Branden was traveling a lot in the first two months after we met, we spent a lot of time chatting over FaceTime and text messages. It was actually a great way to get to know each other beyond the superficial to decide whether we wanted to pursue a relationship or not," reveals Clark.
"Sometimes it's the simplest things you need to hear in order to get motivated."
"It became pretty obvious, pretty quickly, how we both felt about each other and that evolved reasonably quickly into a partnership neither of us wanted to do without."
Both James and Clark grew up in conservatives families. James, born and raised in Anaheim, states that while his parents "always loved and supported me, it was very hard for them and for my family to wrap their head around my sexuality. They wondered how could I 'choose' such a lifestyle."
"Coming out, for me, was mostly an internal faith struggle," says Clark. "I really believed God didn't want me to be gay, and neither did I. I kind of had to come out twice… the first time was just before I left to go to Bible School, where my statement was 'I'm gay, but I don't want to be and after Bible School I won't be… or I'll be celibate.' A year after returning from Bible School I finally came to terms with my sexuality and found a boyfriend. Upon wanting to tell my family about him, I had to admit (again) that I was gay. My parents both told me they loved me and after a short period of discomfort, welcomed my boyfriend with open arms into our home and their hearts. My siblings and friends were also very supportive."
AUDITION DATES
At the age of 17 James auditioned for his high school choir upon the advice of a friend in his church youth group. "Apparently, I had some amazing voice inside of me that I never knew about. With some encouragement from my choir teacher, family and friends, I became a singer. It became my identity and I never looked back."
"When I was 20 years old, I was asked to spend several months outside of Bern, Switzerland singing vocal jazz in a quartet," reveals James. "The other singers in the quartet were in their 30s and 40s and very accomplished. I learned a lot from them in those early days. I also traveled all over Europe and some of The Middle East in those nine months I spend abroad. I really think that travel helped me grasp what was necessary for me to have a career in music. I went to opera performances and observed some of the best singers in the world in Italy, France, Germany, Scandinavia, the UK, etc. It was really motivating…"
"When I got back to the states, I moved to New York and began to study with a teacher/mentor of mine. I paid for my lessons and coaching by waiting tables over a period of five years. By the time I was 25, I was ready to start auditioning for things," says James.
"I participated in several young artist programs in various opera houses around the US and then eventually started getting work as a soloist both in opera and concerts. In 2006, I became burnt out from the grind of auditioning and the cut-throat business that opera can be. I moved to LA for a very short period, sang at LA Opera (even though my heart wasn't in it) and spent some time under development with Universal Music Group. My deal was dropped and I ended up auditioning for a group out of London called The Twelve Tenors. I toured around the world with them and recorded two albums. I'll never forget those days…"
"After that tour, I settled back in New York City and the very next day, I auditioned and got into The Metropolitan Opera. I spent two seasons at The Met before auditioning for Lyric Opera of Chicago. I was thrilled to move to Chicago. I'd never been there—I had recently gotten out of a relationship and was ready for a new adventure… I spent 4 years at the company, but again, my heart was always elsewhere. I remember seeing audition dates for America's Got Talent come up. I'd just returned from two weeks in Sydney, Australia for New Year's Eve celebrations. I was completely jet lagged and was not in any mood to go to a cattle call audition. A friend of mine however, convinced me at the time to go. He said, 'If you don't audition for things you want, you'll never get them.' Sometimes it's the simplest things you need to hear in order to get motivated."
REALITY OF MORTALITY
Clark confides that  music "has always been my life. I went into education because I thought I wasn't good enough to pursue music as a performer. When my sister died of cancer in 2010, I was struck with the reality of mortality for the first time and I didn't want to live out my days with any regrets. I broke up with my partner of 6 years, sold my house and decided to go back to school to study music performance and to try and make a go of being a full-time cellist. Luckily, whilst teaching I had been playing cello on the side, and had the good fortune to play with some great singers (Bernadette Peters, Olivia Newton John, Lea Salonga, Idina Menzel) which had fueled the performance flame…
I met Branden at the beginning of the second year of my Masters program. As we got to know each other and got into a relationship, we also started to perform together. The more we performed, the more we developed and people seemed to like us! It was very organic."
YOU BELONG
Branden and James recently created a heartfelt musical video entitled "You Belong." (See the video on their site brandenjames.com.)
"Both of us have experienced the loneliness and isolation of being marginalized, simply for being who we are," states Clark.
"We both feel strongly that its important for people to know they belong in this world, that there's a place for them. We have both found such freedom in being authentic and honest and we want to encourage others to be the same, while at the same time allowing others to be who they are."
"The song is a musical expression of this. When Branden was on America's Got Talent and told the story of the struggle of his family's acceptance of his being gay, tons of kids reached out to him for help and advice. He realized that this was a problem that wasn't going away and here he was a public figure and in a place to do something about it. It prompted him to come out (again) as HIV positive in 2015. Simply sharing your story can help so many people and so can speaking about things openly. It takes the power away from the stigmas that are associated with all of these labels."
---
Catch Branden & James at  Palm Springs Pride, on Friday, November 4 at the US Bank Stage at 7:15pm. The duo will also playing at The Purple Room Supper Club in Palm Springs on November 19. For more information visit www.brandenjames.com. Follow them on twitter and instagram @BrandenJMusic.