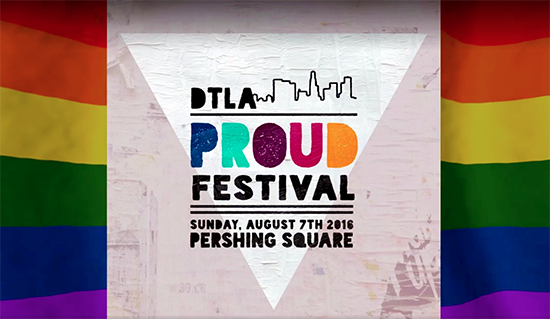 By Paulo Murillo —
Downtown L.A. will host its very first LGBTQ Pride Festival.
DTLA Proud Festival is all set to happen in all its rainbow glory on Sunday, August 7, 12pm-10pm, at Pershing Square Park in downtown Los Angeles.
That's right people! It's happening this weekend. Be DTLA Proud. The DTLA Proud Festival is what everyone has been waiting and calling for in the heart of Los Angeles. The event makes a perfect addition to the current revival of LGBT nightlife in DTLA.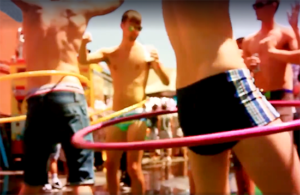 Festival lineup includes: 
Summertrap • Queen Kong • Mega Woof • Eggplant Fridays • Salad Saturdays • Beatchu's Boudoir • Consent • ATM • Dragalicious • Pitch Black City • Mister Sister
With performaces by:
Cazwell / Jackie Beat / Hi Fashion / Big Dipper / Pandora Boxx / Sean/Milan Feat. Twisted Mindz / The Gay Gays, / Calpernia Addams / Glen Alen / Barbie Q / Landon Cider / Jesse Alvarado and the Extravanza Show / Tito Soto / Carole Pope (Rough Trade) / Marta Beatchu / Valentine Anger / Lady Red Couture (HEY QUEEN) / Love Connie / Sister Bearonce Knows / Steve Taylor Band / Jewel's Catch One Throwback
Masters of ceremony:
The Boulet Brothers.
DJ sets will include:
Josh Peace / Cazwell / Rubin Sanchez / Chris Bowen & Victor Rodriguez / Ellis Miah / Glovibes / James Cerne / Ambrosia Salad / Mateo Segade / Bathhouse (THE GRIND)
Check out the scheduled program below.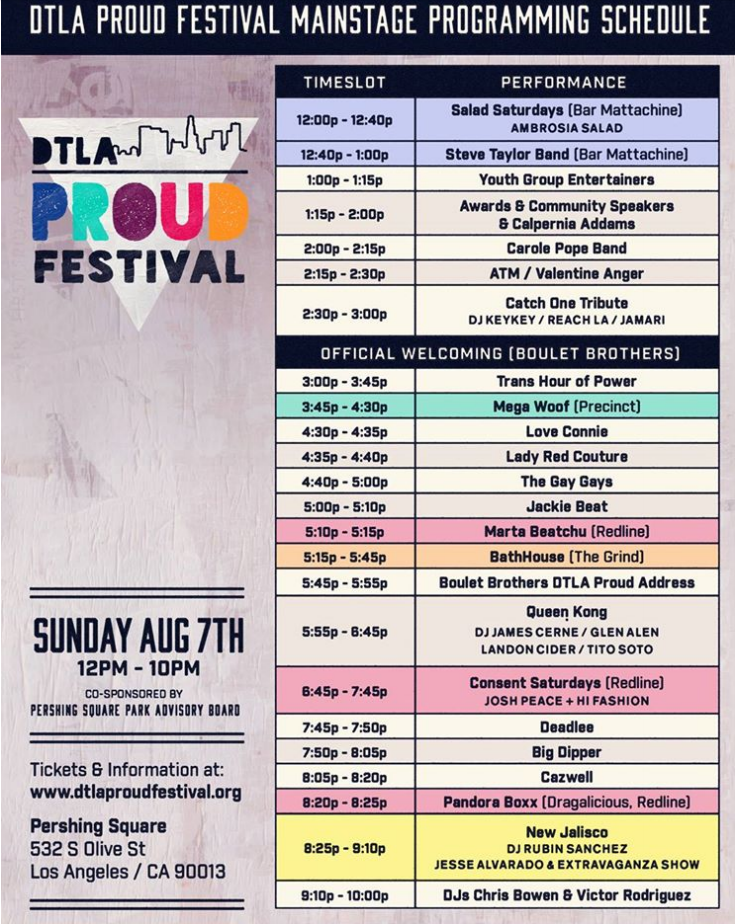 Avoid the traffic and expensive hard to find parking by visiting www.metro.net/  for Metro Bus & Rail maps and timetables.
For more information on the DTLA Proud Festival visit: www.dtlaproudfestival.org/
To purchase tickets visit: www.eventbrite.com/e/dtla-proud-festival-tickets-26176875740
THE FIGHT Magazine is a DTLA Proud Media Sponsor